The benefits of spinning classes if you're aged 50+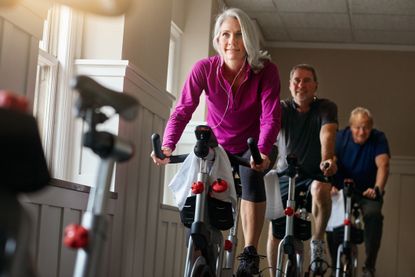 (Image credit: Getty Images)
It's that time of year where outdoor exercise starts to take a back seat, bike rides included.
Short days, chilly evenings and a very appealing sofa just make it that much harder to get outside.
If you're a fan of cycling though, there is an alternative; an indoor alternative. Hoorah! Spinning! And side note: one of the benefits of spinning is that it could burn up to 600 calories an hour. Hoorah again!
What is spin class?
Ladies, it really is time to book in to a spin class, or spinning class, which if you're not familiar with already, essentially involves a room full of stationary bikes, each fitted with resistance dials to reduce or increase the intensity and pace.
Typically, a spin class lasts anywhere between 30 minutes to an hour and often, will also include a weighted arms section using light dumbbells. Throughout the class, you're riding to the beat of music; a playlist usually put together by the class instructor.
The benefits of spinning
Kendra Kemerley is an instructor at spin studio, Soulcycle (opens in new tab), which has recently launched in the country's capital, London. She reveals that spinning provides a range of health benefits. The benefits of spinning include:
Toning of arms, legs and abs
Improved cardiovascular health
Increased endurance
Greater strength
Burn up to 600 calories per hour
It's particularly good for people aged 50+, she adds because, 'it's low impact too, making it easy on the joints, plus it increases those feel-good endorphin levels, so you'll walk away feeling fantastic.'
Spin class tips
Keen to try but not sure what to expect?
Before your class, Kendra recommends eating a healthy carbohydrate-based snack two hours before- a snack bar of piece of fruit should do.
She adds: 'Arrive early so you can be fitted for the correct cycling shoes. In many studios, you'll be ditching trainers for special shoes that clip onto the pedals.
'You'll also need to arrive early so you can get set-up on your bike properly, and introduce yourself to the instructor before class, especially if you have an injury, returning from injury, pregnant, post partum, have a health condition, or need additional guidance'
As for during your class, Kendra explains that resistance is your friend.
'It makes for a more safe and effective workout, and increases calorie burn. Throughout the class, you'll be asked to turn your resistance dial up or down but if you're really struggling, listen to your body! When in doubt, sit down and keep you legs moving, even if slowly.'
Be patient - you will get better and stronger with time and practice! Most of all though, have fun!'
Lucy Gornall is the former Health & Fitness editor at Future and a personal trainer specializing in pre and post-natal exercise.