How to cook steak: The best technique for different cuts
Get it right, every time!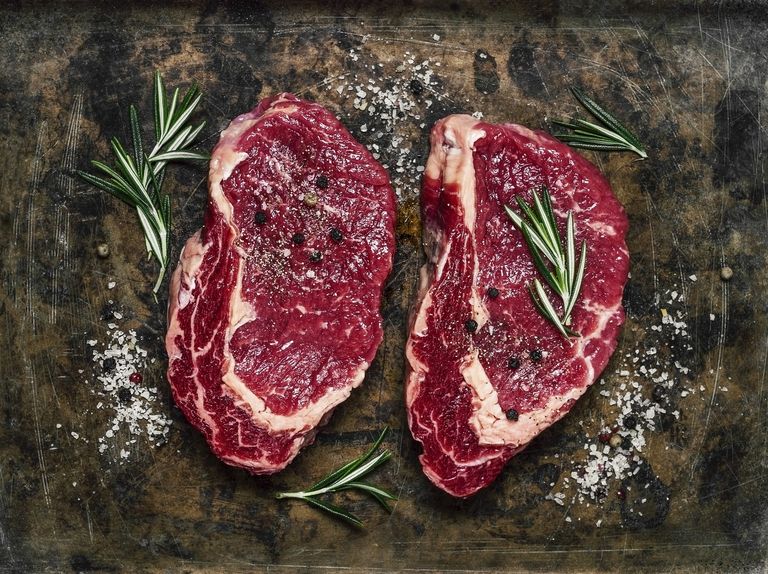 There's a myth surrounding the question of 'how to cook steak' that somehow it's a tricky business. For red meat lovers everywhere there's good news, cooking a steak doesn't have to be complicated.
There are a few common rules to practice before you get cracking, but once you've sorted out all the basics you'll be cooking the perfect steak in no time at all.
Before you begin it's always best to cook with a steak that has been allowed to come up to room temperature. To allow this simply remove from the fridge a couple of hours before you want to cook it, and strip off all the packaging. This means when the meat is added to the hot pan it will cook evenly, as the centre won't be 'fridge-cold'.
Secondly, it's' important not to salt your steak too soon. If you pre-season your steak the salt will draw out moisture from the meat, making the inside of the meat dry while the outside will introduce that drawn-out moisture to the pan - which in turn will make it harder to get a delicious crust on your finished steak. For perfect steak simply season liberally with flaky sea salt just before the steak hits the pan, and use a little pepper after cooking. If you season with pepper beforehand it will burn in the pan and taste bitter, so give it a good couple of grinds as it comes out of the pan to rest.
Thirdly you want to choose your pan wisely. Look for a heavy-bottomed frying pan. Our favourite for cooking steak is a cast iron pan. These types of pans conduct heat in the best way, and retain their heat too for even-cooking that gives that beautiful caramelisation of the meat.
How to cook sirloin steak
Sirloin steak cooking times always depend on the thickness of the steak, so we've taken an average sirloin steak to be roughly 2cm here. If yours is thicker just allow a few extra seconds either side for similar results, using your judgement to how much of a percentage over 2cm the steak is vs the 2cm cooking time. Here are rough cooking times for perfect steak:
Blue: 1 minute per side
Rare: 1½ minutes per side
Medium rare: 2 minutes per side
Medium: 2¼ minutes per side
Medium-well done: 2½ – 3 minutes each side.
Before you begin get your pan smoking hot, oil your steak well and then press it firmly onto the surface of your pan until well sealed and browned. Once cooked to your liking on the first side flip it in the pan and cook the other side for the remaining time. Remove the steak from the pan and leave to rest for 3-5 minutes for perfectly juicy steak. Slice and serve.
How to cook fillet steak
Fillet steak is usually the thickest cut steak, per portion. We've taken the average thickness of a fillet steak to be around 4cm, but as above adjust your timings depending on the thickness of your steak. For this depth of steak we think the following cooking times give perfect results:
Blue: 3 minute per side
Rare: 4 minutes per side
Medium rare: 4½ minutes per side
Medium: 5 minutes per side
Medium-well done: 6 minutes per side
Simiraly to a sirloin steak make sure your pan is really hot before beginning. Season, rub with oil and then press the steak firmly into the pan for the allotted time, before flipping to finish the cooking. Remove from the pan and rest for five minutes before serving.
How to cook ribeye steak
Ribeye steak is often described as 'butchers choice', as it's a firm favourite of meat suppliers everywhere. This juicy cut is simple to cook perfectly with a little know-how. Treat it in the same way as the other two cuts, seasoning at the last minute and rubbing with oil. Then get your pan hot and cook for the following times, depending on how you'd like it cooked (these time are for a 3cm thick steak):
Blue: 2½ minute per side
Rare: 3½ minutes per side
Medium rare: 4 minutes per side
Medium: 4½ minutes per side
Medium-well done: 5 minutes per side
Once cooked through remove from the pan and leave to rest for five minutes before serving.
What to serve with steak
The beauty of steak is that you can serve up pretty much anything with it and will still be delicious. We love it presented simply, seasoned with salt and pepper and delivered with a pile of thing, crispy fries, a pile of punchy watercress and a good béarnaise sauce.Some of our other favourites things to serve with steak are: