Perfect roast potatoes: 3 Ways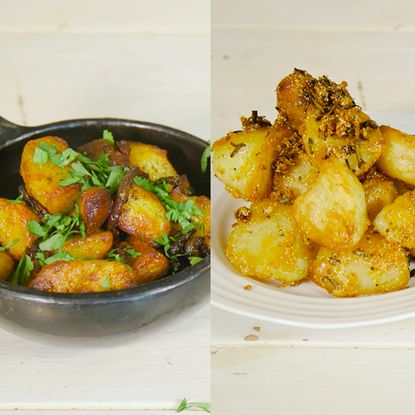 st potatoes are a firm favourite in every family and the perfect accompaniment to any winter meal or Sunday dinner. Plus, whether you prefer them super fluffy or a little bit crispy, roast potatoes (opens in new tab) are the best way to inject some warmth into cold afternoons and evenings.
So next time you're making a roast, or just treating yourself to something special on a week night, why not mix up your usual roasties for something a little more special? By adding just a few ingredients you can transform bog standard spuds into something tasty and even a little exotic. So surprise your loved ones this Sunday or spice up a week night meal in a flash, as using par-boiled potatoes mean these luxurious roasties only take 15 minutes in the oven.
For each recipe you need just a few key ingredients to mix things up a bit, and whether you enjoy something a little more spicy, or classic combinations like garlic and rosemary, there's something for you.
Garlic and Thyme roast potatoes
A classic combination, garlic and thyme are the perfect pair to achieve a mouthwatering aroma and nostalgic punch of flavour. The perfect sidekick to any roast, whipping up these spuds takes no time at all and will really add that finishing touch to any meal.
You will need: Goose Fat Par-boiled potatoes Thyme Garlic cloves Salt and pepper
Bombay potatoes
Mix up your usual spuds for something with a little more spice with these Asian inspired Bombay potatoes. Sprinkling in some curry powder and cumin seeds is a simple way to add a flavour kick to your roasties and offer a tastey alternative to your usual side dishes.
You will need: Sunflower oil 1 red onion, sliced 1tsp Cumin seeds 1tbsp curry powder Fresh coriander
Polenta and Parmesan potatoes
Intensify the flavour of your roasties with a few simple twists and your taste buds will reap the benefits. Adding polenta to your usual spuds gives them an extra crunch, while the Parmesan gives some cheesy goodness. They're so satisfying the whole family will be asking for seconds.
You will need: Olive oil Par-boiled potatoes Rosemary sprigs 2tbsp polenta 3tbsp grated Parmesan salt and pepper