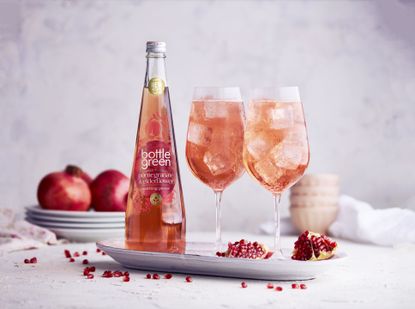 (Image credit: Bottlegreen)
The smallest gestures often have the greatest impact on those around us and we've all got the power to make everyday feel a little more spectacular.
If you want to enjoy something extra while completing the ordinary it's easy to upgrade your everyday rituals with bottlegreen cordials and pressés. So pour yourself a drink and take a moment to relish each sip.
A little of the flavoursome cordial goes a long way and, still to this day, the drinks are made using Cotswold spring water from bottlegreen's onsite spring.
Using bottlegreen cordials and pressés is an effortless way to inject excitement into any soft drink, mocktail or cocktail. They are also the perfect pairing to bring something extraordinary to your cooking and baking recipes.
Serving suggestions
Start your day with a creamy bowl of Greek yogurt and stir through a couple of teaspoons of Plump Summer Raspberry cordial (£3.75). Top with a handful of fresh raspberries, blueberries and crunchy granola for a delightfully sweet and satisfying breakfast.
Use the aromatic Ginger & Lemongrass cordial as a zingy marinade for your next roast chicken. Simply mix together 2tbsp cordial with crushed garlic, chopped chilli and a generous glug of olive oil. Season with sea salt and black pepper then roast and baste regularly. Serve with a fresh homemade slaw and roast new potatoes for a lighter take on the Sunday classic.
If you're looking for a drinks pairing, the Ginger & Lemongrass cordial is an excellent match for soda and spiced rum. Garnish with a peel of fresh ginger for a sophisticated finish. Alternatively, for a quick drink fix, the Pomegranate and Elderflower pressé is also a fantastic serve over ice.
For a refreshing mocktail, try the new Lime & Mint cordial shaken with raspberries, pour over crushed ice, topped with tonic water and garnish with a sprig of fresh mint. Add a measure of white rum for an alcoholic version of your fruity mojito.
Elevate your next glass of Prosecco with a dash of Pomegranate & Elderflower cordial. Alternatively, try making your G&T with the sparkling Light Elderflower Pressé instead of tonic, with just 20 calories per 100ml, it's the perfect delicate tipple packed with flavour.
Those with a sweet tooth may like a drizzle of the Elderflower Cordial over vanilla ice cream, or dilute it with a little water and icing sugar for the perfect cake glaze.
Recycling and reusing your bottle
When you've finished creating your extraordinary food and drink, the beautiful tinted green bottles, which are 100 percent recyclable, can be reused to create the perfect statement dinner table candle holder.
Alternatively, for a summer solution, pop battery or solar powered fairy lights into the empty bottles to decorate your outdoor seating area, perfect for late summer evenings.
Whatever the time of day or occasion, bottlegreen always adds a dash of extraordinary to the moment.
Jessica is a Senior Food Writer at Future and is an enthusiastic, self-taught cook who adores eating out and sharing great food and drink with friends and family. She has completed the Level 1 Associate course at the Academy of Cheese and is continually building on her knowledge of beers, wines and spirits. Jessica writes food and drink related news stories and features, curates product pages, tests and reviews equipment and also develops recipes which she styles on food shoots.