Aldi's very exciting new Christmas selection is making us excited for the festive season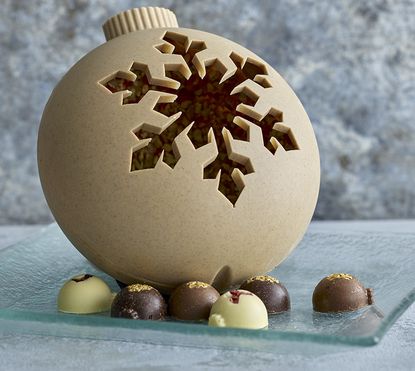 The woman&home Food Team are currently locked away tasting their way through the nation's Christmas products and will be shouting about their favourites in upcoming issues.
But if you just can't wait until then, supermarket chain Aldi known for their Special Buys and quality products at an affordable price have released information about their upcoming Christmas goodies.
If you're planning a centrepiece for your Christmas table, look no further than their Specially Selected Exquisite Chocolate Bauble (pictured above).
Created using unique water cutting technology, the white chocolate tastes like gingerbread and has a fruit and nut centre. If that wasn't Christmassy enough, it is engraved with 'the most wonderful time of the year' on the back.
Trying to find the perfect gift with a traditional twist? The Moser Roth Giant Nutcracker is sure to make a statement. It's 50cm high, the hollow and is made from Fairtrade Moser Roth Belgian milk chocolate, It's also beautifully hand decorated.
READ MORE: Our top 50 Christmas Recipes (opens in new tab)
For those with a more defined palette, the Specially Selected Exquisite Truffle Gouda will be a pleaser. This cheese is hand-rolled by traditional cheese masters and allowed to ripen in the Green Heart of Holland to achieve its distinct taste. With real pieces of black truffle, this true delicacy makes every cheeseboard iconic.
It's not always easy to produce a tasty, vegetarian Christmas dish, especially with so much else to make. Try Aldi's Specially Selected Root Vegetable Nut Roasts. Available in two flavours, Root Vegetable & Camembert and Broccoli, Cauliflower & Cheddar Nut Roast.
READ MORE: Why you'll be seeing a lot less glitter in shops ahead of Christmas this year (opens in new tab)
The Christmas showstopper you've been waiting for all your life? The 2 MEATre Long Pig in Blanket. You have not read that incorrectly.
New for Christmas, this impressive 2-metre-long pig in blanket will ensure your guests can have their fill of everyone's favourite Christmas side.
Roll on Christmas...
Samuel has a BSc in Food from the University of Birmingham and nearly 16 years after he began his professional food career, his work has featured in national and international publications including Waitrose Food, Australian Delicious, and the LAD Bible Group.
He was also a nutritional consultant for BBC's Eat Well for Less. Throughout his career he has specialised in recipe writing and has produced many recipes for woman&home. Samuel is also Co-Vice Chair of the Guild of Food Writers and a Trustee of 91 Ways CIC.