The 60+ Women Blazing A Social Media Trail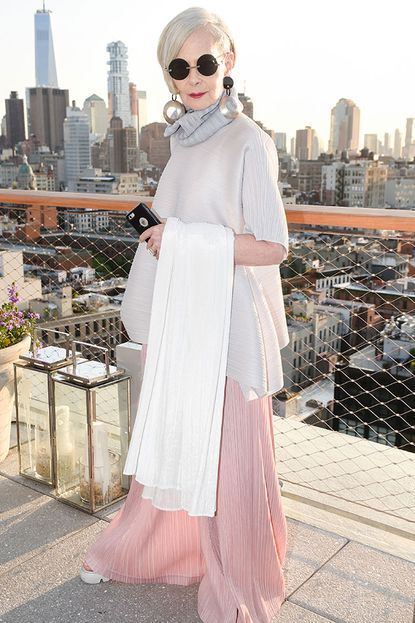 (Image credit: Shutterstock/Rex)
Whether it's updating your Facebook status, sharing your holiday snaps on Instagram or reading through your favourite celeb's latest Twitter feud - more and more people are addicted to social media.
It plays a huge part of our everyday lives and there are now whole departments of companies and media organisations dedicated to the up-keep of a brand's various accounts.
And while some might find the field of social media a little daunting, there are some women over 60, 70 and even 80 years old who are absolutely dominating it. Especially when it comes to the highly competitive field of fashion.
These women blast any notion that fashion is a young person's domain right out of the water. They prove that real style is ageless and you should follow them if you want daily bursts of inspiration and entertainment.
Meet the 60+ women who are winning at social media
Lyn Slater
[instagram]
[/instagram]
Ever been mistaken for a celebrity? Ever been dressed so well that the paparazzi at New York Fashion week desperately try to photograph you? No, we haven't experienced this either, but for Lyn Slater it was reality.
The university professor was mistaken for a fashion icon at New York Fashion week where she was wearing a Yoji Yamamoto suit and carrying a Chanel bag.
Ever since she has been documenting her love of fashion on her suitably named blog,Accidental Icon. (opens in new tab)
[instagram]
Lyn writes: 'I was having trouble finding a fashion blog or magazine that offered an urban, modern, intellectual aesthetic but also spoke to women who live what I call 'interesting but ordinary lives' in cities.'
She adds, 'Women (like me) who are not famous or celebrities but are smart, creative, fashion forward, fit, thoughtful, engaged, related and most importantly clear and comfortable with who they are...'
The 64-year-old Newyorker is effortlessly glam and her social media accounts reflect this.
Lyn didn't set out on a crusade against ageism in the fashion industry but she is certainly proof that age is nothing but a number. Check out her Instagram@iconaccidental (opens in new tab)
Jean Woods
[instagram]
We caught up with self-confessed fashionista,Jean Woods (opens in new tab)and we soon realised why she gives herself this title.
As we spoke she was sat in a black t-shirt, baggy trousers and leopard print socks. Can you get anymore chic? Jean, who turned 80 in July, loves "very very very baggy trousers" but not just for loungewear.
Her most worn item of clothing is a pair of trousers from her favourite designer Rundholz. She said she bought them years ago but still gets complimented every time she gets them out.
[instagram]
Jean joined Instagram after a friend recommended it to her and has never looked back since. She enjoys sharing her outfits with her followers and looking at others for inspiration too.
Her Instagram account has nearly 13,000 followers but Jean never expected her account to become this popular. She only posts once a week because she likes to reply to all the comments she receives, which can be well over 250.
Plus Jean jokes, she would run out of clothes! She can't keep going out and buying new things and only posts outfits she actually owns.
Jean enjoys sharing her style tips with customers that visit the Jigsaw clothing store in Bath. She works there for two half days a week and says this is just enough.
Her biggest piece of fashion advice is, "Try to follow the fashion but what looks good on you is the important thing."
Jean said many women often feel like they couldn't put the outfits she wears together but often the items are all in the store.
Jean recommends just giving it a go and asking for help if you need it. She only ever gives honest advice because "there is no point in saying someone looks good if they don't".
Everyone can take a little bit of inspiration from her posts, even if it's not her style and simply her buzzing positivity, she is well worth the follow.
Baddie Winkle
[instagram]
Baddie Winkle (opens in new tab)is fearless in her fashion choices. She rocks outfits girls intheir twenties are lusting over and takes risks most probably never would.
Baddie turned 89 in July but she isn't letting her age slow her down. Posting on Instagram to share the occasion with her 3.1 million followers Baddie said, 'It's July!! Wow, I'm turning 89 this month... I still can't believe it. Age has always been nothing but a number to me and still today I truly feel young at heart.'
She added, 'Physically my arthritis in my hip is so damn painful and it is truly making me feel my age. I'm not going to let this get me down. I'm still serving looks baby!! No matter what.'
In an interview back in 2015 with Noisey Baddie admitted, "I've kind of been a rebel all my life."
[instagram]
Baddie also revealed that despite looking like she parties all the time, she attends water aerobics three times a week, likes to walk and go for brunch or dinner, attends church every Sunday and, listens to opera while cleaning the house.
With a bio captioned, 'Stealing your man since 1928' it is no surprise that Baddie's posts are full of sass and bursting with colour.
If you're ever looking for something to brighten your day, head over to her Instagram and look through this Insta-grandmas epic feed.
Do you know someone who deserves a mention in this round-up? Get in touch and let us know!
Jessica is a Senior Food Writer at Future and is an enthusiastic, self-taught cook who adores eating out and sharing great food and drink with friends and family. She has completed the Level 1 Associate course at the Academy of Cheese and is continually building on her knowledge of beers, wines and spirits. Jessica writes food and drink related news stories and features, curates product pages, tests and reviews equipment and also develops recipes which she styles on food shoots.