How to stop your glasses from fogging up when wearing a mask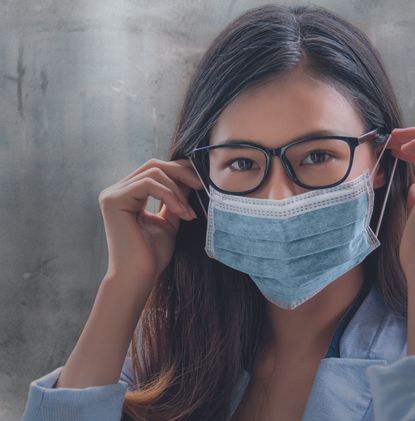 (Image credit: Optifog)
With face masks now mandatory in public places in the UK, fogged-up glasses are becoming a big problem for many.
Why do your glasses steam up when wearing a face mask?
Optifog optician, Andy Hepworth, explains why fogging happens and how to avoid it. He said, "It's all down to a combination of body heat and airflow. When you wear a face mask, you are breathing out warm air, which mostly escapes through the top of your mask, lands on the cooler surface of the lenses, and causes a fog effect."
How to stop your glasses from fogging when wearing a face mask
There are ways of protecting yourself and others from coronavirus without compromising your vision. Follow these top 6 tips from Optifog optician, Andy Hepworth.
1. Wash the lenses with soapy water
Wash your glasses or sunglasses lenses with soapy water and shake off the excess moisture. Then, let your glasses air dry or gently dry the lenses with a clean microfiber cloth. Using this method, leave an anti-mist layer so lenses shouldn't fog up once you put a mask on, but it will only be effective for a short while.
2. Seal the mask
Make sure there aren't any gaps for the air to escape around your nose and cheeks. A common trick employed by doctors involves sticking a piece of double-sided tape across the bridge of the nose before putting on a mask to stop the warm air escaping upwards or try tucking the mask behind your glasses.
3. Make sure your mask fits well
A loose-fitting mask lets exhaled air head toward your glasses, but a snug-fitting mask allows air to flow out of the bottom or sides of the mask and away from your glasses. A tight-fitting mask around the nose bridge means less hot air will end up hitting your lenses.
4. Adjust your glasses
If your glasses have nose pads, you can tweak them so the frames sit slightly lower down which will allow hot air to escape instead of getting trapped between your face and your glasses. This will affect your vision if you're wearing progressive lenses with a strong prescription so be sure to readjust afterwards and before driving.
5. Breathe downwards
It might feel strange at first but breathing downward can be a temporary anti-fog fix as it sends the air away from your glasses. Hold your upper lip over your lower lip. Then blow air downward.
6. Anti-fog lenses for greater visibility, greater comfort and less fogging
Optifog anti-fog lenses are a hassle-free solution to clear lenses, even when wearing a mask. An anti-fog coating gives you a hassle-free answer to foggy lenses, regardless of whether the obstructed vision is triggered by a face mask or something else. The unique system uses two patented technologies; the Optifog lens treatment and a smart textile cloth with anti-fog molecules which activates the power of the Optifog lens.
The Optifog anti-fog spectacle lens from Essilor Ltd has launched to help offer clear vision under face masks and overcome the nuisance of mask-induced foggy lenses.
Optifog lenses are available from independent opticians. To find your nearest one visit www.essilor.co.uk
Becky Joiner-O'Riordan is a Senior Fashion Stylist & Writer. With 10 years experience in the fashion industry, she currently works across woman&home, womanandhome.com, Woman, Woman's Own, Woman's Weekly, Chat, goodto.com, and has previously worked on Harper's Bazaar, Notion and Now Magazine.
After graduating from both the University of the Creative Arts and The Fashion Retail Academy with first-class honours she dipped her toes into the world of television styling working on This Old Thing, hosted by Dawn O'Porter and Channel 4's live tv show series Gok Live: Stripping for Summer.