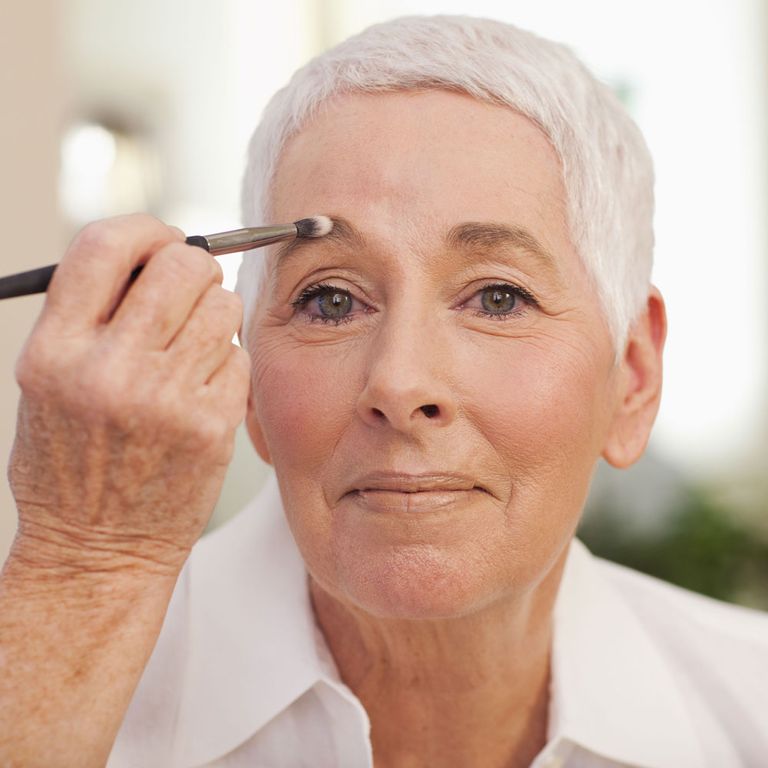 Meet the gels, tints, powders and pencils that will make your eyebrows look full and groomed.
Did you know that a perfectly shaped and tinted brow can knock years off your face? Forget botox, brow-tox is the new anti-aging trick everyone is talking about. The great thing about brow-tox is that is comes at a fraction of the price of any form of surgery, and can even be practiced from the comfort of your home.
If it's a face lift you're after, then look no further than your local threading bar. Ask for a defined arch, a subtle tint, and off you go. An expert can thread your brows to create sharp definition, but if you don't like the idea of that, then opt for a wax for a less painful and natural-looking approach. No time visit the spa? Powder, the expert beauty website, boasts an abundance of tips for faking fuller brows that are nice and neat - and never feral.
A well structured arch and seamless colour can tie a makeup look together and even disguise prominent features - if done properly. In fact, a well-groomed arch can be the most transformative of beauty endeavours, not to mention one of the quickest to both achieve and maintain.
With thick, shapely eyebrows back in fashion it's time to give them your full attention whether you're in the salon or holding tweezers front of your bathroom mirror.
But in addition to waxing, threading and plucking, the best eyebrow products on counters are key for thickening up the strands and pulling them into a flattering shape. From pencils and serums to gels and tints, the high street is packed with products to maintain your brows between salon visits, define their shape and fill them out. Click through to see the best brow products, as tested by the beauty team...
Benefit Brow Zings, £24.50
Benefit have done it again! Their new brow launches are the stuff of beauty deams, and their handy little pocket-sized compact, Brow Zings, has everything you need to shape and fill your eyebrows. Start by plucking stray hairs with the mini tweezers, them shape and define with the soft, easy to use wax. Finally, the natural powder gives the perfect set - and best of all, it lasts for 12 hours, so no re-application needed.
bbrowbar Brow Exfoliator, £17
The focus isn't just on creating great brows using products now - beauty lovers also want healthy brows that look great. Step in blinkbrowbars genius new Brow Exfoliator, a revolutionary new 'brow scrub' that preps your arches to keep them feeling healthy and looking glossy. Not only will this clever little buy keep your hairs conditioned and in place, it'll also prevent ingrown hairs - perfect for those who have regular waxing appointments.
Benefit Gimme Brow Volumising Eyebrow Gel, £18.50
The ultimate make-up bag staple, Gimme Brow is a one-of-a-kind buy that will make all the difference to your arches. The award-winning volumising gel creates natural-looking fullness and definition, making it the perfect buy if you've been guilty of over-plucking in the past. Soon to be available in three shades, it suits everyone, is easy to apply and is even water-resistant. What's not to love?!
Pur Browder, £16
With ever changing brow trends, it takes more than just a pencil to keep them tamed nowadays! Pur Browder is a powder to cream formula designed to fill sparse brows subtly for a natural look that's not too 'drawn on'.
HD Brows Eye & Brow Palette, £25
With two brow powders, one highlighter, a wax and a liner. HD Brows Eye & Brow Palette, £19.99 has everything your need for defined natural-looking brows that will lift your entire face. To start use the angled applicator to dust the lightest brow powder from the middle of the eyebrow working outwards. Use any remaining powder left on the brush to fill out the front section - this will stop the majority of pigments from sitting in the fullest part of your brow, ensuring they look even. For extra definition layer the darker shade over the top where needed. This creates a contoured natural finish - you wouldn't dye your hair one colour all over so do it to your brows. To set the powder in place gently dab a thin layer of the accompanying wax on top. Next sweep the contrasting highlighter pigment along your brow bone to accentuate the arch of your newly defined eyebrows and create the illusion of lift. If you're really in a rush the brow powders can double up as eyeshadow, simply blend the lighter shade into the inner corners of your eyes and the darker shade on the outer corners to create a subtle smoky eye. Line the lids by patting the darkest shade into your lash-line. Versatile, long-lasting and lightweight this palette is a busy woman's must-have handbag essential.
Best Eyebrow Makeup: Clinique Just Browsing Brush-On Styling Mousse, £16
The clever name deserves top marks alone, but that's not why we're hooked on the Just Browsing Brush-On Styling Mousse. It's the way it keeps brows so neatly groomed from morning to night. The tinted whip and teeny brush work in tandem to sculpt strands into shape, pulling even those niggly hairs into a fuller, smudge-proof arch. Sweep upwards and outwards to gussy brows up and give eyes a long-lasting lift.
Best Eyebrow Makeup: Silk Fibre Brow Enhancer, £19.99
If you're sporting some rather sparse eyebrows thanks to many years of over-plucking, fear not you can rectify the problem without spending hours and a small fortune in the salon chair. Say hello to Silk Fibre Brow Enhancer. This magic wand distributes tiny brunette fibres which instantly attach themselves to your natural hairs with one swift stroke. Think of them as brush-on eyebrow extensions without the faff. The effect is bold, defined brows that could rival Elizabeth Taylor's, but apply sparingly - a little goes a long way!
Best Eyebrow Makeup: Eyelure Permanent Tint For Brows, £9.95
We all love a bit of luxury in our beauty bags, but isn't it also nice when you discover a cute, cheap-as-chips problem-solver too?
Allow us to introduce
Permanent Tint For Brows
by Eyelure. The British brand has had a pretty vintage makeover and is moving north of your lashes with this surprisingly user-friendly kit. The brush-on dye won't drip or run, comes in two easy brunette shades and gives the illusion of flatteringly full brows in ten minutes.
The results last for six weeks to see you through summer and beyond, and you'll get change from a tenner. Stock up while you can...
Best Eyebrow Makeup: Tom Ford Brow Sculptor, £35
Invest in Tom Ford's Brow Sculptor for the ultimate brow precision. Your brows are a great way to enhance the facial features and this 2-in-1 calligraphy tip and grooming brush allows you to do just that!
Best Eyebrow Makeup: Shavata Brow Tamer, £9.23
Treat this Shavata brow tamer as a mascara for your eyebrows and use it to give enhanced definition. Simply click the pen and use the gel to shape and frame your eyes. Perfect for on-the-go brow tidying!
Best Eyebrow Makeup: RapidBrow Eyebrow Enhancing Serum, £37
For fuller and thicker looking eyebrows, apply RapidBrow Eyebrow Enhancing Serum twice a day. The formula uses Hexatein 2 complex to help restore and repair the appearance of eyebrows in just 60 days.
Best Eyebrow Makeup: Rimmel Professional Eyebrow Pencil, £2.99
For any brow beginners, the Rimmel Professional Eyebrow Pencil is a must. It's simple and easy to use and has a small brush on the end, handy to tidy up any stray strands.
Best Eyebrow Makeup: Laura Mercier Brow Definer, £17.50
Get brows to wow with Laura Mercier Brow Definer. The long-lasting wax and gel formula works by coating each strand of hair with colour whilst keeping the shape firmly in place. Available in three different shades.
Best Eyebrow Makeup: Blink Eyebrow Gel, £17
If you're not used to shading in your brows with colour, try Blink's clear eyebrow gel. The mascara style brush is great for creating a long-lasting shape and will leave you with glossy, groomed brows all day long.