The best hand creams to moisturise, protect and soothe skin all year round
Our expert reviews the best hand creams to shop now, whether you want something reparative, protective, or luxurious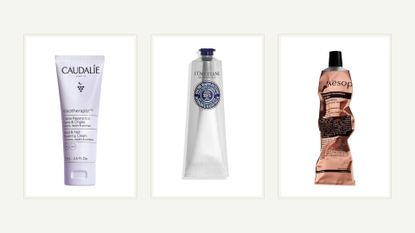 (Image credit: Future)
Truly a product that can call itself an essential, the best hand cream can nourish dryness, support the skin barrier, and even reduce the visible signs of ageing. It's nothing short of a must to have one on your bedside table or in your handbag to keep your skin feeling soft.
But we're sure we don't need to tell you that, much like the best body creams, there are hundreds on the beauty market, and so tracking down the right one for you requires some research. There's a myriad of factors to consider, from specialist skincare ingredients to its price and portability.
"A good hand cream should really be a mix of the three moisturising ingredients: humectants (for example glycerin), occlusives (for example shea butter), and emollients (for example lanolin)," says consultant dermatologist Dr Anjali Mahto, founder of Self London. "A good ratio of these ingredients is a must for moisturising effectively. I also really like ceramides in hand creams as they are natural lipids that support the skin barrier and help to prevent moisture loss."
Thankfully, our beauty expert has been testing hand creams for years, and has drawn on her experience – plus, tested several new launches – to provide in-depth reviews of the best ones you can shop in 2023. Not only that, she's also spoken to two doctors to get their expert insights into what you should look for in a good hand cream, and how to use it in your regime for optimum results. Without further ado…
Inspired to become a doctor after her own journey with acne, Dr Anjali Mahto is one of the most respected dermatologists in her field. She has authored a book about skin, called The Skincare Bible.
Dr Sophie Shotter has over a decade of medical experience and has won a number of awards for her work as an aesthetic doctor.
Our contributing beauty editor Lucy Abbersteen has tried plenty of hand creams, and swears by the best ones for keeping her dry skin hydrated in a hurry.
The best hand creams, tested by a beauty editor
Why you can trust Woman & Home Our expert reviewers spend hours testing and comparing products and services so you can choose the best for you. Find out more about how we test.
Best affordable
1. CeraVe Reparative Hand Cream
RRP: £11 | Key ingredients: Hyaluronic acid, ceramides
CeraVe is a brand trusted by dermatologists all over the world – Dr. Mahto included, as she recommends this hand cream, though do note that if you're shopping it in the US it goes by the name "Therapeutic" rather than "Reparative". Patented technology ensures that ceramides and hyaluronic acid hydrate and replenish the skin gradually throughout the day – ideal for hands that are particularly dry and sore. Not only can we attest to the lasting softness felt from the hand cream, it sinks in quickly with absolutely no greasiness, and a tiny amount goes a long way.
Buy if: You're looking for a very affordable and hydrating cream that doesn't leave a greasy residue.
Avoid if: You want a bit more of a luxurious feeling (and looking) option.
Best luxury
2. Aesop Resurrection Hand Aromatique Hand Balm
RRP: £20 | Key ingredients: Mandarin, rosemary leaf, cedarwood
An icon of the beauty market alongside the matching hand wash, the pump version of this cream is instantly recognisable with its translucent brown bottle and luxe cream label – but it also comes in a paint-size tube for on-the-go application. Words don't do justice to the scent – a spa-like combination of mandarin, rosemary, and cedar – which our tester found really added to the feeling that taking time to apply hand cream can be a quiet, relaxing moment for yourself. For a hand cream that feels luxurious rather than purely functional, this is such a treat.
Buy if: You're after a spa-like scent that lasts, and feels luxurious.
Avoid if: You have particularly sensitive skin - or at least research the ingredients.
Best for sensitive skins
3. Aveeno Daily Moisturising Hand Cream
RRP: £4.49 | Key ingredients: Avena sativa kernel oil, prebiotic colloidal oatmeal
A go-to for those with sensitive skin, Aveeno's hand cream has been well-known and much-loved for years. The thick consistency is great for sensitive skin, and soothes irritation from itching or cracked, dry hands. Our tester found that this hand cream should be a staple for those who want natural, nourishing ingredients but who also care about value for money. Non-sticky, with a neutral scent that won't irritate the skin, it's perfect for those with more sensitive hands.
Buy if: You want a cheap and cheerful option that will immediately soothe dryness.
Avoid if: You'd prefer a scented option or a more high-end cream.
Best fragrance-free
4. Necessaire The Hand Cream
RRP: £20 | Key ingredients: Peptides, niacinamide, vitamins C & E, omegas 6 & 9
Nécessaire is all about stripping things back to the essentials we need, and is committed to minimising its environmental footprint, with chic, minimalistic packaging to match. The fragrance-free hand cream – packed with peptides, vitamins, and omegas – is already one of our tester's favourites due to its quick absorption and medium-thickness texture, as well as the fact that a little goes a long way. If you do want your hand cream to smell delicious, this won't be your best match, but if fragrance doesn't sway you either way then we think this is really, really worth the investment.
Buy if: You have eczema or another skin condition that needs gentle hand creams (this one has the Seal of Approval™ from the National Eczema Association).
Avoid if: You'd prefer a scented hand cream.
Best for dry skin
5. L'Occitane Shea Butter Hand Cream
RRP: £22 | Key ingredients: Shea butter, argan & coconut oils, jasmine and ylang-ylang
Another beauty industry icon and arguably one of the most famous luxury hand creams on the market is L'Occitane's iconic Shea Butter Hand Cream. What stood out for us during the testing process is that it doesn't feel greasy, despite being supremely thick in texture – though do bear in mind that you don't need much of it. The price tag isn't exactly cheap, but at 150ml you do get significantly more product than other brand's 75ml offerings, and the tube will last you ages!
Buy if: An indulgently thick cream is on your list of non-negotiables.
Avoid if: You'd prefer a more lotion-like texture.
Best anti-aging
6. Beauty Pie Super Retinol Hand Cream
RRP: £35 | Key ingredients: Shea butter, retinol
We don't think we've ever tried a beauty product from Beauty Pie that we haven't loved. The texture of this hand cream is lovely and ideal for those who don't like a very thick formula; it stretches nicely and soaks in with ease. With moisturising shea butter, the thing that sets it apart from many, many hand creams on the market is the inclusion of retinol, a powerhouse of a skincare ingredient that is known to improve skin texture. Our tester actually noticed a difference in how smooth her hands looked after just one application, something that lasted through to the following day – extremely impressive!
Buy if: You want your hand cream to improve any signs of ageing in your skin.
Avoid if: You have sensitive skin - retinol can irritate this.
Best lightweight
7. Meder Salva-Hand Restoring Hand Cream
RRP: £45 | Key ingredients: Hyaluronic acid, niacinamide, panthenol, probiotic kimchi extract
This particular buy from Meder comes recommended by aesthetic doctor and founder of the Illuminate Skin Clinic, Dr Sophie Shotter: "This is ideal for dry or irritated hands, and almost acts as a pair of invisible gloves to protect and hydrate your hands throughout the day," she tells us. The formula is very unique in that its texture is a fluid gel, more like a hand serum than a hand cream, and it absorbs easily. Although it is formulated to leave a protective layer on the skin, you can barely feel it after the initial application.
Buy if: An easily absorbed, easy-to-use hand cream is what you're after.
Avoid if: You want something cheap and cheerful - this is undeniably expensive for a hand cream.
Best protective
8. La Roche-Posay Cicaplast Hand Cream
RRP: £8.50 | Key ingredients: Glycerin, niacinamide, thermal spring water
La Roche-Posay is a brand that has the backing of dermatologists around the world and is a French pharmacy staple. Specifically formulated for "overworked" hands (with a compromised skin barrier from hand washing, for example), this cream has the consistency of a very thick gel-balm. Because of this, we found it really feels like it's providing a barrier over the skin to shield your hands from the elements; it won't sink in like a lotion, but gradually moisturises throughout the day while protecting the skin.
Buy if: You're after a dermatologist-recommended brand and a fragrance-free cream that suits sensitive skin types.
Avoid if: You'd prefer a creamier texture or a pleasing scent.
Best high-end
9. Clarins Hand and Nail Treatment Cream
RRP: £26 | Key ingredients: Shea butter, sesame oil, Japanese mulberry
Clarins is one of those trusted beauty counters that has legions of loyal fans of its skincare products – including the iconic Hand & Nail Treatment, which comes in the classy red-and-white packaging you know and love. What struck us about it is that it's very lightweight, sinks in with ease, and it's easy to control how much is dispensed from the squeezy tube when on the go. Icons are iconic for a reason: they are loved by the masses.
Buy if: You want a light hand cream from a trusted brand that's perfect for throwing into your bag.
Avoid if: You're against a scented hand cream - this scent isn't for all tastes.
Best rich
10. Elizabeth Arden Eight Hour Cream Intensive Moisturising Hand Treatment
RRP: £28 | Key ingredients: Allantoin
First created in 1930 by the woman herself, Eight Hour Cream has been around for most of our entire lifetimes. For the uninitiated, the story behind this particular beauty icon is that one of Arden's clients used the original cream on her child's grazed knee, and within the famous timeframe, it drastically improved. Now, that legacy has been extended to lip balms and this very hand cream. We found that this is more of a thick cream in the traditional sense, and it really softened our hands after the very first application without any off-putting, greasy feeling.
Buy if: Long-lasting moisturising is your priority.
Avoid if: You're not a fan of the distinctive and heavily perfumed Eight Hour Cream scent.
Best all-rounder
11. Caudalie Vinotherapist Hand & Nail Repairing Cream
RRP: £12 | Key ingredients: Shea butter, grape seed oil & polyphenols
This hand cream already occupies a space on our tester's bedside table, so it must be worth its salt. We could leave the review there, but we know you'd probably like to hear a little bit more about it; it sinks in brilliantly with a nice hydrating consistency and instantly quenches our dehydrated-feeling hands. That said, it doesn't have a very thick consistency for heavy nourishment, so it is perhaps best for a general day-to-day hand cream rather than for those with exceptionally dry skin conditions.
Buy if: You have oily/greasy skin and need your hand cream not to add any grease.
Avoid if: You have very dry skin - this won't be hard-working enough for your needs.
Best budget
12. Eucerin UreaRepair PLUS Hand Cream
RRP: £9 | Key ingredients: Urea, ceramides, natural moisturising factors
You may recognise this Eucerin number from passing by it on the shelves of Boots, but don't let its traditional drugstore look put you off; this brand is a household name for a reason. Yes, it's fuss-free and a bit clinical, but we can attest that dryness is no match for it. This is a deeply moisturising buy that's great for excessively dry hands, thanks to the inclusion of urea, plus ceramides to support the skin barrier. We can also attest to the lasting effects of the cream. Yes, lovelier-smelling creams are available, but if it's pure, wallet-friendly efficacy for dry hands that you're after we don't think you'll be disappointed.
Buy if: You have very dry hands and sensitive skin.
Avoid if: You're looking for a more aesthetically pleasing, sweet-smelling option.
Best silky
13. Fenty Skin Hydra Vizor Hand Cream
RRP: £14 | Key ingredients: Vitamin E, murumuru & mango butters, fruit oils and extracts
What really makes this hand cream from Rihanna's beauty brand stand out from others here is its gorgeously silky texture. It's not greasy, which did surprise our tester considering that it's packed with fruit butters and oils for nourishment. The lightweight lotion glides over the skin and sinks in with ease – though be careful not to over-apply as you may notice the slightest sticky feeling. We love the inclusion of SPF in this hand cream, but a rating of 15 doesn't really cut it as your sole form of SPF; you'll need to apply a separate sunscreen if you'll be spending the day outdoors.
Buy if: You want a budget-friendly but silky, luxurious-feeling cream with SPF thrown in.
Avoid if: You're relying on hand cream with SPF as your sole form of sun protection (15 is definitely not high enough).
Best sweet-smelling
14. Laura Mercier Ambre Vanille Souffle Hand Cream
RRP: £27 | Key ingredients: French olive & plum seed oils, natural butters, tapioca starch
As a brand founded by a leading makeup artist, Laura Mercier may be better known for its makeup products, but the bath and body products shouldn't be overlooked. This has a very sweet fragrance to it, not too dissimilar to Sol de Janeiro scents, so it's perfect for those who like gourmand fragrances and want their hand cream to smell as such. It also features shea butter and while it does a good job of nourishing hands, there are options in our guide - like CeraVe, Eucerin and L'Occitane - which are more suited to very dry skin.
Buy if: A sweet-smelling, nourishing hand cream is something you don't mind spending a little extra on.
Avoid if: You have very dry skin - opt for something like Eucerin or CeraVe instead.
Best affordable French pharmacy
15. Bioderma Atoderm Hand Cream
RRP: £6 | Key ingredients: Shea oil, D.A.F™ patented natural complex
Another trusted French pharmacy brand, Bioderma's affordable hand cream is also another that's fairly unfussy, but that our tester still appreciated. Nothing is going on here is likely to be irritating to sensitive skin, and the cream certainly left our hands feeling noticeably smoother. Though it's a simple formula with an accessible price tag, the packaging still feels understated yet chic. Just be careful not to overapply, as it can leave a sticky residue.
Buy if: You'd like your hand cream to restore nail health too.
Avoid if: You want something that immediately sinks into the skin with zero residue.
How we tested the best hand creams
Our tester went back to some of her existing favourites that she's tested and loved during her career as a beauty editor, as well as some she hadn't previously tried on top of the latest hand cream launches. She also ensured that selections ranged from under £10 / $15 budget picks to very high-end luxurious brands to ensure that a broad range would be tested and included in her in-depth guide. Each cream was tested at least once, with its results observed throughout the day, and the following factors were all taken into account during the trialling period.
Inclusion of noteworthy skincare ingredients in the formula
Texture and consistency
How well it absorbed into hands
Any lasting or greasy or sticky feeling
How our hands felt throughout the day after applying
Packaging and dispensation
Price
FAQ
How often should you apply hand cream?
"This very much depends on the product and on the skin condition," says Dr Shotter. "At least twice a day is basic guidance, but if you suffer from irritated or dry skin on the hands, I would recommend doing so after every time you wash your hands."
Dr Mahto agrees that it's best to apply your hand cream in the following instances:
After washing your hands: "Frequent handwashing can strip the skin of its natural oils. Apply hand cream immediately after washing to prevent moisture loss."
Throughout the day: "Reapply as needed, especially if you have dry skin or work in a profession that requires frequent handwashing or exposure to harsh chemicals."
Before bed: "Applying hand cream before bed allows it to work overnight to repair and hydrate your hands."
How much hand cream should you use and can you put too much on?
Dr Mahto says that it's not necessarily the case that you can apply too much hand cream, "but applying an excessive amount can lead to a greasy or sticky feeling. Generally, using a pea-sized amount and applying it after hand washing or when your hands feel dry is sufficient for most individuals. If you find that your hands still feel greasy or uncomfortable, you may be using too much, and you can adjust the frequency accordingly."
What is the best hand cream for ageing hands?
"Anti-ageing partly involves hydration status, but can also involve active ingredients to help boost collagen stimulation or to help target pigmentation," says Dr Shotter. Retinol in particular is an ingredient that is proven to improve the visible signs of aging in the skin, targeting fine lines and pigmentation, so Beauty Pie's hand cream is a particularly good option in our guide on that front. It is imperative that you apply SPF during the day if you are using retinol on your hands – our guide on how often you should use retinol has more expert advice on using this ingredient in your regime.
---
Hopefully you've found a hand cream on this list that suits your skin type, budget and feels like a treat to apply. Chapped, rough hands, be gone.
Sign up to our free daily email for the latest royal and entertainment news, interesting opinion, expert advice on styling and beauty trends, and no-nonsense guides to the health and wellness questions you want answered.
Lucy is a UK-based beauty journalist who has written for the likes of Marie Claire, Cosmopolitan, OK!, Women's Health and more, as well as contributing to woman&home. Her work covers everything from expert skin and haircare tips to the latest product launches and the show-stopping beauty looks spotted backstage at London Fashion Week. During her career she's interviewed some seriously famous faces, from Little Mix to Drag Race royalty The Vivienne, as well as chatting to the industry's leading hairdressers, dermatologists and make-up artists.