How to use vitamin C serum to get the best results for your skin
If you've been wondering how to use vitamin C serum, let our experts help make this superstar ingredient work for you.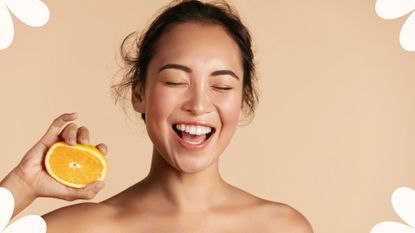 (Image credit: Getty/Future)
woman&home newsletter
Sign up to our free daily email for the latest royal and entertainment news, interesting opinion, expert advice on styling and beauty trends, and no-nonsense guides to the health and wellness questions you want answered.
Thank you for signing up to Woman & Home. You will receive a verification email shortly.
There was a problem. Please refresh the page and try again.
If you're starting to look into how to use vitamin C serum, congratulations - you're about to embark on a journey to your best skin yet.
Vitamin C is one of those super-hyped, super-popular, superstar ingredients, constantly touted by derms, facialists and Beauty Editors as a must-use product in any skincare routine.
Tell us your biggest beauty bugbear. Is it pigmentation? Maybe fine lines? Dullness? Acne scarring perhaps? If you answered any, or all of the above, then meet your skin's new best friend: vitamin C, which tackles almost any complexion concern.
Basically, it's the Swiss army knife of skincare ingredients. "Vitamin C is a very powerful antioxidant," explains dermatologist Dr. Cristina Psomadakis. "Antioxidants are our personal fighters against the army of free radicals generated by UV exposure, pollution and smoking, which eat away at our collagen. Antioxidants help us combat that damage, and applying them to our skin via vitamin C cosmetic products helps boost collagen, even skin tone and protects the skin from further damage."
Ready to switch on your complexion? We've grilled the experts on how to use vitamin C serum to take your complexion from drab to fab.
How to use vitamin C serum in your skincare routine
How to use vitamin C serum in your skincare routine
Before going into the extra details of why it's such a great ingredient, here's what you're here for - how to use a vitamin C serum in your skincare routine.
The general rule with skincare layering is going from lightest to heaviest formula - so generally, the order is: cleanse, serum, eye cream, moisturiser, sunscreen. Vitamin C absorbs most effectively after cleaning, so it should be the second step in your routine.
When it comes to applying your vitamin C serum, award-winning Dermatologist Dr. Nowell Solish, award-winning dermatologist advises, "Apply a pea-sized amount and gently massage into the skin. Allow the serum to absorb for a few minutes before applying subsequent skincare products, but it doesn't need to completely soak in before moving on."
What does Vitamin C do for skin?
"Vitamin C acts as a potent antioxidant, promoting collagen synthesis, reducing hyperpigmentation, and protecting the skin against environmental damage for a brighter and more youthful complexion," explains Dr Solish.
With anti-inflammatory effects, it can also help with acne, and boosts the skin's own healing process to reduce the redness left by spots. It's a highly efficient brightening ingredient but also helps inhibit the production of melanin (the body's natural tanning pigment) to prevent future dark spots from forming. As Dr. Solish elaborates, "Vitamin C is beneficial for individuals with concerns like uneven skin tone and fine lines, and it is generally well-tolerated by most skin types, though patch-testing is recommended for sensitive skin."
What is the best sort of Vitamin C to apply?
When you've spent time on effort to understand how to use vitamin C serum, you'd ideally like to use the best form, right? "L-ascorbic acid is the most effective and stable form of vitamin C," confirms Dr. Solish, so when you're choosing between the best vitamin C serums, look for this type of vitamin C in the ingredients list. Vitamin C does come in many guises, including less intense versions like magnesium ascorbyl phosphate and sodium ascorbyl phosphate.
"The ideal concentration is between 10-15%," says Dr. Psomadakis of L-ascorbic acid serums. "You can go up to 20% but this can be difficult to tolerate for many skin types."
Although vitamin C is widely regarded as a well-tolerated ingredient for most skin types, it can irritate delicate skin. Even hardened skin types can experience a slight tingling sensation upon first application. Sensitive skin or not, it's best to begin your foray into vitamin C using a low concentration - somewhere around the 5% mark. As your skin becomes more accustomed to this antioxidant, you can up the dosage all the way up to 20 per cent, which gives real pigmentation-busting results.
Should I choose a vitamin C serum or moisturiser?
If you have to choose one vitamin C product, go with a serum - they're lighter than moisturizers but ultra-intensive and contain a high concentration of active ingredients, designed to penetrate the skin more effectively.
"There are many different forms of vitamin C and some are not amenable to be added to moisturisers, and are most stable in serum format," explains Dr. Psomadakis. "L-ascorbic acid, the most studied form, is best in a serum."
Is it okay to use Vitamin C serum every day?
Knowing how to use vitamin C serum is almost as important as knowing just how often to apply it. Like your morning glass of OJ, you can make vitamin C serum part of your everyday regime. "It is generally safe to use daily, once or twice a day, depending on skin tolerance," confirms Dr. Solish. "Apply vitamin C serum in the morning after cleansing and toning, before moisturizer and sunscreen."
Dr. Psomadakis agrees. "I usually recommend applying vitamin C in our morning routines," she explains. "We face most free radicals during the day, and vitamin C gives an extra boost to our sunscreen so I apply a vitamin C serum after I wash my face."
There's nothing to stop you from applying topical vitamin C at night but given that it offsets environmental aggressors like UV damage and pollution, you'll benefit most from applying it in the morning before sun exposure.
What other ingredients work well with Vitamin C?
Vitamin C is a real team player, and its efficacy is actually bolstered when paired with other antioxidants, like Vitamin E. Used together, this antioxidant double act provides a one-two punch of protection and hydration.
Vitamin C and ferulic acid is another common power pairing. Ferulic acid, a superstar antioxidant in its own right, actually helps to stabilise vitamin C for maximum skin-protecting, complexion-correcting performance. And it's great news for UV protection, too. "We know from research that when vitamin C is combined with sunscreen it gives an extra boost to UV protection," says Dr. Psomadakis.
Which ingredients don't work well with Vitamin C serum?
"Avoid using Vitamin C serum with exfoliating acids like AHAs and BHAs to minimize potential irritation or reduced efficacy," explains Dr. Solish. "If desired, use them at separate times or alternate days."
Retinol, another hall-of-fame anti-ageing ingredient, should absolutely be part of your regime if you're looking to build collagen and smooth lines. Applying it with vitamin C, however, can cause irritation. If you're wondering how to use vitamin C serum with your favourite retinol cream, the best practice is to apply vitamin C in the morning and retinol in the evening.
Niacinamide is another skincare superhero that doesn't play well with vitamin C. When used together, these antioxidants lose their potency so they should always be applied at separate times.
Does the packaging make a difference when it comes to how to use Vitamin C serum?
With vitamin C products, it's important to judge a book by its cover. That's because the outer facade is integral to its efficacy. "The most well-researched form of vitamin C is L-ascorbic acid," explains Dr. Psomadakis. "However, it is highly unstable, and affected by exposure to light and oxygen so these serums should come in dark packaging and be stored in a cool room away from sunlight."
Vitamin C serum can be colourless or a light straw hue, but once it starts to turn yellow or brown, this could suggest it has oxidised. At this point, it's less likely to have a noticeable effect on your skin so bin it. Look for vitamin C capsules, or products with air-tight containers and a pump applicator where possible, rather than a dropper or jar, to restrict the amount of air the ingredient comes into contact with.
---
3 Vitamin C super serums to try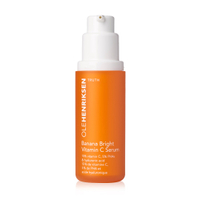 Ole Henriksen Banana Bright Vitamin C Serum
With an opaque bottle, hygienic pump dispenser, and potent 15% concentration, this juice ticks all the boxes for a vitamin C serum. It's silky and quick to soak in - perfect for busy mornings. Gentle Poly-hydroxy acids provide a gentle exfoliating action to slosh away dead skin cells, so skin looks peachy-fresh.
---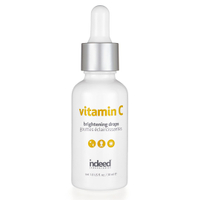 Indeed Labs Vitamin C Brightening Drops
In this serum, the ascorbic acid has been encapsulated, which means it's stable, less irritating to sensitive skin and non-photosensitive so you're getting efficacious vitamin C results, application after application. Clever. It also means it's able to penetrate the skin 15x more effectively than regular ascorbic acid on its own.
---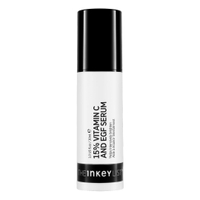 The INKEY List 15% Vitamin C + EGF Serum
Here, vitamin C teams up with EGF (Epidermal Growth Factor) to deliver a one-two punch against dull skin and dwindling elasticity. The naturally-derived EGF helps stimulate skin cell regeneration to soften wrinkles and enhance radiance. Its deliciously light texture is a major selling point, too.
---
Sign up to our free daily email for the latest royal and entertainment news, interesting opinion, expert advice on styling and beauty trends, and no-nonsense guides to the health and wellness questions you want answered.
Stephanie Maylor is a Beauty Editor working across five national magazine titles, with almost 15 years' experience in the industry. She has written for many brands, including woman&home, Grazia, Now, More!, Fabulous, NW, Woman, Woman's Own, Woman's Weekly, Essentials, Best, Chat, and OK! online.
In 2010 she launched her own beauty blog, which was shortlisted for Best Beauty Blog in the 2011 and 2012 Johnson & Johnson Beauty Journalism Awards. She has interviewed many high profile industry experts and celebrities including Alesha Dixon, Twiggy and Christina Hendricks.