Suranne Jones seems to be everywhere at the moment, thanks to the return of Doctor Foster, the highly acclaimed betrayal-and-revenge drama, which is due to hit screens again later this year.
The actress looks flawless (if not a little terrifying) in the latest poster for the show. The 38-year-old star always has a youthful glow, so what's her secret?
Before last night's screening of the first episode of the second series at the Mayfair Hotel, Suranne treated her skin to a little a pick-me-up with a product from a brand we all know and love...
GLAMGLOW face masks are available at M&S and their benefits to the skin have been widely praised for decades.
Suranne's facemask of choice is the GravityMud Firming Treatment, which is on sale at M&S stores for £42 (50g).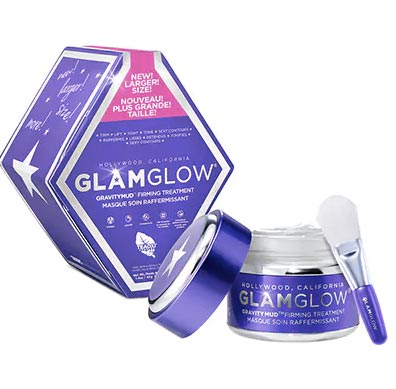 The mask has a rather futuristic look once applied, with a silver metallic finish.
She posted a picture of herself trying out the mask. She captioned the photo: 'Trying out a face mask I picked up the other day... going to make hubby do it so he looks like Robert the robot... everyone's a winner ... #cbeebies#justinshouse #forthekids #mumslife@glamglow @glamglowuk ... #screening#beauty #productjunkie DR F 2 showing this evening..'
[instagram] https://www.instagram.com/p/BXhliRFhGG6/?taken-by=suranne_jones [instagram]
Here's what GLAMGLOW have to say about the mask...
'Whilst sat on skin, the mask changes from a bright white cream to a unique, iridescent chrome colour. Once dry the mask simply peels away, revealing a renewed and youthful complexion. The mud mask is powered by TEAOXITM Marshmallow and Liquorice Leaf, which work in synergy to combat loss of elasticity.'
Continued below...
You can buy the GLAMGLOW mask for £42 at M&S HERE