Harry has become 'more of a man in his own right' since meeting Meghan, according to body language expert
A body language expert looks at how Harry and Meghan's relationship has 'strengthened over time'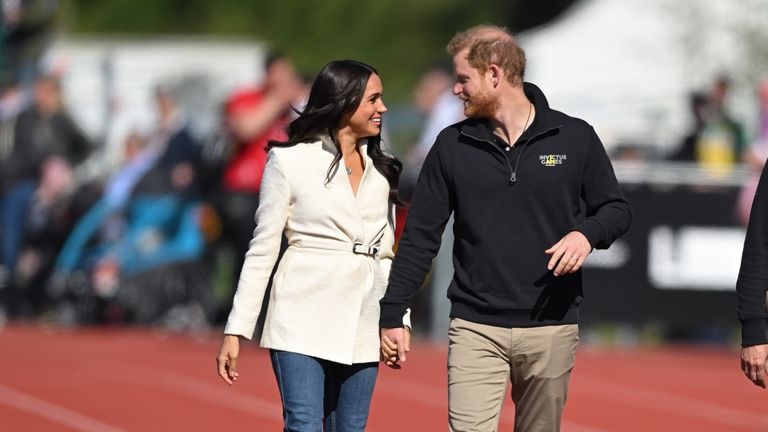 (Image credit: Karwai Tang/WireImage/Getty)
Prince Harry and Meghan Markle celebrated their fourth wedding anniversary earlier this week. As the Sussexes celebrated a new chapter in their marriage, a body language expert has taken a deep dive into their relationship - analyzing their body language and behavior to reveal how their relationship has "strengthened" over the years and how Meghan has become a 'rock' for Harry.
Prince Harry and Meghan Markle's body language suggests that their relationship has "strengthened" over the years
A body language expert has analyzed how Harry has become "more of a man in his own right" and the ways Meghan shows Harry support and reassurance
---
Body language expert, Darren Stanton speaking on behalf of Slingo (opens in new tab), has shared that Harry has become "more of a man in his own right" since meeting Meghan.
Analyzing their body language over the last four years, Darren explains, "Harry and Meghan have always proven to be strong characters within their own right. Prior to meeting Meghan, Harry never came over particularly confident during interaction with others - this could have been for a number of reasons…"
"He would often be seen making similar gestures to Prince Charles, otherwise known as soft reassurance gestures, which suggest he wasn't as confident as he'd like to appear."
Darren went on to say, "Harry would often tuck his hands into his jacket, almost giving himself a self-hug. When we touch our face or body, it's to try to build self-confidence in situations where we feel quite uneasy. Over the last two years, Harry hasn't been seen doing this so much and has instead become more of a man in his own right, asserting his confidence, determined to be seen as an adult and not to be told how to behave."
As for Meghan, Darren explains that she "was always the more confident of the couple right from the outset and this is probably due to the nature of being a professional actress - a fiercely competitive career and one that ensured she was always in the spotlight."
The body language expert also looked into the evolution of their affection towards each other.
"Similarly to Kate and William, Harry and Meghan have grown much more accustomed to public displays of affection, like holding hands or exchanging long glances with one another. The strong eye contact between the pair is a clear indicator that Harry is completely head over heels for Meghan."
"Meghan, meanwhile, is very protective of Harry. There have been many occasions where she has sensed if Harry is feeling uncertain or lacking in confidence and she'll react with a gesture to reassure him."
"You'll notice at times Meghan will place the flat of her hand on Harry's back or touch his elbow - both are to show affection and to let him know that she is there to support him."
Jack Slater is not the Last Action Hero, but that's what comes up first when you Google him. Preferring a much more sedentary life, Jack gets his thrills by covering news, entertainment, celebrity, film and culture for woman&home, and other digital publications.
Having written for various print and online publications—ranging from national syndicates to niche magazines—Jack has written about nearly everything there is to write about, covering LGBTQ+ news, celebrity features, TV and film scoops, reviewing the latest theatre shows lighting up London's West End and the most pressing of SEO based stories.