Duchess of Cambridge is under "extra pressure" according to body language expert
Her latest appearance has indicated that she could be feeling stressed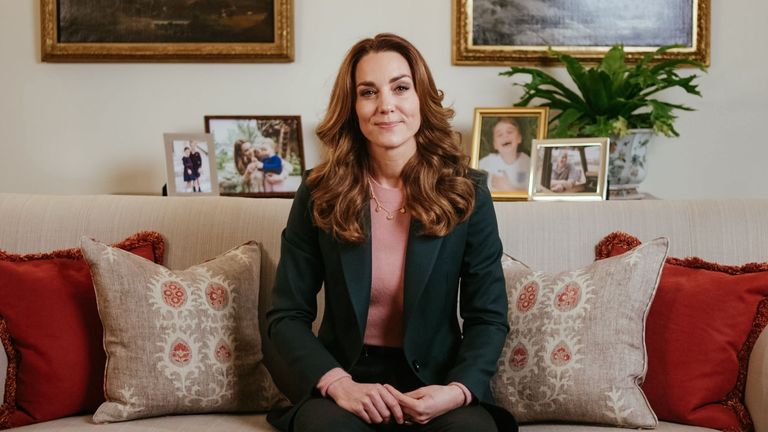 (Image credit: Photo by Kensington Palace via Getty Images)
The Duchess of Cambridge's most recent appearance has shown indications she's under additional pressure, according to a body language expert.
The Duchess of Cambridge always looks impeccable, effortlessly styled, whether she's in timeless Missoma earrings or an elegant scallop Boden cardigan. But her appearance has come under scrutiny in a recent video, for a very different reason. Duchess Catherine took to social media yesterday to announce the extraordinary response she's had to her latest project.
The 5 Big Questions on the Under 5s has received over 500,000 responses from the public and Catherine is set to announce the full results later this week.
The duchess warmly talked through the project and revealed that this is "just the beginning" for early years development research.
Why has the Duchess of Cambridge's video got people talking?
Whilst the Duchess of Cambridge was as positive as ever when discussing the project, several people commented on the video, concerned about her appearance.
One wrote: "sad eyes Princess Catherine", whilst another suggested that it is the recent loss of her family dog that has had an effect, writing: "She looks not ok after Lupo passed away".
Another Instagram user asked: 'Was she crying before this? Or too tired?'
This sentiment was shared, with another writing: 'She looks like she has cried'.
What could have caused this change in body language?
Body language expert Nick Davies has suggested to the Express that Duchess Catherine's supposed tiredness could be due to "extra pressure".
He spoke of how: "with Harry and Meghan leaving royal duties, she has extra pressure on her". Davies also remarked upon Catherine "showing signs of slightly puffy eyes", suggesting this "could be from a lack of rest, or possibly crying" as some royal fans thought.
And it's not just Duchess Catherine's eyes which could be indicating further strain. Davies also spoke of the "micro-expression of sadness" that can be glimpsed in the final second of the video.
He reveals that it comes after Catherine says "We're all in this together". In what is already a challenging time for everyone across the globe, it seems that "she too is likely suffering from stress and sadness".
How has the pandemic added to royal responsibilities?
Whilst the Duke and Duchess of Cambridge have had a significant part to play in the Royal Family for some time now, this has only been added to by recent events.
With the Duke and Duchess of Sussex standing down as senior royals, Prince William and Duchess Catherine have had to step up even more. And the pandemic has made matters even more difficult as the Queen, Prince Philip, Prince Charles and the Duchess of Cornwall are all classed as "vulnerable" to covid-19 due to their age.
In the past, royal expert Kate Nicholl has reportedly spoken of how "the Palace is keen to downplay rumours of the Queen retiring or even scaling back". However she has said, "the reality is that we have seen the Cambridges stepping up to the plate more now than ever before."
The Duke and Duchess of Cambridge have been working tirelessly during this challenging year. Both have made regular video appearances, met with key workers and shared insights into their lives and family.
As Nicholl has said: "We are a nation in the middle of a crisis and it's times like this we turn to the Royal Family for support, comfort and hope."
However much pressure she is under, Duchess Catherine is certainly providing the positivity we all need in our lives right now.