Keep Breathing on Netflix: What does the ending mean?
The new 6-episode Netflix series Keep Breathing has got viewers on the edge of their seats following an explosive but confusing season finale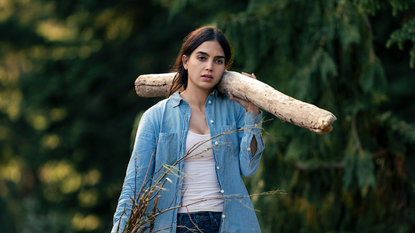 (Image credit: Ricardo Hubbs/Netflix)
Among the many new series that debuted on Netflix this past summer, Keep Breathing has quickly become a fan-favorite.
Starring Mexican actor Melissa Barrera of In the Heights fame, the limited series premiered at the end of July, consisting of six episodes that run about 40 minutes each and that are now all available to stream on the platform.
What is Keep Breathing on Netflix about?
Keep Breathing, written by Canadians Martin Gero and Brendan Gall specifically for Netflix, centers around Liv, a woman who is traveling to a small town called Inuvik in the northwest of Canada to meet up with her estranged mother.
After her flight is delayed, Liv overhears two men at the airport talk about renting a private jet to get to Inuvik and begs them to tag along. The plane, however, ends up crashing and leaving everyone on board dead except for Liv who is now stranded in the Canadian wilderness.
The six episodes focus on Liv trying to survive and reach safety all while almost drowning, fighting off a bear, incurring a variety of bodily injuries and battling her inner demons.
Spoiler alert: as fans learned while watching the limited-series, the reason why Liv embarks on the trip to begin with is because she now knows she's pregnant with first child with her boyfriend Danny and decides to make amends with her estranged mother before becoming one herself.
What happens at the end of Keep Breathing on Netflix?
At the end of the final episode of Keep Breathing on Netflix, Liv reaches a river that she believes could lead her back to civilization if she could only manage to survive with a broken leg. The character decides to try her luck by jumping into the body of water while grabbing onto a log. She eventually, though, loses her grip and starts floating through the river while unconscious.
A few moments later, the audience rejoices as two men spot Liv, take her out of the water and seemingly save her life as she is seen waking up and taking a breath.
The last scenes of the series show Liv giving birth to her child in a hospital with Danny by her side.
But, given the show's overall tone and the hallucinations that plagued the protagonist throughout the season, fans can't help but wonder whether Liv is actually alive or is dreaming of safety while dying.
Is Liv alive at the end of Keep Breathing on Netflix?
There seems to be no plans involving a potential second season of Keep Breathing, so fans should assume that the final aired scene actually serves as a series finale.
To the delight of the audience, while discussing the meaning of his work in an interview with Entertainment Weekly (opens in new tab), creator Brendan explained the end of Keep Breathing and revealed that Liv is still alive... sort of.
"The ending is literal in that she survives," he said to the outlet. "We see her wake up and take a breath. The ambiguous part, the part up for interpretation, is whether the images of her and Danny going to the hospital are flash-forwards or her imagined future when she believes she's dying. Both are valid."
We'll go with the former explanation, a real happy ending after a very tense six episodes during which we had to constantly remind ourselves to, well, keep breathing.
Anna Rahmanan is a New York-based writer and editor who covers culture, entertainment, food, fashion and travel news. Anna's words have appeared on Time Out New York, the Huffington Post, Fortune, Forbes, Us Weekly, Bon Appetit and Brooklyn Magazine, among other outlets.