Eamonn Holmes reveals major difference with his wife Ruth Langsford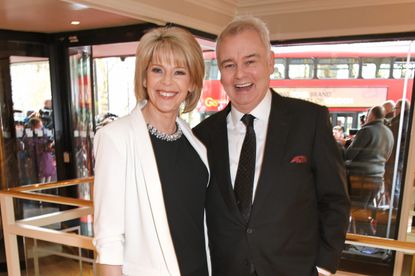 Eamonn Holmes has revealed one of the biggest differences he faces with his wife of ten years, Ruth Langsford.
On Sunday evening, Eamonn took to Twitter to reveal his latest lockdown task, which gave an insight into his marriage with Ruth.
He wrote, 'Have dedicated today to clearing out stuff.... every drawer and cupboard has STUFF!
'Have discovered in the process that unfortunately I'm only really good at rearranging the deckchairs.
'Why am I so bad at letting STUFF go?'
One follower replied to Eamonn, 'I'm the same, my hubby hates it, he would happily throw the entire contents of a drawer without checking in it first.'
To which Eamonn replied, 'Ruth is like your husband then!'
Another fan replied to him, 'At least you have made an effort. After seven weeks of lockdown, I still haven't started.'
But Eamonn joked back, 'And I wish I hadn't bothered!'
But while Ruth may be motivated to clear out their Surrey home - where they are self isolating with teen son Jack - there is one part of her daily routine that Ruth isn't fussed about keeping up.
The Loose Women presenter took to Instagram last week to tell her followers she hasn't washed her hair.
Speaking to the camera during her daily dog walk, she said, 'Afternoon. Still haven't washed my hair. I can't be bothered.'
She added, 'All I do is clean and hoover and then walk the dog and then do some ironing. Yeah, it's all good fun.'
Eamonn recently revealed how doing housework helps Ruth cope in lockdown.
He said, 'I'm pleased because she works so hard at everything she does.
'She's certainly running this house like a military operation. It's her way of dealing with the scariness of it all.'
Robyn is a celebrity and entertainment journalist and editor with over eight years experience in the industry. As well as contributing regular to woman&home, she also often writes for Woman, Woman's Own, Woman's Weekly and The Sun.