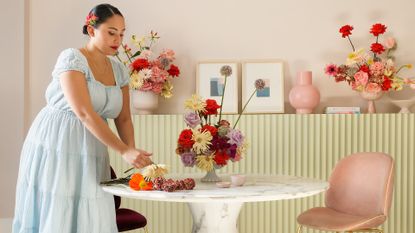 (Image credit: Dulux)
"This room makes me feel calm, collected, and ready to create," says florist Iona Mathieson of her Dulux Heritage decorated space. Inspired by the range's luxurious paint shades, Iona is one of three tastemakers to curate a sumptuous colour palette as part of the Evoke Your Senses series.
Made up of Pale Olivine, Powder Colour, Mallow White and touches of Light Cobalt, Iona's chosen colours combine to evoke the sight and scent of the fragrant flowers displayed about the room.
"Pale Olivine is a very grounding colour and it evokes the earthy nature of our bouquets," explains Iona. Meanwhile, the delicately soft pink of Powder Colour ties the whole collection together. "It's a constant colour in all the work we do and complements everything really well."
"The colours in this room evoke for me a really special scent. Almost like bringing the sense of nature inside," says Iona. "It reminds us of sweet-smelling sweet peas and garden roses."
Create a colour palette to awaken your senses using the Dulux Heritage range. With 112 exquisite colours to choose from, you're sure to find an expressive colour combination to elevate your home.
Arranging a bouquet is about more than just colour - it's about scent and touch, too. "I love the colours of flowers. You get some really bright ones and some pastel tones," says Iona. "But the texture of flowers really adds something to an arrangement."
Much like Iona's flowers, Dulux Heritage offers much more than an array of beautiful, premium paint shades.
With more than 90 years of expertise, Dulux has formulated the paints to the highest standard using the finest grade ingredients. The result is a luxurious, strokeably soft finish that enriches the paint colours. "It's beautiful to touch as well as to look at," remarks Iona.
Designed with today's home in mind, the velvet matt and eggshell formulations are wipeable and durable, delivering on both style and substance. With a guaranteed uniform finish and great coverage, they're easy to apply whether you're a professional decorator or DIYer.
The colourists at Dulux Heritage have brought together an evocative collection of contemporary shades that take inspiration from classic colours. To help you choose the perfect palette for your home, the wide selection of paints has been arranged into fresh pale tones, warm mid-colours and decadently deep hues.
Iona suggests building your colour palette as she would a bouquet, starting with paler pastel tones and layering in bolder colours like Light Cobalt and Florantine Red. "Sometimes we go for very bright colour palettes, but we always find ourselves slipping back into these really lovely pastel tones and matching them with pops of slightly brighter colour," says Iona. "Don't be afraid to add some colour. Go bold."
CHOOSE YOUR COLOURS
Order your free colour card on the Dulux Heritage website (opens in new tab) and be inspired to create a colour palette that tantalises all your senses. With help from Dulux's experts, you too can transform your home into a space that evokes the stirring scent, sight and touch of a beautiful bouquet.
WHERE TO BUY
Dulux Heritage Velvet matt, eggshell and undercoat paint is available from duluxheritage.co.uk (opens in new tab), Homebase and independent stores, in 1ltr, 2.5ltr and 5ltr tins. You can also order small tester pots, so you can try out your chosen paint colours at home.
Our in-house craft expert, Esme Clemo, has been working within the craft magazine industry for eight years, having turned a sewing hobby into her career. She's adept in a number of crafts, including sewing, papercraft, calligraphy, embroidery and printing and has also completed an interior design course with the University of Arts London,
There's nothing she doesn't know about DIY and interiors. Everything in her home and wardrobe has a DIY twist and she knows all the tools needed for getting the job done - meaning she has a very hands-on approach when it comes to testing out products for our reviews.