Hilarious pictures show 'curious' goats venturing into a Welsh town while people stay home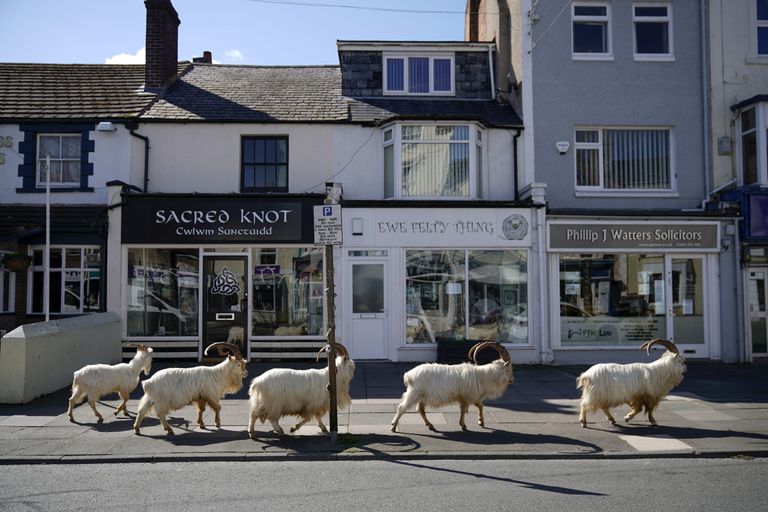 This story is part of our Good News (opens in new tab) series – bringing you positive headlines every day to spread positivity during difficult times.
Streets everywhere might look a bit empty – and that's given some animals the perfect opportunity for a little stroll on the wild side.
That was the case in the Welsh town of Llandudno, in north Wales, where a herd of over 100 goats ventured into town.
According to town councillor Carol Marubbi, the Kashmiri goats usually venture in during bad weather, but this time they did it on a sunny day – probably because there was no traffic or people walking the streets.
She told BBC News, "They are curious, goats are, and I think they are wondering what's going on like everybody else."
MORE GOOD NEWS: Why more rescue cats and dogs are being adopted due to coronavirus (opens in new tab)
"There are very few visitors on the top [of the Orme], so they have come down in their droves.
"There isn't anyone else around so they probably decided they may as well take over."
And residents of the town were loving the unexpected visit.
"There's no cars, there's no people, there's no noise — there's nothing to stop them, so they are going for it," resident Andrew Stuart told Canadian show As It Happens.
"They're snacking on hedges. They're climbing on walls. They're climbing on all of the street furniture you can possibly find. They are climbing on houses as well."
Dr Graeme Shannon, a lecturer of Zoology at Bangor University, said he hopes that now everyone is slowing down, people will appreciate wildlife more when all goes back to normal.
"That is an extreme example - we haven't disappeared, we are just restricted to our homes," he told BBC.
"Nature is not suddenly taking over, but wildlife is very adaptable and resilient, the change in just a couple of weeks has been fascinating."
"Hopefully when we return to our normal activities, maybe this will change our perception of wildlife,
Mariana is the editor of My Imperfect Life. She has previously worked for lifestyle titles including GoodtoKnow covering all aspects of women's lifestyle - from beauty and fashion to wellness and travel.