Where to find restorative wellness retreats and health retreats near you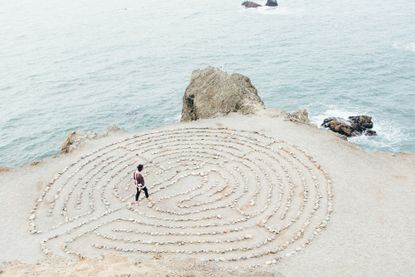 If you need a break from the daily grind but don't want to travel too far, we've got great suggestions for wellness and health retreats near you.
Wellness retreats are wide-ranging these days, and can be found everywhere from spa hotels to purpose-built facilities and glampsites. These are our favourite wellness retreats and health retreats across the UK.
More like this: The best yoga retreats and weekends in the UK (opens in new tab)
Wellness and health retreats in Devon, Cornwall & Somerset
The Arrigo Programme
Back to Nurture by Arrigo retreats in Somerset are a brilliant way to reset your life, or just improve your daily well-being. Accommodation is in luxury cosy yurts and safari tents, each with their own private bathrooms, log fire burners and an 'Arrigo angel' to help with whatever you need. There'll be healthy meals provided and consultations with clinical experts and therapists.
The idea is to "achieve deep, transformational and lasting change, from the inside out". More information here (opens in new tab).
The Body Retreat, Somerset
The Body Retreat is a luxurious well-being and weight loss retreat run by women for women. Based on the idea that "one size doesn't fit all", just eight women are allowed on each retreat, which will be tailored to each individual and concentrate on sustainable well-being. You'll focus on exercise, nutrition, behaviour and relaxation to come out feeling refreshed and well.
There's also the option to choose locations in Dorset on the Jurassic Coast, France and Spain. More information here (opens in new tab).
Tresco, Isles of Scilly
The Isles of Scilly are by far one of Britain's most beautiful destinations, so there may be no better place for a wellness retreat. The private island has annual mindfulness and meditation retreats, the next one taking place in October 2019.
Run by Caspar Walsh, who has a decade of experience in guiding people in personal reflection and meditation, the retreat offers an opportunity for deep rest and reconnection with yourself in beautiful surroundings. More information here (opens in new tab).
Merlin Court at Slimmeria, Devon
For the ultimate rejuvenation and detox retreat, head to Slimmeria in Devon. Their brand new 'Sea Breeze' escape in is set in picturesque Ilfracombe in a beautiful Gothic mansion. Just steps away from the sea and harbour, you'll enjoy the fresh sea air with daily invigorating coastal walks, exploring sand dunes and embracing fun exercise classes. There's a delicious detox diet and the opportunity to unwind with a spa treatment.
The retreat is designed to help you rid bad habits, and you could lose up to 10lbs in just six days, while learning how to eat well and get back into a good fitness pattern through the Slimmeria's signature formula, which has been tried and tested for almost ten years at their popular celebrity Sussex retreat. More information here (opens in new tab).
Hell Bay Hotel, Isles of Scilly
Another Isles of Scilly stunner, the island of Bryher is a more rugged and wild alternative to manicured Tresco. The Hell Bay Hotel have recently introduced a new yoga studio and are now offering three-day retreats, the first of which is in September.
There will be seven serene yoga classes across the weekend, as well as incredible dinners in the three-AA-Rosette restaurant at the hotel. More information here (opens in new tab).
More like this: Where to stay on the Isles of Scilly (opens in new tab)
Watergate Bay Hotel, Newquay
Enjoy a wellness weekend right on the beach with Watergate Bay Hotel, which offers a two-day break led by specialist instructors from Oceanlight Yoga. You'll learn the foundations of yoga and take part in classes covering different disciplines including Vinyasa, Yin and Acro.
You'll also have the option to join walking and evening reflections, and workshops aimed at deepening your yoga understanding. More information here (opens in new tab).
More like this: The best spa hotels in England (opens in new tab)
Wellness and health retreats in Kent, Sussex, Surrey & Hampshire
Simply Healing, Rudgwick
If you're in desperate need of a detox weekend, beeline for Simply Healing in West Sussex. This gorgeous retreat in a country house offers a range of programs, from five-day juice detoxes to long weekend retreats aimed at resetting your health.
The retreats are run by Vivien, who describes herself as a healer, teacher and listener with a holistic and natural approach to health, and as well as the juice detoxing, various spa treatments are included to ensure you have a completely relaxing weekend away. More information here (opens in new tab).
The Grange B&B, Isle of Wight
Not technically in Hampshire, but reachable from the county's port in Southampton, The Grange B&B has a variety of self-improvement courses and wellness retreats. There are Yoga with Awareness weekends with Ken Eyerman, writing courses with author Sophie Hannah or Simon Booker, life coaching course with Andrew Risner and 'passionate living' retreats with psychotherapist Malcolm Stern. More information here (opens in new tab).
Champneys Forest Mere, Liphook
With an aim of building healthy relationships with food an exercise, this six-night boot camp retreat at Champney's venues offers the perfect balance of strength, endurance and stability training with an emphasis on team interaction alongside soothing and restorative spa treatments and nutrition talks.
An overnight break with six night's accommodation includes breakfast, lunch, and dinner, as well as robes, towels and slippers and full use of the facilities including hydrotherapy pool, sauna, steam room, relaxation room and swimming pool. More information here (opens in new tab).
Love Match Retreats
Whether you're in a happy relationship or you're single and dating, this retreat promises to "take you out of your comfort zone and into your learning zone" in order to equip you with the tools and confidence to find and keep love.
Taking place in a country house in Sussex, Love Match Retreats are for couples and singles. Each retreat is designed to help you understand yourself and your love life, and what you want from future loves. More information here (opens in new tab).
GI Jane Bootcamp, Dully
If fitness is your thing, get sweaty at a GI Jane Bootcamp in the Garden of England. Excellent nutritious meals will be prepared for you between workouts and downtime, and exercises include boxing, circuit training, morning walks and yoga, plus many more. You're bound to leave here feeling refreshed and fit. More information here (opens in new tab).
Grayshott Spa's Health Regime
With programs starting from seven days to three weeks, the Grashott Spa Health Regime is the ultimate health retreat. You'll be guided along your journey to improve your gut health digestive system by experts in their fields. There'll be consultations with nutritionists, fitness coaches and therapists, as well as massages, hydrobaths and educational lectures. Accommodation is provided in the hotel's gorgeous Manor Rooms and Suites. More information here (opens in new tab).
Wellness and health retreats in the Midlands
Champneys Henlow Grange & Springs
These two Champneys locations in Leicestershire and Bedfordshire offer the same bootcamp-style retreats as the one in Sussex. Expect plenty of opportunity for exercise, eating well and spa treatments, as well as time to relax by the pool and in the sauna and steam room.
Find more information on the Henlow Grange retreat here (opens in new tab) and the Springs retreat here (opens in new tab).
Wellness and health retreats in northern England
Swinton Bivouac, Ripon
Swinton Bivouac in North Yorkshire is introducing a fresh antidote to the demands of busy modern life with a series of mindfulness and digital detox retreats set within tranquil woodland on the edge of the Dales National Park.
From Forest Bathing – which involves emerging yourself within a natural wooded environment in a mindful way to enhance health, wellbeing and happiness – to Sound Baths, there's something for everyone with these wellness retreats. Plus, you have the opportunity to enjoy the Swinton Estate spa – a stunning wellness centre in a gorgeous country estate. More information here (opens in new tab).
The Wellness Tree Retreat, Darlington
From day retreats to weekend-long programs, this group of experts will coach you through leading a better lifestyle. Embracing diet, nutrition, exercise and mindfulness, the retreats are designed to leave you feeling stronger and more confident about your body's future. It's not all celery sticks and yoga, though, there are divine meals prepared with fresh, healthy ingredients accompanied by wine. There's an everything in moderation attitude here, so don't worry about indulging in the afternoon teas and cakes too. More information here (opens in new tab).
The Acorn Wellness Retreat
Set in the Yorkshire countryside with gorgeous, rustic accommodation, The Acorn is the perfect place to unwind. From half-day retreats to full-on bespoke programs, they offer everything from yoga, mindfulness, chakra work and essential oils class to herbal exploration and sound healing. More information here (opens in new tab).
Wellness and health retreats in Wales
Seren Retreat Centre, Swansea
Within easy reach of Swansea, Seren Retreat is a gorgeous escape in the Welsh countryside on the Gower Peninsula. The retreat shares its own 23 acres of oak trees and wildflowers with guests, who often walk the five miles to the peninsula's north or south beaches, to be inspired by some of the best shorelines in the UK.
training courses in Polarity Wellness, which is the study and direction of the body's energy, guests can also join a three or seven night Ayurvedic rejuvination, based on the practices of Ancient India. There will be yoga, mindfulness, meditation and expert advice on nutrition and exercise. More information here (opens in new tab).
Spirit Horse Retreat, Cardiganshire
Founded by a revered spiritualist, Spirit Horse Retreat has been a hub for self-reflection and enlightenment almost 30 years. With no electricity and little phone signal, you'll have no interruptions from the outside world on this wellness retreat.
The exact location is so sacred to the people of Spirit Horse that it's only revealed on booking, although they will admit to being based between Newtown and the coastal town of Aberystwyth. Stay for a year, or just a weekend-long course on englightenment and healing. More information here (opens in new tab).
Wellness and health retreats in Scotland
The Penninghame Process, Dumfries & Galloway
As if spending a weekend in a Victorian country estate isn't enough to incite inner change, the Penninghame Process is a cleverly designed program to help you work on your mental wellbeing. Whether you suffer from stress, depression, anxiety or you are simply looking to make an inner lifestyle change, this process could change your life, just like the many students that undertaken it before. Retreats are held throughout the year, more information here (opens in new tab).
Lottie is an NCTJ-trained journalist, an experienced travel writer and an expert in creating compelling digital content.
Lottie has been in the travel writing business for nearly a decade and has writing and photography bylines at The Telegraph, The Times, The Independent, the i and National Geographic Traveller. She's done broadcast work for BBC Radio 4 and have contributed to a number of guidebooks and coffee table titles during her career.