How to plan a three-generation holiday that actually works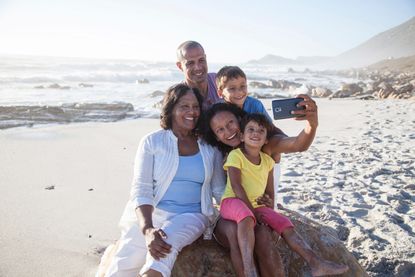 What happens when three generations of the same family go on holiday together? A well-earned catch-up with your nearest and dearest, and the chance to forge lifelong memories. Sounds like a great idea, doesn't it?
It's little wonder that three generation (3G) holidays are on the rise. According to research by holiday company Thomson, 38 per cent of Britons have holidayed with their whole family already - and that number is growing.
Villa breaks in the UK and Europe are usually the easiest 3G option - with plenty of room for little ones, comfy quarters for everyone, and a fridge stocked full of rosé and easy meals. But there are more adventurous options, too: hotel resorts are cottoning on to the idea, cruise companies are creating 3G holiday packages, and even adventure tour operators are offering intrepid trips to suit multiple generations.
More like this:18 of the best National Trust days out for families this summer
But while they have myriad pros, three generation holidays can be disastrous too. Kids will likely want to play in the pool all day, thwarting any plans for days out and long walks on the beach. Parents might think that there's free babysitting on tap, while grandparents might despair of their grown-up offspring's lazy holiday habits. If you're not careful, the kids will be frustrated, parents will be frazzled, and grandparents will feel like the (unpaid) hired help.
So how to plan a three generation holiday that actually works? We asked some seasoned 3G holidaymakers about their favourite family trip - and the advice they'd give to others planning something similar.
The three-generation villa break
Karen Beddow
Travelled with: Kids, husband, and both sets of in-laws
"The kids love going away with their grandparents - they always talk about the fun they had in the sunshine in Lanzarote. We've been holidaying together for years: when my twins were born, we suddenly had three children under 13 months - so we really had no choice but to travel with their grandparents!
"We've also had 3G holidays in French villas, and closer to home we've stayed in Center Parcs and lodges too. Our family live far away from each other, so it's a really lovely opportunity to spend quality time together. "
Karen's advice: "Make sure there's somewhere nice to go for walks from the villa or hotel, to make it as easy as possible to get some time out. Grandparents especially will appreciate this, because they're not used to full-on, full-time parenting.
"It can be a good idea to have separate cars, so you have independence. Don't just expect there to be a free babysitting and washing up service from your parents! You will probably all have to compromise a little to keep everyone happy."
Karen blogs about her family adventures at minitravellers.co.uk (opens in new tab)
More like this:8 fabulous summer mini breaks & hotel offers from £99pp
The three-generation adventure
Jae Hopkins
Travelled with: Son Oscar, and mum Sheila
"When Oscar turned 13, we all went to Tanzania - to climb Mount Kilimanjaro and raise money for charity. We trained together as much as we could too - it was really special to have that common goal.
"We have always done a lot of three generation holidays, because we have never lived near my mum and dad. Our holiday time is our social time with our family. The holiday expanded our thoughts about what we could do together as a family - there are so many cool things that we can do together.
"Unfortunately, Oscar and mum got altitude sickness so they didn't complete the climb, but when they went down the mountain, they had a brilliant adventure together - and we will always treasure those memories."
Jae's advice: "I really think that adventure holidays give you something that a more traditional holiday can't. There is, however, a time limit on 3G trips: there will come a time when your children won't want to go away with you any more, and when your parents aren't able to join in. If you're lucky enough to be able to travel together, don't waste the moment - you have to take the opportunity and grab it."
Jae is the marketing director of adventure travel company Exodus, and travelled on its Family Kilimanjaro Climb (opens in new tab) trip. The whole family blogged about the adventure on 3gkiliclimb.com (opens in new tab)
More like this:13 of the world's tastiest wine tours and cooking holidays
The FOUR-generation holiday
Michelle Jackson
Travelled with: Kids, husband, mum and step dad, grandmother, two brothers and their partners
"We did a four generation holiday in Cornwall last year to celebrate my grandmother's 80th birthday, my mum's 60th, and my brother's 30th. We hired a huge six-bedroom house, with a hot tub. My grandmother absolutely loved it - she was gob smacked!
"She loved being on holiday with all of us. Mostly we just went to the beach and relaxed in the hot tub, catching up with each other. We don't often usually get together as a big group - it's usually just at Christmas, so it was a really special holiday."
Michelle's advice: "Go for the nicest accommodation you can get, because when there is a big group of you it can be tricky to organise big trips out. Staying in together is actually really fun, especially when you're staying somewhere luxurious. Plan a few things to do, but not too much - you don't want to be too scheduled.
"I organised the whole holiday, and you have to be quite stern with everyone and give them deadlines of when you need them to make decisions. Pick an evening to have a holiday planning meeting and get everyone together - that will really help, rather than relying on texts and phone calls."