Holidays Without The Crowds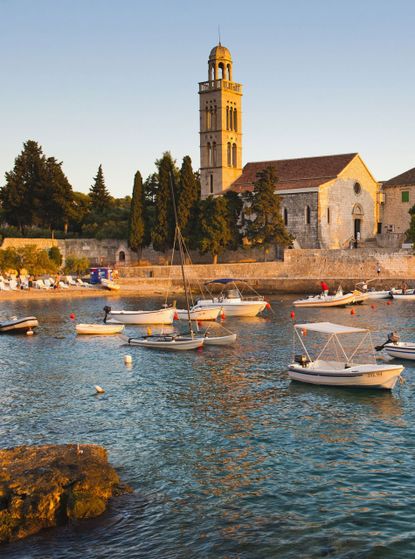 Discover the best alternative destinations to beat the holiday crowds this year
The New... Crete
Rush hour crush is bad enough on the train, let alone on a barmy beach in the middle of summer. Enjoy Mediterranean conditions without the crowds by taking a trip to the lesser known island of Hvar (pronounced 'var') along the Dalmatian coast.
Frequented by the likes of tennis ace, Novak Djokovic, Hvar can be reached by catamaran from Split port, and is best visited in spring when the weather and waters are pleasantly warm, and all the usual attractions and destinations will be open for business.
Visit the monasteries and cathedrals of Hvar's old town, or order a short taxi-boat ride to discover the secluded beaches of the nearby Pakleni islands - which are completely car-free.
You can even take sailing trips around the islets, and enjoy charcoal-barbequed lamb in one of the many ocean-side eateries.
For more info visit suncanihvar.com
Faroe Islands
The New... Iceland Wild, remote and windswept; the only crowds you'll encounter on the Faroe Islands are the colonies of wild puffins that inhabit their spectacular black sand beaches. As the appetite for Iceland's rugged beauty increases, the Faroe Islands provide a welcome alternative in their pristine isolation, which is surprising considering it takes just a three hour flight from London. Located 200km north of Scotland in the North Atlantic, this archipelago of 18 islands is the perfect getaway for outdoorsy types looking for a complete escape from civilisation. Save for a smattering of timber cottages, the northern islands, with their towering sea cliffs, make the best hiking territory. Or if you favour a gentler pace, explore the waterfall-dotted southern islands where the majority of the bird populations nest. July is the best time to visit, especially if you want to see the humble capitol of Tórshavn come to life with the annual ólavsøka festival, which culminates in a traditional Viking rowing race. Otherwise take a horse ride out to the ruined Cathedral of Kirkjubøur, or drive out to the delightful fishing village of Bøur, and sample their local fare. Sunvil Discovery operate package tours to the islands during the summer, and there's a handful of cosy, boutique hotels to choose from.
Valletta, Malta
The New... Rome With the densest concentration of historic sites in Europe, Valletta - the official European Capitol of Culture for 2018 - gives Rome a run for its money when it comes to hot and historic holidays. Located 93 km south of the Italian island of Sicily, Valletta is a UNESCO world heritage site jam packed with relics. From unique Neolithic temples to the baroque artistry of St. John's Co-Cathedral, there's too much to see in one trip. But with 2018 fast approaching, now is the best time to visit before Valletta's narrow streets become engulfed with trail-blazing tourists. During summer, you're guaranteed sunny skies and a glittering Mediterranean sea, which is perfect for between monument dips. Getting there is easy too, as most major airlines run services throughout the year. For more information go to visitmalta.com
Dolomites, Italy
The New... VerbierApres-ski headaches and holiday crowds are the fastest ways to thwart an otherwise perfect day of skiing. But swap lift passes for the trackless pistes of the Dolomites in northern Italy, and you've half solved the problem. With its UNESCO world heritage status, the Dolomites is an untarnished haven of wide, powdery slopes and awesome, vertiginous peaks - and not a ski lift in sight. The only way to see the area is to sign up for a hut-to-hut ski safari, and with a base price of over £1000 per person, you can rest assured rowdy university parties will be safely priced out of earshot. Visit dolomitemountains.com to find out more about their ski safari packages, which include guided tours of the Sella Massif with nightly accomodation, gourmet cuisine and between hut transport of your bags.
Lombok, Indonesia
The New... Bali Every bit as beautiful as neighbouring Bali, but without the heavy footprint of tourism, Lombok is the perfect bohemian escape in south east Asia. Its crowning glory is its spectacular coastline, which consists of wide, sweeping bays on the west and a south coast buffeted by ferocious waves that surf fans will adore. Take a 30 minute boat ride to the coral reef-ringed islands of Gili in the northwest. Amenities are under-developed here - locals only travel by bicycles and horse drawn carts - but that adds to the back-to-roots feel of the islands. Back on Lombok, the adventurous can go volcano trekking on the 3726m tall Mount Rinjani - a behemoth entwined in solidified lava flows and carpeted by verdant mineral plains. If that doesn't sell it, during May temperatures surpass 30 degrees with around eight hours of blissful sunshine every day.
Avignon, France
The New... Venice With Eurostar now running a direct summer service between London and Avignon, it's never been easier to experience the cultural delights of this formal papal enclave. Situated high on the river Rhône, Avignon's laid back ambience and Mediterranean temperatures lend the perfect back drop to a leisurely survey of the town's historical offerings. Visit the infamous ruins of the Pont St. Bénézet, or take a trip to the Palais des Papes, where 14th century popes used to wield their power. There's also a host of smaller chapels and churches to investigate. Of course, all of this changes in July when the annual Festival d'Avignon arrives, amping up the carnival feeling a la Venice, but without the crowds. Definitely worth a visit.
Valencia, Spain
The New... Barcelona There's more to Valencia than Paella Valenciana (although that is another great reason to go). While it may not have Gaudi, this Spanish metropolis boasts a vast array of cultural highlights offering visitors the best of Spanish life as a whole. Love history? Valencia has one of the largest historic centres in Spain, with its renowned Cathedral, the Torres de Serranos and the Torres de Quart attracting culture buffs from the world over. It's also home to a host of traditional and modern art galleries, not to mention the Ciutat de les Artes i les Ciènces, an entertainment-based cultural and architectural complex, which is basically the Science Museum and the V&A are rolled up in to one amazing venue. When the Spanish heat gets too much, head down to the beach. Valencia sits on the Turia coast, and you can enjoy a cooling glass of sangria in one of the many beach side bars and restaurants. It even has its own F1 racing track.
Rhossili Bay, South Wales
The New... Hossegor It sounds unlikely, but with temperatures skirting 30 degrees or more most summers, Rhossili Bay in the Gower peninsula is a micro climate treasure that's much closer to home than most realise. In 2013, it was voted the best beach in the UK, and third best in Europe. With its sweeping, sandy bay (3 miles long!) and, at times, Bondi-worthy surf, it's not surprising. Lap up the rays on Llangennith beach, or why not paddle with the ever-multiplying seal population at Worm's Head. There's a host of cosy, coastal pubs, many featuring live bands, and you can even kite surf from the top of the hills overlooking the bay. With just a 20 minute drive to Swansea and Mumbles, home place of Catherine Zeta-Jones, Rhossili is the perfect getaway for beach bods who don't like flying. Find out more information about accomodation here
Sign up to our free daily email for the latest royal and entertainment news, interesting opinion, expert advice on styling and beauty trends, and no-nonsense guides to the health and wellness questions you want answered.