What is a 'tradwife' - and why is the idea proving so controversial?
You may have heard of the terms housewife, stay-at-home mum, or the like. But why are 'tradwives' getting everyone talking?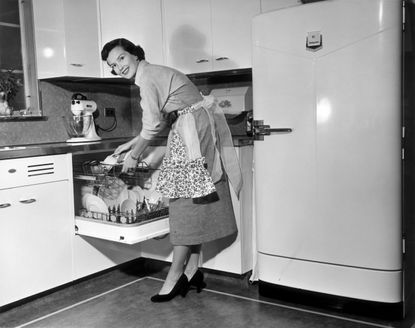 (Image credit: Getty Images)
Recently a new archetype has emerged into the mainstream - the 'tradwife'.
If you're not familiar with the term, let us fill you in. A 'tradwife' (short for traditional wife) is a 21st century woman who has decided to embrace super traditional, conventional gender roles, by 'submitting' to their husband and not working, staying at home to do the typical household chores, and care for the children.
The topic has hit the spotlight recently after one woman, Alena Petitt, appeared on This Morning, explaining that she classes herself as a 'tradwife', in her own words, "submitting to and spoiling her husband like it's 1959", and, making a return to "traditional English manners, lifestyle and values".
She revealed to Holly Willoughby and Philip Schofield that after meeting her now-husband through work, she opted to leave work, even allowing her husband to write her resignation letter, after he said that she needed to get out of the workplace.
Now, she said, she is a full-time housewife - something she says she's always wanted to be deep down - and receives an allowance from her husband. She explained, "Growing up I was asked several times by teachers what I wanted to be and I would always said a housewife. I'd get laughed at all the time.
"I had a career in London. But my self-esteem was rock bottom as I wasn't living my true calling. I was a marketing manager in the beauty industry. But I flourished at home. I finally felt in my place, where I want to be."
However, Alena and Holly appeared to clash when it came to the topic of finances. Alena explained that her husband is in control of the finances, and makes almost all the decisions about what the couple buy.
She said, "Because he's the bread winner it's his department to look after the family. He oversees major finances. If I if want to spend money and change sofa he says 'no', as he's aware of what's going in and out. He gives me an allowance. I get the money to look after my department, the consumables of the house. If I'm frugal with it whatever is left is mine."
But Holly argued that Alena's husband controlling the finances meant that the "power balance" was slightly off. She asked, "Why do you have to ask him? You can budget."
So where did the term 'tradwife' come from?
The term appears to have been brought into recent conversation following report from BBC Talkback (opens in new tab) on the idea. However, it appears to be a hugely controversial term, considering it actually has origins in far-right circles (opens in new tab), predominantly in the US.
Many have pointed out that the term 'tradwife' has been originally used amongst alt-right, white supremacist groups, used to encourage women to 'submit' to their men and simply bear plenty of children for them.
But talk of tradwives on social media more recently, suggest a softer view on the idea is becoming popular amongst some people, with many women engaging with the hashtag #tradwife on social media, when describing their household activities, such as baking and cleaning.
Now, a large collective of women seem to be taking the term tradwife into their own hands, explaining that they are housewives by choice, and embracing the 'chance' to be submissive to their husbands, and to take care mostly of all the typically feminine tasks in the home - such as ironing, making dinner, washing and cleaning - as well as taking on the role of primary caregiver to the children, while their husband goes out to earn the money.
Alena, writing on her website, explained the role of a tradwife, saying that is a choice she is 'happy to make'. She wrote, 'You may have noticed a new movement of ladies calling themselves 'Traditional Housewives. Homemakers of our generation who are happy to submit to, keep house, and spoil their husbands like it's 1959."
What has the general reaction to tradwives been?
As you might expect, the reaction to the concept has been mixed.
Over on social media, many have been left outraged over the language used, of women 'serving' their husbands, and the idea of women finding their place only within the home, with plenty calling it 'anti-feminist' and a means of dragging progress backwards. One person wrote on Twitter, 'Being a housewife is fine (I am one) what's not fine is encouraging ideas such as "submit to your husband" and "your husband should always come first". You do you, but let's not teach girls that sort of thing is ok, because it isn't.'
While another agreed, writing, 'I'm sorry to say it, but the #tradwife movement is an insult to the advancement of women and is NOT something we should be promoting as a society. There's a reason 1959 is in the past.'
However, others explained that they thought women's choices - whatever they may be - should be respected, and if they choose to be a tradwife, then fair play to them.
A social media user said, 'Surely if you have the choice and you choose this lifestyle - your decision should be respected, it seems a shame that a women's choices are subjected to critism by others who choose a different path. Same applies to stay at home dad's..it's their choice! #Tradwife'
As another wrote about Alena, 'Her life her choice, she's not trying to tell others how to live theirs, she's not upsetting anyone and looks happy enough living as she is.'
So what do you think of the concept of a 'tradwife'?
Amy Hunt is an experienced digital journalist specialising in homes, interiors and hobbies. She began her career working as the features assistant at woman&home magazine, before moving over to the digital side of the brand where she eventually became the Lifestyle Editor up until January 2022. Amy won the Digital Journalist of the Year award at the AOP Awards in 2019 for her work on womanandhome.com.