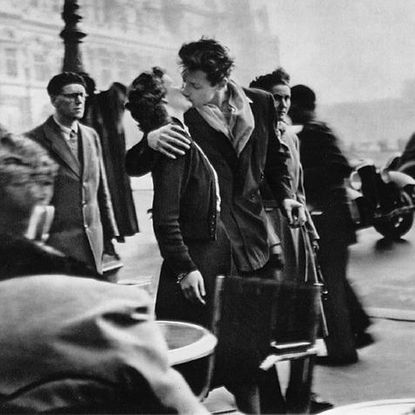 (Image credit: Robert Doisneau)
10 passionate, heart-racing kisses that made their mark on history
Whether it's in a Hollywood blockbuster or a work of art, we can't resist a good kiss. From Kate and Wills to the Lady and the Tramp, click through our gallery for the most unforgettable, romantic embraces ever. Kiss by the Hotel de Ville, 1950
Photographer Robert Doisneau's famous picture might look spontaneous, but it was actually staged. Nevertheless the public loved it, and in 2005, it sold for £105,000 at auction.
Four Weddings and a Funeral, 1994
"Is it still raining? I hadn't noticed." Possibly the corniest line ever uttered on film, but it was hard not to fall in love with this iconic scene from Four Weddings and a Funeral.
John Lennon and Yoko Ono for Rolling Stone, 1980
Annie Leibovitz captured Lennon's devotion to Ono in this photograph, taken hours before he was killed.
The royal wedding, 2011
The Duchess of Cambridge and Prince William delighted onlookers by kissing not once, but twice on the balcony of Buckingham Palace after their wedding.
The Kiss by Gustav Klimt, 1908
Austrian artist Gustav Klimt began work on what would become his most famous painting, The Kiss, in 1907. Using oil paint and gold leaf, he showed a couple kissing in a meadow of flowers.
Brokeback Mountain, 2005
After years apart, Jack Twist and Ennis Del Mar are reunited, and share what has to be one of Hollywood's most intense kisses - witnessed by Ennis's wife from an upstairs window.
The Kiss by Alfred Eisenstaedt, 1945
Photographer Alfred Eisenstaedt snapped several shots of this kissing pair on the day that Japan surrendered, bringing an end to the Second World War. The sailor and the woman were not a couple - it was a spontaneous moment in the crowd.
Lady And The Tramp, 1955
These two made sharing pasta look incredibly romantic (though messy spaghetti is, of course, a terrible choice for a first date).
Gone With The Wind, 1939
"You need kissing badly," Rhett Butler told Scarlett O'Hara. He wasn't the nicest of husbands, but love it or hate it, that first kiss is unforgettable.
The Kiss by Auguste Rodin, 1886
Rodin's famous sculpture depicts two adulterous lovers from Dante's The Divine Comedy. When it was first unveiled it was considered shockingly erotic. Want more romance?Best jewellery gifts for Valentine's Day (opens in new tab) Visit Christian Grey's real apartment (opens in new tab)