Sarah Parish Talks Losing A Daughter, Her Plan B, And Joining The New Series Of Broadchurch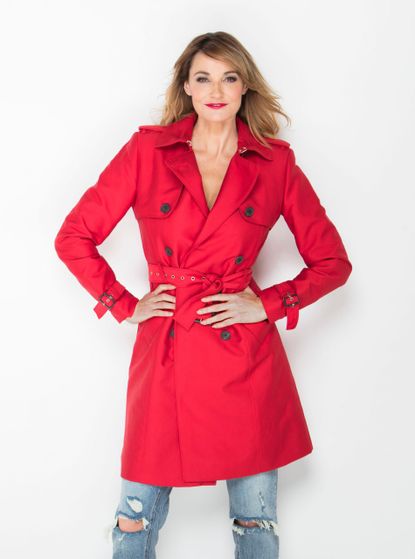 woman&home newsletter
Sign up to our free daily email for the latest royal and entertainment news, interesting opinion, expert advice on styling and beauty trends, and no-nonsense guides to the health and wellness questions you want answered.
Thank you for signing up to Woman & Home. You will receive a verification email shortly.
There was a problem. Please refresh the page and try again.
Sarah Parish, 48, lives with her husband, actor James Murray, and their six-year-old daughter, Nell, in Winchester. They lost their eldest daughter, Ella-Jayne, to Rubinstein-Taybi syndrome, a rare genetic condition that increases the risk of heart defects, at the age of eight months in 2009. Sarah stars in the third and final series of ITV's Broadchurch.
I'm a big believer that you've got to have a clean soul to let light in. One of the things I detest the most in people is lying. I've been hurt by liars in the past, but I admit I've also lied and hurt people myself too - and now I think, "Why on earth did I do that?" The simple fact is that no matter what the situation is, it doesn't get you anywhere in life.
I've had moments in my life where I've been so down that I thought I'd never get up again - I think all women have had that, haven't they? Whenever I read things about myself, I always think my life sounds perfect, but it's not; nobody's life is. I have terrible times like everybody else, but it's about finding a way to conquer the bad stuff. As I've got older I've started to think, "I'm not going to let this depression get me," and I've decided not to be a slave to it. It's important to remember that life will never give you anything you can't deal with.
When I lost my daughter, Ella-Jayne, I gained a lot of perspective. Up until that point, I'd gone through life thinking, "You can't fail, you've got to be the best you can be" and I'd punish myself if I wasn't. But suddenly it just didn't feel like it mattered so much any more. I thought, "Well, if I fail, I fail - nothing awful is going to happen." In fact, I now know that failing is a huge part of growing as a person.
Stepping outside your comfort zone is scary, but I've learned that there are often great things waiting at the other end. My biggest fear has always been public speaking - there was a time when I'd have rather eaten my own arms off than get up in front of a bunch of people and talk to them - as me, Sarah Parish, and not a character in a play or TV show. Then my husband, James and I, started our charity, The Murray Parish Trust, in memory of Ella-Jayne, and I realised I didn't have a choice but to learn to do it. There was no magic cure, just practice, but now I can get up to talk to strangers about the NHS, about the charity and about my daughter - and it's opened up a whole new world for me.
One of the most important things in a relationship is listening to each other. Romance is important - and I am a bit of a romantic myself - but being able to be honest with each other means so much more, doesn't it?
When I'm lacking self-belief, I pick up the phone and call one of the "girls". Sometimes there's nothing better than just talking; in fact, it's what women do really well (and men not so well). It doesn't matter if you're tired, angry or upset, when you say to someone "This is how I'm feeling" and you hear someone else's take on it, it can completely take you out of it.
A group of us including Amanda [Holden], Tamzin [Outhwaite] and Angela [Griffin] have got into the habit of going on juice retreats together, which might sound dull, but actually, we don't stop laughing. The idea is that you don't eat anything, you just drink these juices to detox, and by the third day we're all rocking and dribbling, desperate for a glass of wine! We also have our drunken weekends too... but I won't go into those!
I never used to be very into the whole healthy living thing - then HD TV came in and that all changed. Suddenly you could actually see it in my face! I realise now that it's more about what you put inside your body than what you stick on. I have a juice, hot water and lemon in the morning and I don't drink alcohol in the week either. Plus, I try to work out as often as I can - a mix of yoga, HIIT, Barre and boxing - and I feel a lot better for it.
I wouldn't rule out cosmetic surgery. I'm like every woman; I start messing around with my face in the rear-view mirror and think, "If only I looked like that." The trouble is, if you do go down that route, it might not look quite as good as you think. If my chin suddenly starts hanging down by my boobs though, then it might be worth the risk! When I need to unwind, you'll find me watching a film on the sofa with a glass of wine. I recently had a bit of a trashy rom-com fest where I watched everything from It's Complicated to The Break-Up. And sometimes you can't beat the ones you've seen a thousand times... like Jaws!
If I wasn't acting, I'd probably be an events organiser - I love getting big groups of people together. Since James and I moved from a tiny little cottage to a bigger house with a lovely open-plan kitchen, we've started hosting dinner parties. I'm not going to pretend I'm an amazing cook, but I'm getting better. Though I did get a couple of cookbooks for Christmas - perhaps that was a sign!
Doing the first read-through for the new series of Broadchurch was a bit like a huge reunion of mates. It's the fifth time I've worked with David Tennant and I last worked with Olivia [Colman] about ten years ago (she's wonderful!). Then there's Andrew Buchan, who actually did his first job with me straight out of drama school. I even knew the second assistant director - and I have to admit when I wasn't needed, we spent a lot of time messing around, taking stupid pictures of each other and making little videos. It was brilliant seeing everyone again.
My character Cath in Broadchurch was once the popular girl at school who you looked at and thought, "Oh, I wish I was like that" - well, I did anyway. But when we meet her, things haven't quite turned out the way I think she and everybody else thought they would. She's unhappy, unfulfilled and feels unloved. I was far from the popular girl at school, so I couldn't relate to that, but the more we get to know her and see the challenges she's up against, the more of myself I was able to bring to her - as you'll see.
Sign up to our free daily email for the latest royal and entertainment news, interesting opinion, expert advice on styling and beauty trends, and no-nonsense guides to the health and wellness questions you want answered.
Natalie Whittle is a British journalist specialising in celebrity content in the women's lifestyle sector. She previously held the role of Celebrity Director at Woman & Home and has also worked at Prima, Red & Good Housekeeping.