Proposal that 'delicate' Queen should take 'early retirement' sparks controversy
A British journalist has suggested that the Queen should step down to allow Prince Charles to ascend the throne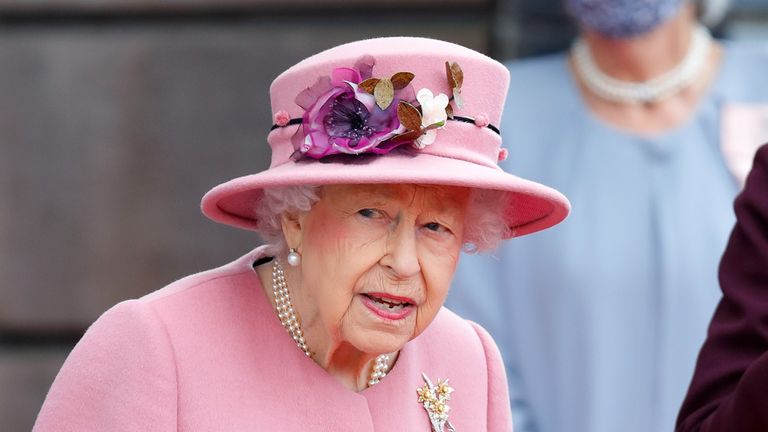 (Image credit: Getty)
The Queen has been advised to retire early to help Prince Charles' transition to becoming King—and surprise, surprise, royal fans aren't one bit happy.
The Queen has been advised by a British journalist to retire to 'aid' Prince Charles' transition to the throne, much to the outrage of her devout followers.
Simon Jenkins has suggested that the 95-year-old, who reached her Platinum Jubilee last week, could help her eldest son adapt to Kinghood by stepping down early.
---
A British journalist has suggested that the Queen should take 'early retirement' to 'aid' Prince Charles's ascension to the throne, much to the dismay of Her Majesty's loyal fans.
The controversial opinion comes just a week after the 95-year-old, who has never indicated she plans to abdicate, became the first-ever monarch to celebrate a Platinum Jubilee. The historic occasion also saw the Queen confirm that Duchess Camilla would become Queen-Consort when the Prince of Wales becomes King.
Writing for the Guardian on 14 February, Simon Jenkins put forward a detailed case for the Queen to step down to allow her eldest son to take her place. In the 3,500 word article, the BBC broadcaster directly challenged the British monarchy's long-held tradition that a monarch should (ideally) rule until their death, arguing that early retirement for sovereigns of advanced age should be 'common sense.'
"The Queen may be fit, but she is clearly delicate," he wrote, likely in reference to the Queen's recent health woes. Her Majesty was hospitalized overnight in October 2021 for 'preliminary investigations' and was also forced to cancel multiple engagements, sparking widespread alarm for her wellbeing. She has since made a number of public appearances, but her health remains an ongoing concern in royal circles.
"Any reasonable person would recommend retirement from active work for a woman of her age," he added.
Simon went on to argue that the Queen's early retirement could help Prince Charles—who has been first in line to the throne since 1952—to adapt to his lofty new title more smoothly. If Her Majesty steps down early, she will be able to attend the prince's coronation—a duty that could positively impact the future monarch's succession.
"The moment of transition to any new monarch, not least after 70 years, must be one of intense delicacy. Nothing could therefore more aid Prince Charles in his succession than for it to be a planned transfer on the retirement of his mother and her blessing on his coronation," he wrote.
Simon also claimed that the Queen's retirement could shift the British monarchy's reputation as 'a ritual of death and rebirth' to 'a simple facet of the constitution.'
"It would also relieve Charles of a deluge of comparison, especially if he decides on changes in royal custom and practice, as well he should," he added.
The column sparked a wave of chatter online, with some royal fans taking offense to the former editor's suggestions.
Simon Jenkins, its not your call to say Queen Elizabeth should abdicate. She is the only one who should say she should abdicate.the lady is intelligent and capable. Why don't you resign?February 14, 2022
See more
The Queen swore her whole life whether long or short to our service. She doesn't have to stand down if she doesn't want to. Whisper it, but the time is right for the Queen to abdicate | Simon Jenkins https://t.co/SbeaP8e3uuFebruary 14, 2022
See more
I regret to inform you that Simon Jenkins has a bad take again. https://t.co/rpoQSk3oonFebruary 15, 2022
See more
Other responses included arguments that the British monarchy, which is over 1,000 years old, should cease to exist altogether. While some Twitter users agreed with Simon's suggestion the Queen should abdicate, they weren't so on board with the idea of her being replaced by Charles.
Simon Jenkins, getting a few things wrong.Whisper it, but the time is right for the Queen to abdicate | Simon Jenkins https://t.co/xMiXHWtjdLFebruary 14, 2022
See more
She, of course, won't. But the monarchy should when she goes. Whisper it, but the time is right for the Queen to abdicate | Simon Jenkins https://t.co/bnhz3L1iqLFebruary 15, 2022
See more
Emma is a news writer for woman&home and My Imperfect Life. She covers the Royal Family and the entertainment world, as well as the occasional health or lifestyle story. When she's not reporting on the British monarchy and A-list celebs, you can find her whipping up vegan treats and running the roads to cheesy '90s pop music...but not at the same time, obviously.