Prince William's 'short temper' makes him 'difficult to work with'
Prince William is apparently 'impatient' which can make things tricky says royal author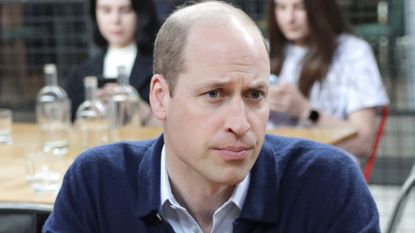 (Image credit: Getty)
Prince William's 'short temper' and 'impatience' can make him 'difficult to work with,' a royal author has said.
---
There is often talk of Prince William's short temper, especially when it comes to rowing with his wife, Kate Middleton. But a royal author has now explained that Prince William's 'impatience' can make him difficult to work with at times.
Robert Jobson, author of Our King: Charles III: The Man and the Monarch Revealed, cites a senior royal household figure as saying, "he can be difficult."
"He is a driven person, and that can make him impatient," the source says, adding that compared to his son, King Charles "possesses more patience, and that can make William short-tempered when dealing with Charles."
The insider adds, "The Boss [Charles] has a temper, too, but it does not go on and on. He can get frustrated and flare up and then, in an instant, it is forgotten about. With William, it is rarely forgotten."
Robert Jobson - who also wrote William at 40: The Making of a Modern Monarch last year - said that Charles has been "shocked" by his sons' "sometimes vicious tempers, which remind him of their late mother Princess Diana's umbrage."
It was also recently revealed that William's temper manifests in his relationship with Kate, when it was reported they have "terrible rows" in which they "throw things at each other."
Royal author Tom Quinn revealed, "They have terrible rows where they throw things at each other. Kate might seem to be a very calm person, and William also. But it's not always true. Because the big stress for William and Kate is that they're constantly surrounded by [palace aides]. It's like a Jane Austen novel."
However, the arguments appear to be short-lived, with the couple making up quickly so as not to "stir things up."
"Kate is very much the calm one," Quinn writes. "William is the one who's a bit hotheaded. We see an example of that in Harry's book… But Kate is very level-headed. She's the one who will pour oil on troubled waters and go, 'Let's not stir things up.'"
"Of course, privately, William and Kate, like all couples, fall out, row, shout at each other and say unkind things to each other, but Kate is an appeaser by instinct and William always gives way as he had more than enough emotional turmoil, divorce and disruption as a child," wrote Quinn, adding, "He hates confrontation."
In his memoir, Spare, Harry also spoke of Prince William's temper when he accused him of "knocking him to the floor" in a "physical attack" following a row.
He wrote, "I landed on the dog's bowl, which cracked under my back, the pieces cutting into me. I lay there for a moment, dazed, then got to my feet and told him to get out."
Robyn is a celebrity and entertainment journalist and editor with over eight years experience in the industry. As well as contributing regular to woman&home, she also often writes for Woman, Woman's Own, Woman's Weekly and The Sun.