Prince Harry's 'older woman' who allegedly took his virginity speaks out - find out what she has to say following Harry's Spare revelations
Sasha Walpole has come forward to suggest she was the woman Harry lost his virginity to, after he spilled all in his memoir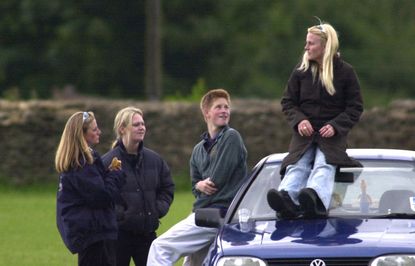 (Image credit: Antony Jones/UK Press via Getty Images)
A woman has come forward claiming to be the "older woman" who took Prince Harry's virginity, referring to it as a five-minute spark of passion. In his memoir, Spare, Harry described how he lost his virginity at 17. He wrote about it taking place in a field behind a pub to an older woman who he didn't name but described her as loving horses and she treated the teenage prince like a "young stallion." It was, he wrote, an "inglorious episode."
Sasha Walpole has come forward to claim she is the woman who Prince Harry lost his virginity to, as detailed in his memoir
Sasha has given an interview to a British tabloid where she calls the encounter a bit of "wham bam" between friends
---
"I am the woman who took Harry's virginity."
Sasha Walpole's interview is sure to have stunned a few people reading British tabloid The Sun on Sunday this weekend.
The former stable worker at King Charles' Highgrove estate has come forward following Harry detailing the encounter in his memoir, Spare.
While Harry didn't name names, he described the encounter with an "older woman" when he was 17.
Claiming she is the woman – and that she was celebrating her 19th birthday on the night in question -Sasha has described the sex as "passionate and sparky" between two friends.
Then, in a rather memorable turn of phrase, she continues to suggest it was "literally wham-bam between two friends."
"The sex was passionate and sparky because we shouldn't have been doing it. One thing just quickly led to another. We ended up on the floor."
Leading up to the tryst, Sasha claims the pair had downed several shots of tequila at the time, with Prince Harry's security team out looking for him while they got close.
She said that the two of them had been drinking at the Vine Tree Inn in Norton, Wiltshire, celebrating her birthday when they snuck off into a field behind the historic pub's car park for a cigarette.
"It was exciting that it was happening. It was exciting that it was happening like the way it was. We were away for 15 minutes but the sex was about five minutes."
"We didn't set out to do it and it wasn't pre-meditated."
"It wasn't Prince Harry to me. It was Harry, my friend — and something that got a little bit out of control. It just so happened that he was a prince.
"Afterwards I did grab his bum and gave him a slap. It was with one hand. He had a lovely peachy bum — but he was young."
While Harry kept her identity under wraps, Sasha has come forward to suggest that she wasn't given any heads up the encounter would be written about.
She told the tabloid, "No one warned me about the night being included in the book - and Harry, or his people, could have found me to tell me if they had wanted to do so."
"I lead a peaceful life — I didn't invite this."
Jack Slater is not the Last Action Hero, but that's what comes up first when you Google him. Preferring a much more sedentary life, Jack gets his thrills by covering news, entertainment, celebrity, film and culture for woman&home, and other digital publications.
Having written for various print and online publications—ranging from national syndicates to niche magazines—Jack has written about nearly everything there is to write about, covering LGBTQ+ news, celebrity features, TV and film scoops, reviewing the latest theatre shows lighting up London's West End and the most pressing of SEO based stories.