Prince Harry says he and Meghan Markle 'basically have five kids' as he opens up on 'emotional support dogs'
Prince Harry and Meghan Markle are parents to three 'emotional support dogs'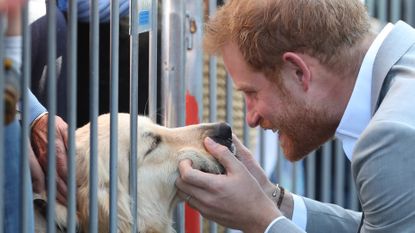 (Image credit: Photo by Daniel Leal-Olivas - WPA Pool/Getty Images)
Prince Harry has opened up about his and Meghan Markle's 'emotional support dogs', joking that he 'basically has five kids'.
Prince Harry shared sweet details of his and Meghan Markle's 'emotional support dogs.
The Duke and Duchess of Sussex have three pooches living with them at their Californian mansion along with children Archie and Lilibet.
---
Appearing on a sweet video call to meet the winners of the WellChild Awards, Prince Harry shared adorable details about his family dogs.
During a chat to 13-year-old Isabelle Delane who won the Inspirational Young Person award, the Duke of Sussex revealed just how important he thinks his four-legged friends are.
"We all need a dog that keeps us calm," he said, joking that his and Meghan's three dogs are like children to them.
"I've got three in this house now, so we basically have five children.
"I've got a black Labrador called Pula, a rescue beagle called Guy, and we've got another rescue beagle called Mia," Harry continued.
Detailing the mischief the three pups cause around the Sussex family home, proud dog dad Harry went on to say, "Between the three of them, they charge around chasing squirrels and causing all sorts of problems to us every single day.
"But they are also emotional support dogs, 100 per cent, when they're behaving."
Harry also had an adorable chat with seven-year-old Tony Hudgell, who was severely abused as a baby and was left with life-long injuries.
"I'm thanking you for your resilience, your determination, your bravery, your strength, your everything," Harry told Tony, adding, "You seem like a bit of a superhero. Where's your cape?"
"I do have a cape in my room. I don't wear it a lot," Tony responded, as Harry joked, "Only on weekends!"