How Prince Charles inspired an Oscar nominated performance of a king—'I could see in his fabric of being a sense of duty, a sense of sacrifice'
Prince Charles became Kenneth Branagh's unofficial muse and advisor for his iconic role in Henry V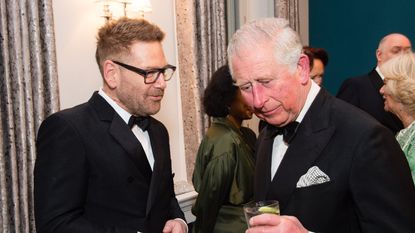 (Image credit: Jeff Spicer/Getty Images)
Prince Charles proved to be something of a muse for the acclaimed actor and director Kenneth Branagh when it came to the 1989 film adaptation of Shakespeare's Henry V, for which Branagh earned a Best Actor Academy Award nomination. Charles met with Kenneth and was described as being "very open" with a "sense of duty… sense of sacrifice."
Prince Charles has been credited with helping Kenneth Branagh deliver one of his most acclaimed performances
Kenneth Branagh explained that Charles provided advice and guidance on what it truly meant to be a royal
Prince Charles has been credited with helping inspire the direction and performance of Kenneth Branagh in his acclaimed 1989 movie, Henry V.
The unlikely partnership occurred while Kenneth was researching the role, as he admitted to a friend that he was struggling with how to understand and connect with how a royal lived.
He explained to The Hollywood Reporter's Awards Chatter podcast, "I thought, 'Well, how do you find out about what that's like?' I was voicing these concerns over a pint with a friend of mine who said, 'Well, actually, you know, I do know someone who knows someone.'"
His friend was said to have explained, "'If you're serious and you will be discreet…' And so he arranged a number of intermediary meetings. I was very clearly screened. But eventually I met Prince Charles, who was very open, particularly about the burdens of expectations, and the fact of isolation. And this to me was very interesting."
Kenneth also explained that Prince Charles' mannerisms and ways of interacting proved useful in understanding the ways of a royal, particularly when it came to Charles' voice.
He says, "It was interesting to hear how he spoke: very quietly. People in authority often do. They don't need to raise their voices."
The royal also explained how difficult interactions with the public could be at first, as many are on edge when they first meet him. "So he had to make an extra effort to make that connection and accept that there would always be a separation," Branagh said.
"That does something to somebody's insides. It does something to the way they then make decisions about other people's welfare."
Kenneth has nothing but praise for the royals after Charles helped inspire his performance.
Elaborating on the impression he was left with of Prince Charles, Kenneth said, "I could see in every fabric of his being... a sense of duty, a sense of privilege, a sense of sacrifice. For all of the, as it were, first-class life that they lead, they know it's an accident of birth and one that they need to meet by a commitment to serving others. And I saw in his case a genuine expression of that."
Jack Slater is not the Last Action Hero, but that's what comes up first when you Google him. Preferring a much more sedentary life, Jack gets his thrills by covering news, entertainment, celebrity, film and culture for woman&home, and other digital publications.
Having written for various print and online publications—ranging from national syndicates to niche magazines—Jack has written about nearly everything there is to write about, covering LGBTQ+ news, celebrity features, TV and film scoops, reviewing the latest theatre shows lighting up London's West End and the most pressing of SEO based stories.