Opinion: While men like Robert De Niro are the Duracell bunnies of the reproductive world, women that fall pregnant over 35 are seen as selfish, or just too old
Robert De Niro welcomed his seventh child to the world at the age of 79 - writer Emma Reed has thoughts...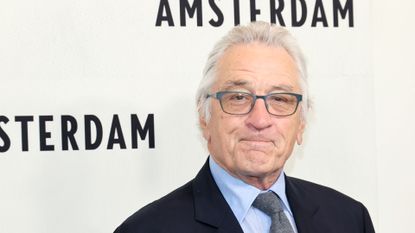 (Image credit: Getty Images)
'Aged man procreates' - not something you might think necessarily newsworthy given it's been happening for millennia.
However, this particular man is Robert De Niro who, at the age of 79, has just welcomed his seventh child. This child will belong to a blended family with half siblings old enough to be their parent or even grandparent with ages spanning most decades from the fifties down.
Robert is part of a 'senior dad's club.' They are obviously never called that because, unlike women, their age is a convenient blind spot in the public eye. It broadly encompasses rich male celebrities where age really is just a number and you can almost hear the hearty back slaps and the cries of, 'Attaboy!'
Mick Jagger had his eighth child at 73, writer Saul Bellow had his last child aged 84 and Rupert Murdoch became a father for the sixth time at the age of 72. Australian, Les Colley made the Guinness Book of Records, aged 92 for being the oldest reported father following the birth of his ninth child in 1993.
Child-rearing for the De Niros and Jaggers of the world obviously looks very different from most. If that arthritic knee is playing up or that afternoon nap calls, there will be staff on hand to swoop away the latest offspring. No need to worry about crushing sleep deprivation or a back spasm mid-diaper change. There's also a large pool of considerably younger fecund women willing to ensure the continuation of senior dad's genes for the good of mankind. According to the Office of National Statistics, the average age for a first-time father in the UK is 33.7 years old and I can confirm from the midlife men I know, that most look at dads laden down with baby paraphernalia chasing a runaway toddler and express relief that those grueling days are behind them.
The narrative around senior dads is telling: 'Oh look! X has sired his tenth child. Look how virile he is! He's still got it, the old dog.' Men make fire and spread seed, yet a woman pregnant at the upper end of her childbearing years is often seen as selfish, or just too old. 'What was she thinking?'
Even the medical community classes any woman pregnant over 35 as a 'geriatric mom,' yet we never hear of a 'geriatric dad.' Menopause and its symptoms are a stark reminder of our fertile shelf life, but men are the Duracell bunnies of the reproductive world.
However, while we're constantly reminded about the risks of being an older mom, there are inherent risks of being an older dad. A study looking at data from 40 million births in the US by scientists at Stanford University School of Medicine and published in the BMJ in 2018, showed that there were increased risks at birth (premature births, low birth weights, and seizures) associated with the babies of older fathers. Every year after 35, a man accumulates on average two new mutations in the DNA of his sperm. A link was also found between advanced paternal age and the chances of a mother developing gestational diabetes. Unlike men, women undergo a raft of screening, yet a father's age can affect the risk of genetic abnormalities.
With the focus very much on Robert's latest achievement, a trophy to add to his other trophies perhaps, I can't stop thinking of the child itself, of how long they might have to get to know their father. Is it really sufficient for them to be left with a row of Oscars to admire or films to watch so they can attempt to piece together the sort of man their father was?
It may be that not long after their birth, they have to contend with death. Not for them being hoisted on dad's shoulders or kicking a ball in the park. Equally, what is the mindset that enables you to father a child in the knowledge that you'll be exiting their life as they barely get going in theirs? It's a selfish move, born of narcissism, and it's unfair on the child.
Emma is a freelance journalist who writes about lifestyle topics, education, and family for the likes of The Telegraph, The i Paper, Metro, Psychologies, Woman's Own, and woman&home.
In 2020 she was longlisted in the Bradt Guides New Travel Writer competition.
Prior to pursuing her true passion, she had a career as a litigation lawyer in the City, but it killed her soul, now like many journalists, she's attempting to write a book of her own.