Why the Conversations With Friends ending suggests there won't be a season 2 of the evocative Sally Rooney drama
Anyone who's reached the Conversations With Friends ending might well be wondering what *that* final line means for the characters…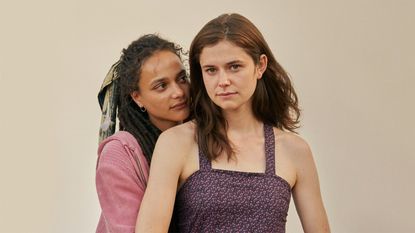 (Image credit: BBC)
The Conversations With Friends ending is packed full of emotional moments and realizations and there'll likely be plenty of fans hoping for a season 2.
It might have been adapted for TV two years after her well-known bestseller, Normal People, but Sally Rooney's Conversations With Friends is actually her debut. Filled with all the powerful storytelling, compelling characters and thought-provoking issues that make her writing so special, the new Conversations With Friends show makes for an emotional watch. But now fans have discovered where to watch Conversations with Friends many might've raced their way through to the ending.
And if the finale is anything to go by, it seems it could be unlikely that viewers will ever get to return to the story of Frances, Bobbi, Melissa and Nick. Here we reveal what happens in the Conversations With Friends ending and why it suggests that there's only a small possibility of a season 2…
*Warning: spoilers ahead!*
What happens in the Conversations With Friends ending?
Anyone who just couldn't help themselves binge-watching their way through to the Conversations With Friends ending might well be hoping for more clarification about some of the smaller details. After all, unlike many recent dramas, from the Pieces of Her ending to The Split season 3 ending, Conversations With Friends' final episode took an open-ended approach that fans of the book will have been expecting.
All series long viewers have seen Frances making some perhaps questionable decisions, from sleeping with her new friend's husband Nick to keeping her published story a secret from her former girlfriend and friend Bobbi. The story features a character very reminiscent of Bobbi herself (and not in a good way!), upsetting Bobbi when she discovers the truth.
Ultimately, the Conversations With Friends ending sees Frances confront each of these things. After demanding an explanation from Melissa for telling Bobbi about the story, the writer then turns it back and tells her she should've told her friend about it and that she didn't realize Bobbi wasn't aware. Her emotionally-charged response also addresses the affair and makes Frances finally understand how selfish some of her behavior has been.
She apologizes to Melissa and makes it up with Bobbi, where they agree to get back together but only if their relationship is free of the jealousy that once dominated it. Instead, whilst they want commitment, it seems as though they're not entirely entering into a monogamous relationship.
Later in a wonderfully honest moment speaking to Nick on the phone, Frances finally reveals her endometriosis diagnosis after previously keeping this from him. Admitting she felt he'd find her body "wouldn't feel good" to her former lover anymore after he'd started sleeping with Melissa again. Nick asks Frances why she didn't tell him this in the first place, to which she bravely confesses her fear that he'd treat her "like a sick person" and not as herself.
"I wish I'd known about it," he replies softly and the emotional rollercoaster that is the Conversations With Friends ending steps up another notch as Nick tells her he didn't feel he was what Frances wanted and that he was "getting it all wrong".
Frances reassures him that he wasn't, describing the situation they found themselves in was just "really complicated", or as Nick then puts it, "You weren't happy that I loved someone else". She then admits she too loved someone else as she admits she's a "hypocrite".
As the finale edges ever closer to the end, Nick reminds Frances of the time they kissed at Melissa's birthday and how he'd waited for her in his room, "paralysed" by the idea that she was simply "close by" to him and could come back. He then confesses he's got the impulse to be "available" to Frances all the time, whenever she needs him.
And it's clear his words have struck a chord with Frances as she smiles slightly, declaring simply, "Come and get me".
This final phrase is something fans of the Conversations With Friends ending in Sally Rooney's book will no doubt recognize. The novel similarly ends on this somewhat enigmatic note, with Frances seemingly flirting or hoping to reignite things between her and Nick as well as making up with Bobbi.
So there's plenty resolved - and plenty not quite so much - in the Conversation With Friends ending that could keep viewers guessing.
Could there be a Conversations With Friends season 2?
As with many of the best book-to-TV and book-to-movie adaptations, the Conversations With Friends ending stuck pretty close to the original book ending and Sally Rooney's story is a standalone one. This suggests that, just like Normal People, this will be the first and only installment of and a Conversations With Friends season 2 hasn't been announced.
Admittedly when you consider the Conversations With Friends ending, both on the page and on screen, there is definite potential for the story to be taken further if the demand is there for a season 2. Although Frances has definitely learned some lessons from her experience being in the intertwined group of her, Bobbi, Nick and Melissa, the ending suggests she's not prepared to fully cut off any potential romance with Nick despite Melissa asking her to.
However, whilst the open-ended final episode does mean that the plot could go anywhere from there in any potential follow-up season, it could also be seen as another strong sign that this will be the only season. This is because that type of conclusion is something that made Sally finally feel like the book was finished.
"I had written several other endings for the book, which were much longer, because I seemed to believe at some unconscious level that it was my task to "tie up" every ambiguity I had introduced," she once told PBS News Hour. "Once I identified that impulse, and reasoned myself out of it, I wrote the final scene as it is now – and I felt the novel was finished."
It seems that for Sally the ambiguity is part of what makes the Conversations With Friends ending so powerful and a true final chapter for her story. To go back on this in the show and not only undo the ambiguity with a season 2 but also invent unique show-only plotlines seems unlikely.
As it stands, the final episode is a wonderful way to end the tale of the four friends and honor the original novel.
Sign up to our free daily email for the latest royal and entertainment news, interesting opinion, expert advice on styling and beauty trends, and no-nonsense guides to the health and wellness questions you want answered.
Emma is a Royal Editor with seven years of experience working in digital publishing. Her specialist areas including literature, the British Royal Family and knowing all there is to know about the latest TV shows on the BBC, ITV, Channel 4 and every streaming service out there. When she's not writing about the next unmissable show to add to your to-watch list or delving into royal protocol, you can find Emma cooking and watching yet more crime dramas.