Why Dominic Raab's 'simple mistake' speaks to a wider issue of misogyny not being taken seriously
Dominic Raab made a comment in an interview that highlighted the politician's misunderstanding about what this word meant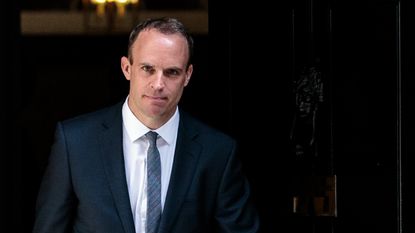 (Image credit: Jack Taylor / Stringer/ Getty Images)
In an interview with Sally Nugent for BBC Breakfast, Dominic Raab stunned viewers when he made a comment that indicated that the Justice Secretary did not know what the word 'misogyny' meant.
The shocking misunderstanding was aired live on TV as the politician was interviewed about whether misogyny should be treated as a hate crime. His apparent ignorance appalled viewers, especially in light of the conversation surrounding the impact of misogyny that's currently taking place in parliament.
The issue has come to the fore recently in the wake of the murders of Sarah Everard and Sabina Nessa, who were both murdered by men. Sarah and Sabina are sadly only a small percentage of women killed by men each year.
A report from the Femicide census (opens in new tab) found that, in the UK alone, a woman dies at the hands of a man every three days.
What did Dominic Raab say about misogyny?
In an interview with BBC Breakfast, journalist Sally Nugent asked the politician if he believed that misogyny should be made a criminal offence.
The politician replied, "misogyny is absolutely wrong whether it's a man against a woman, or a woman against a man."
Misogyny by it's definition means, "hatred, against or directed towards women." This of course means that a man cannot be a victim of misogyny. The word to describe the same hatred directed at men is 'misandry.'
Justice Secretary Dominic Raab MP was asked on #BBCBreakfast whether he believed misogyny should be treated as a hate crime. He said "misogyny is absolutely wrong whether it's a man against a woman, or a woman against a man"https://t.co/RIWo6f2kXN pic.twitter.com/8RGrwhlnnFOctober 6, 2021
See more
Dominic was then questioned by the interviewer who repeated his comment and asked, "Is that what you meant to say?"
The politician replied by avoiding the question and continuing to explain the Tory party's stance on this issue.
"All I meant is if we are talking about things below the level of public order offenses so harassment, intimidation, which are rightly criminalized. If we are talking about effectively insults, with a sexist basis," he continued, "then I don't think that criminalizing those sorts of things will deal with the problem we've got at the heart of the Sarah Everard case, which is a question I think around, partly around the police but also the broader question and the fear women feel that their cases don't get to court and don't end up with a conviction."
He continued, "And therefore just criminalizing insulting language, even if it's misogynistic, doesn't deal with the intimidation and the violence and the much higher level of offense and damage and harm that we really ought to be laser light focused on."
Sally interrupted and gave the politician the dictionary definition of the word 'misogyny.' In his response, the politician again ignored his misunderstanding and continued to speak about why misogyny shouldn't be criminalized as there are other offenses that misogynistic actions come under."
Dominic added, "Reducing the bar and saying that insults should be criminalized, I don't think will deal with what women across this country are fearful of which is the risk to life or limb or the risk of intimidation, or the risk of harassment."
"All of those things are already criminal, the question is how we enforce those things much more effectively and much more sensitively to women."
What was the reaction to Dominic Raab's misogyny comments
Understandably women across the UK who have been petitioning the government for legislation change were shocked. Discovering that a man in power, who was arguing that this new legislation should not come into place, actually had a very poor understanding about what it is that the people are asking for.
Political Activist, Sophie Walker said on social media, "If we're going to have a national conversation about misogyny, it would be useful for the Justice Secretary to understand what it is."
British Author Dr. Jessica Taylor said, "So Dominic Raab said this on live TV to Sally Nugent, and honestly, I think that's pretty indicative of why we can't get any traction or progress on this issue. Men in power don't even know what it is, or how to talk about it. He confidently waffles on for another 3 minutes."
"Dominic Raab has just referred to misogyny as "insults" and said it can happen from a woman to a man! No wonder we have no confidence in this government protecting us #bbcbreakfast," said one social media user.
Why is Dominic Raab's comment about misogyny concerning for women?
Dominic Raab is the Deputy Prime Minister, Secretary of State for Justice, and the Lord Chancellor for the UK. This is an individual with an extraordinary amount of power who is making decisions that affect those of us in the UK.
His fundamental misunderstanding of the word 'misogyny' is not a simple mistake. It's a mistake that indicates the politician doesn't understand what women in the UK are actually asking for, and the change they want to be enacted.
Women are calling for misogyny to be classified as a criminal offense because we are being murdered. At home, away from home, by those known to us and by complete strangers. By people we ought to trust and by those for whom we're meant to ask for help.
We have been told to flag down a bus if we are scared of being raped or murdered by the police. We have been told to not go out alone at night and to text our friends to let them know we are home safe.
Protecting women against violence has fallen on the shoulders of women and not on the men perpetrating these crimes. The events of the Sarah Everard case and the recent murder of Sabina Nessa are constant reminders that in the UK, misogyny is an epidemic and women are not safe.
By fundamentally misunderstanding what 'misogyny' means, Dominic Raab has highlighted that the government does not understand what women are asking for. Much less why women may want this legislation to be enacted—which is a truly terrifying thought for us all.
Laura is a news writer for woman&home who primarily covers entertainment and celebrity news. Laura dabbles in lifestyle, royal, beauty, and fashion news, and loves to cover anything and everything to do with television and film. She is also passionate about feminism and equality and loves writing about gender issues and feminist literature.
Laura loves drinking and eating and can often be found trying to get reservations at London's trendiest restaurants. When she's not wining and dining, Laura can also be found travelling, baking, and hiking with her dog.