Why did Julian McMahon leave FBI: Most Wanted and what is he doing now?
Back in March, actor Julian McMahon announced his departure from FBI: Most Wanted on CBS after 40 episodes 'in favor of additional creative pursuits'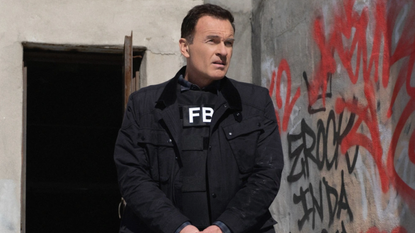 (Image credit: CBS)
It's been a few months since 54-year-old actor Julian McMahon announced he'd be leaving the successful CBS show FBI: Most Wanted after appearing as Jess LeCroix for 40 episodes - but fans are still wondering about the real reason behind Julians decision.
Julian's announcement was made just a bit before Missy Peregrym, who plays Maggie in FBI, was said to be taking some time off the other franchise as well.
The last episode that Julian appeared on was the eighth one of season 3. Titled Shattered, it aired back on March 8.
As fans of the series know, the actor's character Jess and his girlfriend Sarah, played by Jennifer Landon, were getting ready to embark on a dream vacation that would basically write them off the show. Spoiler alert: there is basically no chance Jess will come back from that vacation as the character was actually killed off before he was even able to take the trip.
Chatting about the development with Deadline (opens in new tab), the show's executive producer David Hudgins at the time went into detail about how the departure was going to work plot-wise.
"The episode is a combination of two things," he explained then. "It's a very intense episode about domestic violence, which is something we'd always wanted to do because it's such a huge problem in this country right now. It also ties in thematically with Jess' experience with Sarah's stalker, Hugh. We felt like that was an interesting additional layer to the episode. And then on top of that, we've got Jess and Sarah in a very good place, talking about going on the first vacation that Sarah has ever seen Jess take."
WHY DID JULIAN MCMAHON LEAVE FBI: MOST WANTED?
Before Shattered aired on TV, Julian released a statement explaining his decision.
"Over the past few months, the producers of FBI: Most Wanted and I have had discussions about my departure from the show in favor of additional creative pursuits and the transition of my character Jess LaCroix," the actor wrote. "These ongoing conversations have given us an opportunity to orchestrate a seamless and productive way for me to leave the show. wish the show, and its cast & crew, the greatest success in the future. I am grateful to have had the opportunity to play Jess; he is a good man."
Although audience members were crushed by the news, they appreciated the fact that they were told about the decision ahead of time and therefore knew that Julian wasn't going to come back before the last episode he would ever appear on actually aired.
The show's creator, Dick Wolf, also chimed into the conversation with an official statement.
"We are saddened to see Julian leave," he wrote. "His portrayal of agent Jess LaCroix has been a key factor in the success of FBI: Most Wanted. We will miss him and we wish him the best in his next chapter."
DID ANYONE REPLACE JULIAN MCMAHON ON FBI: MOST WANTED?
One celebrity was out, but another celebrity stepped in.
Following Julian's departure from FBI: Most Wanted in March, fans were treated to the arrival of a new character played by the great Dylan McDermott. At the time, Dylan actually left NBC's own procedural drama, Law & Order: Organized Crime, to delve into his new part on CBS starting with the April 12 episode.
"As part of planning Jess' exit, we had obviously talked about who the new person coming aboard would be," showrunner David said to Variety (opens in new tab) a few months ago. "We spent a lot of time in the room drafting what that character could look like. When we got word that Dylan was available and then potentially interested, we were thrilled. We were through the roof. We really are looking at it as an opportunity to invigorate the show, to reinvent a little bit. It will always be a fugitive man hunt show - that's the bread and butter - but with with Dylan coming in and having a different style, different background and different way of dealing with the team, having to get to know them and vice versa, there's just a lot of story to play there."
WHAT IS JULIAN MCMAHON DOING NOW?
As mentioned by his official statement, Julian decided to leave the show he had been starring in for three full seasons to pursue other creative projects.
The actor is currently filming The Supremes at Earl's All-You-Can-Eat, which also stars Uzo Aduba of Orange is the New Black Fame. According to an official synopsis, the film "follows three best friends known as 'The Supremes,' who have weathered life's storms together for two generations through marriage and children, happiness and the blues."
The actor is also rumored to be starring in the already-announced Justice, which takes place in 1866 in the Victorian Goldfields and focuses on "a Chinese miner and an Irish settler [seeking] revenge and justice from those who murdered their families."
No word yet on when either movie will be released.
Anna Rahmanan is a New York-based writer and editor who covers culture, entertainment, food, fashion and travel news. Anna's words have appeared on Time Out New York, the Huffington Post, Fortune, Forbes, Us Weekly, Bon Appetit and Brooklyn Magazine, among other outlets.