Who was Shania Twain's ex husband? As new Netflix show Not Just a Girl delves into singer's epic career and turbulent relationships
Shania Twain opens up about dramatic dating life and marriages in new Netflix documentary Not Just a Girl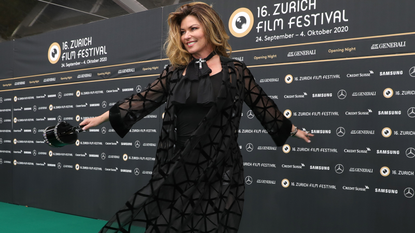 (Image credit: Andreas Rentz / Staff)
All eyes are currently on Canadian country artist Shania Twain as the new Netflix documentary about her life, Not Just a Girl, is set to drop, but fans are also wondering about the singer's personal life and in particular, who her ex husband was?
As proven by the newly released trailer, the Shania Twain documentary Not Just a Girl on Netflix will explore a variety of aspects related to the singer's rise to fame and personal life. Among them Shania's marriage to her now ex-husband Robert "Mutt" Lange, a music producer.
Who was Shania Twain's ex husband and why did they split?
After collaborating with South African record producer and songwriter Robert John "Mutt" Lange, Shania, now 56 years old, married him in December of 1993.
The two reportedly met after he heard a few tracks from Shania's debut album in the early 1990s. He offered to collaborate on her next work and, shortly thereafter, the two started dating and tied the knot. Shania partly credits Robert for the success of a slew of her own hits, including You're Still the One, That Don't Impress Me Much and Any Man of Mine.
In 2001, Shania gave birth to their son Eja, who is now in his 20s.
As the media extensively reported decades ago, the couple traveled to Switzerland with Eja in the 1990s and Shania hired Marie-Anne Thiébaud as her assistant on the journey. At the time, Marie-Anne was married to Swiss executive Frédéric Thiébaud.
As Shania said to Oprah Winfrey some time ago, "Fred and Mutt were good friends, and Marie-Anne and I were good friends."
Fast-forward a few years and, according to People, Robert "suddenly" told Shania that he wanted a divorce in the summer of 2008. Although, at the time, Robert claimed that the couple had "literally just [grown] apart," media outlets quickly began reporting that Robert and Marie-Anne were having an affair that contributed to the end of Shania's 14-year marriage with Robert.
Shania has openly discussed the situation for years now, both through public interviews and in her 2011 memoir, From This Moment On.
Speaking to Oprah years back, Shania recalled asking Marie-Anne whether she thought that Robert was acting strange. "And she said, 'No, I don't see anything strange,'" Shania said to Oprah.
According to the Daily Mail, Marie-Anne's own husband, Frédéric, was actually the first to discover the affair by finding "hotel receipts, phone bills and lingerie sets."
While on The Ellen DeGeneres Show, Shania recalled being shocked when she first heard the news. "I called [Marie-Anne] up [because] I wanted to give her the opportunity to tell me herself without me accusing her," the Canadian superstar said on the record. However, according to reports, her friend and assistant repeatedly denied the affair and even changed her phone number.
At that point, Shania resorted to technology, sending an email that read, in part, "If you could see me crying and suffering, maybe you would have pity. Find love somewhere else from someone else that isn't hurting two families so much."
According to reports, Marie-Anne and Robert are now married and living together in Switzerland with their daughter Johanna. The couple has not addressed the situation on the record.
Who is Shania Twain's husband now?
Following the discovery of the affair, Shania and Frédéric, Marie-Anne's ex-husband, turned to each other for comfort. Their friendship eventually turned romantic.
"We slowly became very, very good friends. We had many months of just trying to make sense of everything," Shania said on the Ellen DeGeneres Show years later. "Holding each other up was a very difficult time emotionally for both of us. And we really found something very beautiful in the end and unexpected."
Shania has repeatedly gone on the record about the heartbreak she suffered following the discovery of her ex-husband's alleged affair with former friend Marie-Anne. Around that time, the singer was also diagnosed with Lyme disease, a condition that clearly affected her ability to perform.
---
The singer spoke about the situation to Redbook magazine also.
"I got to observe Fred going through the same thing I was, and I admired how he handled it. That is where I fell in love with him because he was so exemplary in every way," she said.
After officially starting to date in 2009, Shania and Frédéric got engaged in December 2010 and tied the knot in a beautiful ceremony in Rincon, Puerto Rico on New Year's Day 2011. The two now live together in Switzerland.
Anna Rahmanan is a New York-based writer and editor who covers culture, entertainment, food, fashion and travel news. Anna's words have appeared on Time Out New York, the Huffington Post, Fortune, Forbes, Us Weekly, Bon Appetit and Brooklyn Magazine, among other outlets.