Where is The Apprentice house 2022? Everything we know about the location, price and more...
The Apprentice house has caught viewers' attention—where is it located and how much is it worth?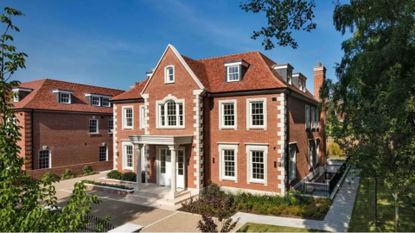 (Image credit: Wolff Architects )
The Apprentice is back! After not airing a new episode since 2019, Lord Alan Sugar has returned to the boardroom to pick out Britain's brightest sparks in business.
Despite an absence of two years, Lord Sugar hasn't softened.
Speaking from the boardroom in the first episode, Lord Sugar said, "I must say, we are glad to be back in the boardroom again. But don't for one minute think I've gone soft. Due to the pandemic, the world of business is tougher than ever before and the same goes for this process. In this boardroom you don't get furloughed, you get fired."
---
Though his brusque manner hasn't changed, the sixteen hopeful contestants—all in the running for £250,000 investment in their businesses, partnering with Lord Sugar—at least get to go home after a stressful day and enjoy a taste of the luxury life.
The house where the contestants stay throughout the series is a stunning mansion worth millions, and most likely a motivator for them to perform well in the competition.
Here's everything we know about the Apprentice house…
Where is the Apprentice house located?
The Apprentice house for 2022 is Wolff Architects' Huxley House in Hampstead, north-west London.
More specifically, the house is located on London's Bishops Avenue, which also goes by the prestigious nickname "Billionaire's Row."
Wolff Architects worked together with our client to produce this stunning property.'Huxley House' in Hampsted is due to feature in a programme entitled 'Britain's Most Expensive Houses' on Channel 4 Wednesday 5th January 2022 9pm. pic.twitter.com/AG85yyi4WNJanuary 5, 2022
See more
The beautiful mansion has a private swimming pool, jacuzzi, a fully stocked bar and a palatial reception room complete with chandeliers and stained glass windows.
Viewers at home were quick to point out the fact that the property has appeared on television before, being featured on Britain's Most Expensive Houses, which aired on Channel 4.
The house they are living in is worth 17.5 million and is £100,000 a month to rent and is called Huxley House on billionaire's Row. It was on Channel 5 last night on Britain's most expensive houses #TheApprenticeJanuary 6, 2022
See more
I knew it would be the house from last nights channel 4 show 'Britains most expensive houses'. They said the house had been 'rented for a tv series', which series rent flashy houses? The Apprentice #TheApprentice #BritainsMostExpensiveHousesJanuary 6, 2022
See more
The Apprentice home for the 2022 series is different to houses from previous seasons.
In the last series of the show, which aired back in 2019, the contestants stayed in Wells House, in Hampstead Heath.
How much is the Apprentice mansion worth?
Huxley House featured on Channel 4's Britain's Most Expensive Houses where the price tag was revealed to be a staggering £17.5 million.
If the price to buy is too steep, maybe renting is right?
Hopeful residents can rent Huxley House for £100,00 per month.
Jack Slater is not the Last Action Hero, but that's what comes up first when you Google him. Preferring a much more sedentary life, Jack gets his thrills by covering news, entertainment, celebrity, film and culture for woman&home, and other digital publications.
Having written for various print and online publications—ranging from national syndicates to niche magazines—Jack has written about nearly everything there is to write about, covering LGBTQ+ news, celebrity features, TV and film scoops, reviewing the latest theatre shows lighting up London's West End and the most pressing of SEO based stories.