What happened to Gideon in Criminal Minds, why did Mandy Patinkin leave the crime drama and could he ever return?
Gideon in Criminal Minds was an iconic character and his journey went in a seriously dark direction as actor Mandy Patinkin left the drama...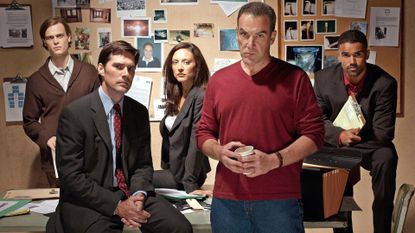 (Image credit: CBS TELEVISION / Album/ Alamy)
woman&home newsletter
Sign up to our free daily email for the latest royal and entertainment news, interesting opinion, expert advice on styling and beauty trends, and no-nonsense guides to the health and wellness questions you want answered.
Thank you for signing up to . You will receive a verification email shortly.
There was a problem. Please refresh the page and try again.
Jason Gideon in Criminal Minds holds a special place in many fans' hearts but reboot show Evolution viewers might not know who he is.
There are plenty of shows like Criminal Minds out there for thriller-lovers to enjoy as they await the next instalment of the reboot series, Criminal Minds: Evolution, though for die-hard fans out there there's likely nothing quite like the original show. Ever since Criminal Minds left Netflix, seasons 1-15 have been available to watch via Paramount+ or Disney+ depending on where you live and it's likely many of us have been taking full advantage of this to revisit our favorite moments. There are also a some characters that bowed out of the original show, including Jason Gideon.
Played by The Princess Bride's Mandy Patinkin, Gideon led the team in the early seasons before his storyline took a rather dark direction. Here we reveal what happened to Gideon in Criminal Minds, why Mandy Patinkin left and whether it's possible he could show up in Evolution…
*Warning: Spoilers ahead!*
What happened to Gideon in Criminal Minds?
Jason Gideon in Criminal Minds was the original profiler and senior agent in the Behavioral Analysis Unit's team as Supervisory Special Agent - a position now held by his friend David Rossi who joined the team in season 3. Their past together was revealed in more detail via flashback in Criminal Minds season 10 episode 13 and very sadly, this was also the episode that marked the end of Gideon's time on the show. Though, interestingly, it wasn't Mandy Patinkin 's final appearance as Gideon in Criminal Minds…
Gideon's last on-screen appearance as the character was in the season 3 premiere episode entitled "Doubt", where the senior agent was guilt-ridden and unable to process the horrific killing of his girlfriend Sarah Jacobs at the end of the previous season. She'd been murdered by serial killer Frank Breitkopft in Gideon's own apartment to leave the profiler a very violent message.
Although Gideon had worked out Sarah was in danger and raced home, he was too late to save her and instead walked in on a horrific scene of her body. In the closing stages of the season 2 finale, "No Way Out: The Evilution of Frank", Gideon and the team tracked Frank down but instead of finally bringing him in to face justice for his appalling crimes, the profiler watched in horror as Frank and his girlfriend Jane were killed by a train.
It's perhaps unsurprising then that in season 3, Gideon is far from recovered from these dark events. Even throwing himself into work and being surrounded by the ever-loyal BAU team didn't help and he began to see hallucinations of Sarah in "Doubt". The team eventually do crack the episode's case - that of the Campus Killer - but in the process Aaron Hotchner got temporarily suspended for the way the case was handled.
Ultimately, Gideon decided enough was enough as this and his guilt continued to gnaw away at him. He resigned from the BAU, leaving behind his badge, gun and a special letter for Spencer Reid in Criminal Minds, with whom he'd been close.
Mandy Patinkin was last seen as Gideon in Criminal Minds at the end of Doubt where the former profiler told a waitress in a diner that he didn't know where he was going or how he'd know when he got there.
After these ominous words, he left, got into his car and drove away never to be seen again. Seen is the crucial word here as whilst Mandy Patinkin never appeared other than in flashbacks again, this technically wasn't the end of Gideon's story in Criminal Minds. After being mentioned several times by his former colleagues, Gideon's time in Criminal Minds was finally over for good in "Nelson's Sparrow" in season 10 when he was found murdered but he didn't appear on screen.
Of course, it's the BAU that investigate their friend's murder, including Gideon's friend Rossi, whilst negotiating their grief. Gideon was shot three times, including in his dominant hand which made his chances of successfully fighting back against his attacker very small. However, he did take a very important shot with his gun when he aimed at a painting of a sparrow, which later hinted to Rossi about the cause for Gideon's murder.
The theory was that Gideon was murdered by the person involved in a case he and Rossi worked back in 1978. That case was never solved and it emerged that the profiler in him couldn't resist investigating when he heard that a woman had been found dead in Virginia with startling similarities to the original case.
At the end of "Nelson's Sparrow" it emerged that Gideon had gone into a local diner where he stood out a mile and tipped off the killer Donnie Mallick that he was back and on his trail. The killer then tracked Gideon down and killed him to protect his identity, but this didn't stay secret for long. The team found him, rescued a hostage he'd taken and Rossi avenged Gideon by provoking Donnie into trying to shoot him and then killing him in self-defence.
This marked the end of what happened to Gideon in Criminal Minds and his memory has been held dear ever since by his former BAU colleagues.
Why did Mandy Patinkin leave as Gideon in Criminal Minds?
Just like Shetland fans wondered why Douglas Henshall was leaving after Shetland season 7, many Criminal Minds fans might have been intrigued to know the reason Mandy Patinkin left the show as Jason Gideon in season 3. And it seems like the Homeland actor left Criminal Minds because of how the dark subject matter of the series was affecting him.
According to Deadline (opens in new tab), he previously told New York Magazine in 2012 that. "The biggest public mistake I ever made was that I chose to do Criminal Minds in the first place. I thought it was something very different."
He added that he "never thought" that the episodes would focus on the disturbing killing and assaults of "women every night, every day, week after week, year after year", before stating, "It was very destructive to my soul and my personality."
Mandy also reportedly expressed concern about the effect that crime dramas have upon audiences given the themes they include, whilst affirming he was "not making a judgment" on people who watch them.
"I'm concerned about the effect it has. Audiences all over the world use this programming as their bedtime story. This isn't what you need to be dreaming about."
Although Looper (opens in new tab) has claimed that a year after this interview, Mandy told the New York Times Magazine (opens in new tab) he behaved "abominably" and reports circulated claiming that he had been absent after season 2 of Criminal Minds and didn't show up for work or give notice.
Whatever the full reason, Mandy's departure was a shocking moment for Criminal Minds as Gideon had been such an iconic character.
Could Mandy Patinkin ever return to Criminal Minds: Evolution?
We know based on the original season that he won't be properly back as the character was unfortunately found killed in season 10. And it seems given the show's subject matter remains quite dark, it's highly unlikely that Mandy Patinkin will return in the Criminal Minds: Evolution reboot in a flashback, especially as he didn't return in season 10 when Gideon was killed.
However, flashbacks are a wonderful thing and we've seen Claire Foy return to The Crown season 5 as a young Queen Elizabeth in flashbacks, so it's always possible that Mandy Patinkin could be seen in any potential future seasons of Criminal Minds: Evolution if the Paramount+ show is renewed via a new flashback he might film.
This would of course depend on the showrunners wanting a Gideon flashback and Mandy wanting to return to Criminal Minds in this one-off, small way. They could alternatively use old Criminal Minds footage if a Gideon flashback was needed too.
It's also intriguing that Criminal Minds: Evolution's executive producer Erica Messer has Variety (opens in new tab) that she hopes more of the original stars "will be able to come back and play at some point". It's perhaps more likely she's thinking of cast members like Matthew Gray Gubler and Daniel Henney whose characters Spencer Reid and Matt Simmons were part of how Criminal Minds ended but aren't in the reboot.
But it could also be that the show is open to featuring more of the former characters going forwards. Unlikely as it might be, many fans would surely be delighted to see Gideon in Criminal Minds again via flashback or any other small detail.
Criminal Minds seasons 1-15 are available to watch via Paramount+ in the US and Disney+ in the UK.
Emma is a Senior Lifestyle Writer with six years of experience working in digital publishing. Her specialist areas including literature, the British Royal Family and knowing all there is to know about the latest TV shows on the BBC, ITV, Channel 4 and every streaming service out there. When she's not writing about the next unmissable show to add to your to-watch list or delving into royal protocol, you can find Emma cooking and watching yet more crime dramas.