Was The Watcher's John Graff a real person? The chilling true story of John List and how he inspired this sinister Netflix character
The Watcher's John Graff has one of the most disturbing storylines of the Netflix show and he's thought to be loosely inspired by John List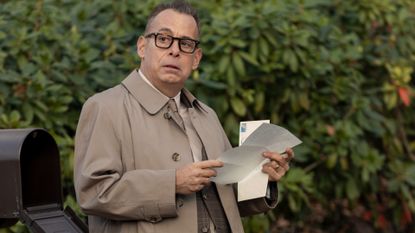 (Image credit: Cr. Eric Liebowitz/Netflix © 2022)
The Watcher's John Graff is at the center of a truly chilling subplot in the Netflix show and it's perhaps all-too easy to wonder if he actually existed.
Although the main focus of Netflix's compelling new series, The Watcher, is of course the creepy anonymous letters received by Nora and Dean Brannock after moving into their new dream home, this isn't the only aspect of The Watcher that'll give you chills. The Watcher is based upon the true story of real-life couple Derek and Maria Broaddus receiving The Watcher notes, but it also brings in the character of John Graff played by Joe Mantello. Initially claiming to be a building inspector, his horrific backstory in the show soon becomes known.
Here we reveal whether The Watcher's John Graff was a real person, the shocking true story behind John List and whether he lived at 657 Boulevard…
*Warning: spoilers ahead!*
Was The Watcher's John Graff a real person?
The Watcher's John Graff wasn't a real person, though he's understood to have been at least loosely based on a notorious killer named John List. In Netflix's The Watcher, John Graff is played by Joe Mantello and it later emerges that he actually used to live at 657 Boulevard. Not only that, but the fictional John Graff had received letters from the mysterious tormenter known only as The Watcher and had subsequently murdered his wife and children in the Watcher House and fled.
After committing his horrific crimes, Graff somehow managed to evade justice for many years. The true story of John List is thought to have inspired the character and storyline of the fictional John Graff and though his crimes aren't connected in any way to The Watcher letters, it makes for a seriously sinister aspect to the show.
The shocking true story of John List
Netflix might have brought in the true story of John List to their hit show when it wasn't linked to the anonymous letters, but The Watcher's John Graff and John List's crimes are the same. Back in 1971, List shot his mother Alma and his wife Helen at his home. According to RadioTimes.com, he also murdered his children Frederick, John and Patricia when they returned from school.
If that wasn't already disturbing enough, List proceeded to cut himself out of the family photos, making it harder for police to be able to identify him going forwards. He took his mother's body upstairs and then moved his wife and three children's bodies into the house's ballroom. The criminal and devout Lutheran then wrote a 5-page letter to his pastor confessing to these appalling crimes and attempting to justify his actions.
List apparently claimed that he'd committed the murders to save his family from evil and to ensure they went to heaven by saving their souls. He then cleaned the family home and went on to disappear, with the bodies of his loved ones horrifically only being discovered a month later. It's said that List had previously informed his children's schools that the family would be out of state for several weeks.
For an astonishing 18 years List managed to avoid being caught even after Alma, Helen, John, Frederick and Patricia were discovered. However, his heinous crimes would eventually catch up with him - all thanks to America's Most Wanted. In 1989 List, who by then had adopted a new name of Robert Clarke, remarried to his second wife Delores and moved to Virginia, appeared on the show.
The TV show had shown a John List statue aged to reflect what he might look like now and a viewer in Denver had noticed a distinct resemblance between the bust and their former neighbor Robert Clarke. Less than two weeks after the show aired, John List was arrested for the murders.
Where is John List now?
At John List's trial it was reportedly revealed that prior to killing his family, the murderer had been made redundant from his job. Instead of informing anyone about his severe financial problems, he pretended to go to work and sat in his car. It's said that he also attempted to alleviate the problems by siphoning off some money from his mother Alma's account.
The jury found John List guilty of all five murders in 1990 and he received five life sentences to correspond with this. However, according to The Scottish Sun, even at this point John List refused to accept responsibility for what he'd done and reportedly suggested he hadn't been in a good mental state at the time.
Imagine moving into your dream home and immediately receiving a menacing letter from someone who says they're watching your family at all times... what would you do?The Watcher is now on Netflix. pic.twitter.com/UtQnx4bboaOctober 13, 2022
See more
He apparently told the jury, "I wish to inform the court that I remain truly sorry for the tragedy that happened in 1971. I feel that due to my mental state at the time, I was unaccountable for what happened. I ask all those who were affected by this for their forgiveness, your understanding, and your prayers. Thank you."
After arguing that his letter to his pastor shouldn't have been brought into the trial, in 2002 in an interview with Connie Chung at the New Jersey State Prison, as per ABC, List admitted his guilt.
"I knew it was wrong. As I was doing it I knew it was wrong," he said.
In 2008 aged 82 John List passed away in prison of complications that arose from pneumonia whilst serving his sentence.
Did John List live at 657 Boulevard?
Unlike The Watcher's John Graff who previously lived at 657 Boulevard - AKA The Watcher house - in the show, the real-life John List never actually lived at Derek and Maria Broaddus' home. This is an example of creative license being used to chilling effect in the Netflix show, however like so many of the details presented in The Watcher on Netflix, there is the smallest similarity to the true story here.
Although the house wasn't the same, John List did live in Westfield in New Jersey, where 657 Boulevard is. So whilst The Watcher series didn't stick to real-life exactly, List's horrific crimes were committed in the same state and general area at The Watcher house.
All episodes of The Watcher are available to watch on Netflix now.
Sign up to our free daily email for the latest royal and entertainment news, interesting opinion, expert advice on styling and beauty trends, and no-nonsense guides to the health and wellness questions you want answered.
Emma is a Royal Editor with seven years of experience working in digital publishing. Her specialist areas including literature, the British Royal Family and knowing all there is to know about the latest TV shows on the BBC, ITV, Channel 4 and every streaming service out there. When she's not writing about the next unmissable show to add to your to-watch list or delving into royal protocol, you can find Emma cooking and watching yet more crime dramas.