The Wonder ending: What happened, how was Anna surviving and who was the woman in *that* final scene of the chilling Netflix film?
The Wonder ending unravels the central mystery as the struggle between belief and reason takes a devastating turn...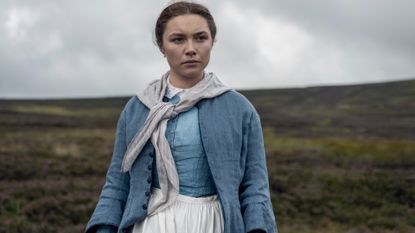 (Image credit: Cr. Aidan Monaghan/Netflix © 2022)
The Wonder ending finally answered some major questions as Lib uncovered how Anna had been surviving without taking in food - but did she manage to save her?
For anyone wondering what The Wonder is based on, this Netflix movie is an eerie adaptation of Irish author Emma Donoghue's book of the same name which was in turn inspired by the horrific experiences of real-life "fasting girls". In The Wonder nurse Lib is sent to 19th century Ireland to uncover how young Anna O'Donnell is apparently surviving without taking in food. What ensues is a conflict between reason and belief sure to delight fans of The Essex Serpent that builds to a gripping ending with impossibly high stakes.
Here we explain the heartbreaking details of The Wonder ending, how Anna had really been surviving and who the woman in that fourth wall-breaking final scene was…
*Warning: Spoilers ahead!*
The Wonder ending explained
The Wonder ending delivered both the emotional impact of The English ending and dramatic reveals of The Pact season 2 ending as we finally learn Anna O'Donnell's fate and finally understand what inspired her unwavering commitment to refusing to eat. All movie long, English nurse Lib had been attempting to uncover how Anna could apparently appear to be healthy without eating. Sent over to Ireland to keep a watch on the girl, Lib found everyone in the community committed to this miracle story - even Anna's parents Rosaleen and Malachy.
Only Lib wasn't quite so convinced and her scientific mind was telling her that something wasn't right and that there must be a logical - and not theological solution - to this mystery. She had 15 days before she must present her testimony to the local committee and determine whether Anna is lying, or a medical or religious miracle.
The nurse grew steadily more frustrated and increasingly disillusioned and horrified with her position of essentially guarding a starving child. Eventually, Lib realized that she had to work within the story being told and stop attempting to force her rigid sense of reason on those around her.
In The Wonder ending it was eventually revealed not only that Anna *had* had a little help with her apparent miracle thanks to Rosaleen but that she was devoted to it for a truly heart-breaking reason.
Her late brother had abused Anna for several years and she had been convinced by her mother that fasting would help ensure he went to heaven and not hell. Only it seemed Anna was entirely expendable in this goal as after Anna and Rosaleen's deception had been discovered by Lib, she separated the girl from her family only to watch as she deteriorated faster.
Although she presented the truth to the committee, they refused to believe her and both Rosaleen and Anna denied Lib's testimony. Knowing that Anna would genuinely starve to death if she did nothing and with the O'Donnells and committee deciding not to intervene and spoil their "miracle", an appalled Lib jumped into action.
Helped by Will - a local man and Daily Telegraph journalist she'd befriended - Lib spirited Anna away whilst the town was at mass in a last-ditch attempt to save her. The nurse gave into belief and took Anna to a holy well, telling her that she would "die" as Anna and be reborn as a girl called Nan.
She told "Nan" she could wake up, which Anna did and she was convinced to finally eat, saving her life. Lib then returned to cover-up Anna's survival by burning down the house and pretending Anna had died of natural causes inside before she accidentally knocked over a lamp, destroying everything.
As The Wonder ending drew to a close, Lib was allowed to go by the committee without facing charges as the Daily Telegraph report that no blame has been put upon Rosaleen or Malachy is read by their older daughter Kitty.
Lib's later seen reuniting with Will and Nan waiting to board a boat to Sydney, Australia. Now healthy, Nan was set free by Lib and is now part of a new family set to enjoy a life free from the dark horrors of the past.
But emotional and uplifting as this sight was, it wasn't the final scene of The Wonder ending. Instead, we see someone we've come to recognize come to the fore for the final time and the woman at the end of The Wonder brings the story to a mysterious close just as she'd begun it…
How was Anna surviving in The Wonder?
Anna survived in The Wonder thanks to her mother Rosaleen O'Donnell. Whilst the entire committee might have held fast to their belief in Anna's miracle status as a child who survived only on the "manna from heaven", Lib uncovered the truth. It turned out that every time Rosaleen had kissed her daughter, she had been passing Anna food in her mouth.
Although this likely came as a shocking surprise to many, there could perhaps have been a slight hint in the form of the thaumatrope that Will gave Anna in The Wonder, with its optical illusion of a bird that is at once both caged and free. Whether an intentional clue or not, the way Rosaleen had been feeding Anna with her mouth is like birds feeding their chicks and could link to the bird on the thaumatrope.
Who was the woman at the end of The Wonder and what was the significance of the fourth wall breaks?
From the very first scene of The Wonder it was clear that the iconic "fourth wall" was a fragile one in this movie as it opened with scenes of the film set. Over the top of these opening scenes was the narration of actor Niamh Alger (Kitty O'Donnell) who introduced the key message. It was Niamh who later drew this compelling and heart-wrenching tale to a close as she was the woman at the end of The Wonder.
"This is the beginning," Niamh told the audience at the start. "The beginning of a film called The Wonder. The people you are about to meet, the characters, believe in their stories with complete devotion. We are nothing without stories and so we invite you to believe in this one."
This theme remains key throughout, building to The Wonder ending which returns to the set and sees Niamh, once again out of character as Kitty, bid a final farewell to the audience. Dressed in modern-day clothing and surveying the final, historical scene of the movie being acted out in front of her, the camera pans around and closer to Niamh as she calmly declares, "In. Out. In. Out."
Hers is the final face we see in The Wonder ending and these few words continue to resonate long after the credits start to roll. With this ominous-sounding final line, Niamh is harking back to the thaumatrope that Will gave Anna. This couldn't be more significant given Anna's own situation - she was trapped in her life as Anna before being freed as Nan by Lib.
The decision to break the fourth wall could also be seen as a reflection of the overarching theme of The Wonder - one of the power of stories, suspension of disbelief and how absorbed we can be in something, even if we know or suspect it to be merely a story.
In The Wonder we saw exactly that as Anna became the focus of an unbreakable narrative of miracles and faith upheld by herself, her family and her community. Although Lib attempted to break their belief in it with her scientific reason, ultimately as we saw in The Wonder ending, she failed. Lib was forced to work within the confines of Anna's story to free her from the horrifying effects of it, convincing her that she was truly reborn as Nan to prevent her starving.
Meanwhile, The Wonder's director Sebastian Lelio told GamesRadar that mirroring the storyline itself with this device was "more or less" part of the plan.
"That's more or less the plan for them to be distracted in a film that explores the power of fiction in societies and in our own lives, the stories we tell ourselves, the stories we co-create, and how that becomes a power dynamic. I thought it was important for the film itself to say to the viewer, "Listen, you will be exposed to the power of fiction, your disbelief will be suspended," he explained, adding, "And then you will be kindly reminded that you have been, hopefully, fervently believing in the film, in the same way in which the characters are believing their own stories.'"
Sebastian also disclosed that this fourth-wall breaking framing device poses intriguing questions to viewers, asking them how flexible they are in their beliefs.
He said, "It is a film also about the collision between reason and magical thinking or science, and extreme religiousness; between spiritual and intellectual elasticity versus fanaticism. In that sense, this little framing is saying to the viewer, 'What do you believe in? Are you fixed in your position? Or are you willing to change, adapt, and evolve? What sort of viewer are you?"
According to the director, the breaking of the fourth wall and the use of Niamh to do this is part of what makes it resonate today as it's "also a way of saying, 'Of course, this is not really 1862.'"
He added, "[T]he power dynamics might have happened in the 1860s, but they are completely resonant with the power dynamics that are still operating today. So we are somehow trapped in the same sort of storytelling. The opening and the ending is a way of saying, 'This is today. This is now.'".
During The Wonder we see Kitty reference the opening speech, saying "We all have our stories" and she often appears to be observing and learnt to read during the movie, giving her the chance to finally be able to explore other people's stories as well as her own.
Niamh told RadioTimes.com, "She's watching Florence's character, and there's that intrigue, because for Kitty, language is something that she struggles with because she can't read and so therefore I think stories must have been quite difficult because she has to be told them, and she's wanting to learn to read and read the stories for herself, because that's a powerful tool for someone."
The Wonder ending is both insightful and haunting with its themes and style and if you haven't yet dived into this Netflix movie there's plenty of time to find yourself spellbound by this historical story...
The Wonder is available to watch on Netflix now.
Sign up to our free daily email for the latest royal and entertainment news, interesting opinion, expert advice on styling and beauty trends, and no-nonsense guides to the health and wellness questions you want answered.
Emma is a Royal Editor with seven years of experience working in digital publishing. Her specialist areas including literature, the British Royal Family and knowing all there is to know about the latest TV shows on the BBC, ITV, Channel 4 and every streaming service out there. When she's not writing about the next unmissable show to add to your to-watch list or delving into royal protocol, you can find Emma cooking and watching yet more crime dramas.