The Walk-In: True story behind ITV's harrowing Stephen Graham drama
The Walk-In true story is utterly heartbreaking and disturbing as it depicts the real-life race to prevent a plot to murder a British MP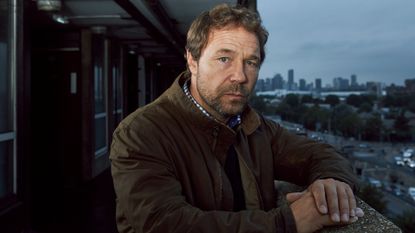 (Image credit: ITV)
The Walk-In true story is just as harrowing as the new ITV drama series starring Stephen Graham though not every viewer might not know the haunting real-life events that inspired it.
Thought-provoking, terrifying and disturbing, The Walk-In tells the story of former far-Right group member Matthew Collins and his work with anti-fascist organization Hope Not Hate to prevent an MP's murder. Line of Duty star Stephen Graham plays Matthew opposite Andrew Ellis as the "walk-in" mole Robbie Mullens who works with him amid a backdrop of tension as Britain's upcoming Brexit vote looms large. Written by BAFTA-winner Jeff Pope, known for Philomena, this ITV series explores critical societal issues and whether someone's perception of the world around them can be changed.
But what is The Walk-In true story and who is Matthew Collins? We reveal what you need to know about the traumatic events that inspired this new ITV series.
*Warning: spoilers ahead*
The Walk-In true story and who is Matthew Collins?
From Monster: The Jeffrey Dahmer Story that's been sparking conversations in recent weeks to The Staircase in May, 2022 has seen plenty of harrowing true stories brought to life on screen. Now ITV's latest series, The Walk-In has landed and sees Stephen Graham portraying Matthew Collins - who was involved with the National Front in his youth before reforming and going on to become an anti-fascist campaigner. The ITV series follows him and his advocacy group as they work to prevent the brutal murder of an MP by a banned fascist group in 2017 thanks to the information provided by an informant.
Raised on a council estate in London, as per the Daily Mail (opens in new tab), Matthew Collins has explained how he came to form racist opinions in his youth.
"There was no racial hatred in our home, but I formed those opinions. I don't know why, but I did. I went looking for the far-Right. And if you grew up in South London back then, it wasn't hard to find it," he shared.
As reported by The Independent (opens in new tab), Matthew's father left his family when he was five years old and he told the publication back in 2011 that as a youth he felt the far-Right offered him a sense of the male role models he'd been looking for.
"For me, there was always this search for male role models," he shared "We had excellent female role models who did all the cooking, cleaning, carpet fitting. But no men to look up to on our estate. The far right gave me a safe environment. There was lots of violence, but they elevated me. They took me into pubs at 15. I would be picked up from home in a car, taken to clubs. They taught me things. They treated me as if I was bright."
By the age of 15 he had read Mein Kampf, had joined the National Front and started going door to door with the National Front newspaper. However, he also reflected upon the extreme violence involved and how causing fear gave him an intense feeling of power.
Matthew told The Independent, "You would strike fear into people. You could feel how you physically intimidated someone", sharing that his hatred was extended to anyone "even remotely progressive". It was only years later after a violent attack at Welling Library that he began to realize that he was "on the wrong side".
In 1989 a group largely consisting of women had been peacefully protesting the BNP's (British National Party) decision to open a bookshop in the area, before around 40 fascists including Matthew, turned up. Armed with hammers, they smashed up the room and attacked the group in a horrific scene of violence.
Appalled at what had unfolded before his eyes, it was after this that Matthew turned his back on the far-Right forever.
"I couldn't see what freedom of speech and fighting for British democracy had to do with stamping on little old ladies' heads," he told the publication. "It was real hatred. I began to see it was all about destroying people's lives. Violence was the only way they could affect change. I was standing in the library watching people getting their heads kicked in for attending a debate and discussion. I thought: I'm on the wrong side."
Despite being hailed a hero by his fellow fascists, Matthew went on to phone anti-fascist publication, Searchlight. It was then that his life as a mole in the far-Right began, with Matthew passing on highly sensitive information and helping to ensure many violent fascists were locked up. This is understood to have included passing along documents, plans and membership lists all whilst managing to remain undetected as a spy in their midst.
Opening up to the Daily Mail, Matthew revealed that he was aware of several attacks that he'd managed to stop and attackers identified thanks to his information.
"I know I did tangible work," he said. "I was able to pass on information about the attackers in cases where people had been viciously assaulted and I was able to warn of other attacks and stop them."
However, there were several close-shaves when his identity was almost uncovered and Matthew recalled being asked how such secret information for the fascists was being leaked. Ultimately, he was identified as a mole in 1993 when a documentary to which he'd contributed had been aired focusing on the neo-Nazi terrorist organization, Combat 18.
"It came out and about two minutes later I got a call from someone saying: 'We think it's you'," he reflected, before going on to share that he'd fled to Australia until 2003 when he was asked to participate in a BBC documentary about his time undercover.
Returning to the UK, Matthew began working for Searchlight - now anti-racist organization Hope Not Hate (opens in new tab) - and focused on recruiting youths who, like him, had been influenced by the far-Right's twisted views. He shared that whilst some moles come to him with one-off pieces of information, others he's been working with for multiple years.
One particular Neo-Nazi plan that Matthew is understood to have helped prevent being carried out was the plot of banned-group National Action to murder a second MP, Rosie Cooper, a year after the horrific murder of MP Jo Cox in 2016.
The traumatic The Walk-In true story has now been adapted in the new ITV series and the foiled plot to murder Rosie Cooper and Matthew and Hope Not Hate working with a National Action informant, Robbie Mullen, is the focus of the new show. The plot was later exposed and her attempted murderer, Jack Renshaw, was sent to prison for life in 2019 after pleading guilty to buying a machete to carry out the crime and making threats to kill a police officer.
How to watch The Walk-In and how many episodes are there?
There are five episodes of The Walk-In and all of them are available to watch now via the ITV Hub for anyone who would rather make their way through this disturbing series at their own pace. But if you'd prefer to watch each installment as they air, then ITV is the place to head. The Walk-In is being broadcast on ITV at 9pm on Mondays, with the finale set to air on October 31.
Emma is a Senior Lifestyle Writer with six years of experience working in digital publishing. Her specialist areas including literature, the British Royal Family and knowing all there is to know about the latest TV shows on the BBC, ITV, Channel 4 and every streaming service out there. When she's not writing about the next unmissable show to add to your to-watch list or delving into royal protocol, you can find Emma cooking and watching yet more crime dramas.