The UN released a major climate change report—here are 5 things you need to know
The earth is warming at unprecedented levels, and action is imperative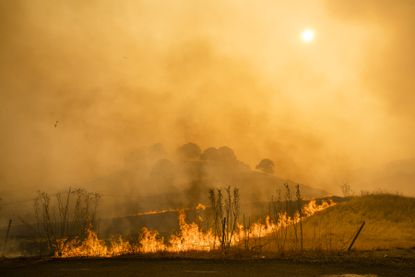 (Image credit: Getty)
woman&home newsletter
Sign up to our free daily email for the latest royal and entertainment news, interesting opinion, expert advice on styling and beauty trends, and no-nonsense guides to the health and wellness questions you want answered.
Thank you for signing up to . You will receive a verification email shortly.
There was a problem. Please refresh the page and try again.
The United Nations published a new report summarizing the latest scientific information about climate change. The result is a comprehensive, damning look at the state of the earth's temperature.
The report found devastating impacts of global warming are now unavoidable, and warned governments to act now before it's too late. The report states there is no way to stop global warming from getting worse over the next 30 years. But while the damage has been done, governments can act immediately to prevent even more catastrophe down the line. Here are five things you need to know:
---
Humans are to blame
The report says that almost all of the warming that has occurred since the 19th century was human-caused. Humans have heated the planet by about 2 degrees Fahrenheit, or 1.1 degrees Celsius, by burning coal, oil and gas. Heat-trapping gases including carbon dioxide and methane are the number one contributor to climate change. Right now, global temperatures are their hottest in more than 100,000 years, and if humans continue burning fossil fuels at current levels it will only get hotter.
Extreme weather events will become more frequent
The report found that severe storms and heat waves are expected to become worse, and to occur more often. Even if emissions are cut now, some amount of warming is "locked in" and will cause irreversible damage for centuries.
"We can expect a significant jump in extreme weather over the next 20 or 30 years," Piers Forster, a climate scientist at the University of Leeds and one of hundreds of experts who worked on the report, told the New York Times. "Things are unfortunately likely to get worse than they are today."
This summer, heat waves have killed hundreds of people in North America, floods have destroyed parts of Germany, Italy and China, and wildfires have raged in Siberia, Turkey, Greece and California.
The seas will rise
The report says sea levels will rise for hundreds of years, no matter what, increasing about 2-3 meters (6-10 feet) or more. This is largely due to polar ice caps melting. Flooding due to melting ice caps has nearly doubled in many coastal areas since the 1960s, with once-in-a-century coastal surges set to occur once a year by 2100.
Related, summertime sea ice on the Arctic Ocean is expected to disappear completely by 2050. The Arctic is the fastest-warming area on the planet.
The time to act is now
If countries act together, the worst could be avoided. Countries must all stop adding carbon to the atmosphere by 2050. That means all countries need to move away from fossil fuels immediately, and also work to remove carbon from the air.
In 2015, almost every country signed onto the Paris Agreement, which aimed to limit global warming to an increase of 2 degrees celsius above the pre-industrial average by 2100, with an ideal increase of only 1.5 degrees Celsius. However, the report says the world will cross 1.5 degrees in the 2030s, much earlier than expected. That makes it more urgent that governments act now to prevent further warming.
It's not all bad
While the report was overwhelmingly bleak, there were a few signs of hope. It found that ice sheet collapses and the slowdown of ocean currents, which would both be catastrophic, are "low likelihood." Still, they are not impossible, which is why the report urged action immediately.
Rebecca Holland is a travel and food writer based in Chicago. She has written for the Guardian, New York Times, Architectural Digest, Food & Wine, Wine Enthusiast and more. She is currently a graduate student at Northwestern's Medill School of Journalism. When not working, you can find her eating her way through Chicago's neighborhoods, or in non-pandemic times, traveling around the world.