Studies show COVID-19 survivors have an increased risk for anxiety and mood disorders
Feeling anxious and down lately? It may be connected to the virus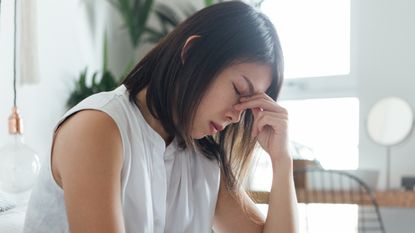 (Image credit: Oscar Wong/Getty Images)
The COVID-19 pandemic has left us all feeling pretty isolated from the outside world right now. But, according to studies, survivors of COVID-19 are more at risk of developing anxiety and mood disorders.
Findings have discovered that one-in-three COVID-19 survivors have gone on to be diagnosed with an anxiety or mood disorder within six months after infection. The overall is suggesting that there is a link between the virus and mental health and neurological disorders.
So, if you're a COVID-19 survivor and have been feeling especially down or anxious, it could be related to the virus.
As part of one of the largest studies of its kind, 17% of participants were diagnosed with anxiety, and 14% were said to have developed mood disorders. More intense disorders like dementia and a stroke were less common but typically occurred with patients who had been admitted into the ICU when infected.
Researchers looked at data collected from the electronic health records of 236,379 Covid-19 patients from the US. This even included patients older than 10 who had been infected in January 2020 and were still alive on 13 December 2020. The group was then compared with 105,579 patients diagnosed with the flu and 236,038 patients diagnosed with any respiratory tract infection (which included influenza)
The findings concluded that 34% of patients developed a neurological or mood disorder within six months of infection, including anxiety disorders, mood disorders, substance misuse disorders, and insomnia (5%).
Lead author Professor Paul Harrison from the Department of Psychiatry at the University of Oxford spoke in detail to The Huffington Post about the study.
"These are real-world data from a large number of patients," he said. "They confirm the high rates of psychiatric diagnoses after Covid-19, and show that serious disorders affecting the nervous system (such as stroke and dementia) occur too."
Individual risk for the disorders seems low, but because the conditions are chronic, it heavily impacts health and social care systems, which, according to Professor Harrison, could be "substantial" when looking at the scale of the pandemic.
Dr. Max Taquet, the co-author of the study (also from the University of Oxford), told The Huffington Post what he sees as the next steps.
"We now need to see what happens beyond six months," said Dr. Taquet. "The study cannot reveal the mechanisms involved, but does point to the need for urgent research to identify these, with a view to preventing or treating them."
Rylee is a U.S. news writer who previously worked for woman&home and My Imperfect Life covering lifestyle, celebrity, and fashion news. Before joining woman&home and My Imperfect Life, Rylee studied journalism at Hofstra University where she explored her interests in world politics and magazine writing. From there, she dabbled in freelance writing covering fashion and beauty e-commerce for outlets such as the TODAY show, American Spa Magazine, First for Women, and Woman's World.