Penny Lancaster breaks down as she describes 'shock' moment she found out about husband Rod Stewart's cancer diagnosis
So sad...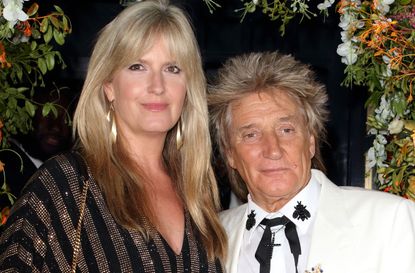 Penny Lancaster has opened up about her husband Sir Rod Stewart's cancer diagnosis on Loose Women.
The TV star and model appeared on the ITV chat show yesterday to discuss Rod's experience with the illness, explaining how he was recently given the all clear from the "aggressive" prostate cancer.
Speaking about his diagnosis with the disease back in 2016, Penny said, "We were in London. He's very up on his health. He doesn't believe in retirement, he wants to keep going forever, so he's always getting screenings and tests.
"Rod had a few symptoms. It started moving quite quickly, the results, the numbers. They said we best do a rectal exam. It's the only way. A specialist has to do that. And they did find a lump. Then it was like, 'ok we can't ignore this.'
"We got the shock news that it was cancer.
"We looked at the different ways of dealing with it. One was to have the gland removed, another was chemotherapy, radiation therapy.
READ MORE:Prostate cancer: the symptoms to look out for in your partner
"Instead of remaining in the gland, it left the gland and travelled to the outside tissues."
Continuing to describe the daunting moments of dealing with battling the condition, she went on, "So that was another scary moment where we had to have more invasive tests and scans to see if it was anywhere else in his body, which was the most frightening test of all."
READ MORE:Sir Rod Stewart reveals secret cancer battle, confirming that he is now 'in the clear'
As Penny, who shares two children with Sir Stewart, began to get emotional, panel host Christine Lampard passed her a tissue.
She continued, "It was obvious I was going to get upset, it's emotional.
"We kept it quiet for two and a half years now, but the positive news is we caught it early enough."