'I'm with you': Fans side with Phillip Schofield as he 'storms off' This Morning set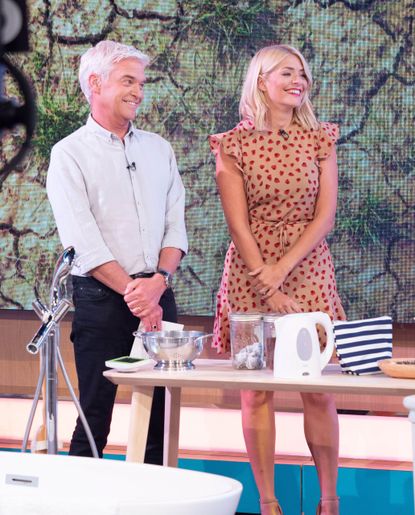 This Morning fans were left in fits of giggles during Monday's show, as co-host Phillip Schofield pretended to storm off the set after sampling a dessert.
He and Holly Willoughby were outside in the sunshine, as the show's resident chef Phil Vickery cooked up a tasty-looking summer pudding for the pair to try.
But after sampling the culinary creation, Phillip was seen shaking his head, with a sour look on his face.
When Holly asked, "Do you not like it?", he made clear that he wasn't a fan, exclaiming, "I don't like bread! It's in a dessert!"
MORE: Holly Willoughby and Phillip Schofield's best This Morning moments (opens in new tab)
He continued, "Brioche. In a dessert. I don't like the flavour. I don't like the feel"
Phil Vickery went on to justify his offering, saying, "Yes, but it's a sweet bread."
However, Phillip Schofield remained ardent in his dislike, explaining in a jokey manner, "You make loads of thing I love! I don't like that."
Chef Phil was clearly shocked by the outburst, laughing saying, "Do you know what, he's in such a bad mood today!"
Host Phillip was however keen to make clear that he didn't dislike all of it, saying, "I like the middle. The middle's gorgeous. Ask anyone. I don't like bread and butter pudding, I don't like spotted dick, I don't like any of that stuff!"
He then left co-presenter Holly in fits of giggles, proclaiming in a tounge-in-cheek manner, "I'm not doing it!", before slamming his fork down and walking away from the dessert.
Luckily, Holly was there to back Phil's dessert creation, saying, "Well that's good, because there's more for me."
Plenty of fans on social media however quickly sided with Phillip Schofield after seeing the clip, claiming that they can completely understand his dislike of bread-based puddings.
One wrote, 'Yuck 🤢 me neither!', and another commented, 'I'm with Phillip! Bread does not belong in a pudding'.
While a third and fourth viewer said, 'I'm with you schofe. Canny stand soggy bread', and 'I'm with @Schofe I can't stand bread in puddings, mushy disgusting texture just not right!'.
Almost all the other commentors continued to agree the This Morning host - although some suggested he was perhaps a little unfair on Phil Vickery.
A social media user said, 'If i was phil I'd tell phil to behave or else! Phil is such a grump when Phil is on'.
So are you with Phillip on this - or do you love a summer pudding in the warmer months?