Olivia Colman pranked Paul Rudd on live radio and it was hilarious
Olivia Colman pranked Paul Rudd in the best way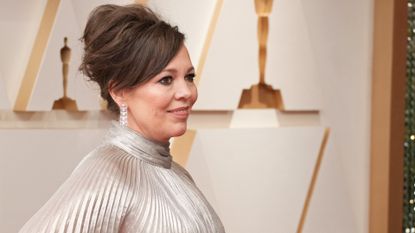 (Image credit: Getty images)
Iconic actress Olivia Colman pulled the most hilarious prank on Paul Rudd recently, proving her epic accent skills are handy for more than just her movie and TV roles.
While appearing on BBC Radio 1 Breakfast, Paul Rudd, who's been hailed the sexiest man alive, got a prank surprise from his former coworker and pal, Olivia. When Olivia found out Paul was going to be on the show, she directly messaged host Greg James and asked if she could pull a prank on her dear friend - to which Greg of course graciously said yes.
In a portion of Greg's show, he allowed guests to call in to ask a question to Paul as he was promoting his new Ant Man movie.
Olivia put on a rather good Welsh accent for her prank to make her voice less recognizable, easily tricking Paul into having no idea it was her.
"Hiya, Paul, I'm a huge fan," Olivia starts in her call to the station. "I wanted to pick your brains."
She then proceeded to make up quite the confusing riddle for Paul, which he responded to with a series of concerned facial expressions, which can be seen in the video recording of their radio conversation posted on the BBC TikTok.
"So, what would you do if you had a really good mate, like for over 20 years, and this friend, he doesn't live in England," Olivia said.
"But he's come to England, and he hasn't told you about it - and then not only has he not told you about it, he's come onto a radio show. What would you do?"
Paul pauses for a moment. "Oh my God..." he starts.
"Would you be offended?" Olivia added, still in the Welsh accent.
"Personally, if it's me, absolutely not. I tend to give everybody the benefit of the doubt," Paul replied.
Olivia and Paul burst into laughter as Greg revealed that Olivia was in fact on the other side of the line, pranking Paul.
"Hi Paul, it's Olivia Colman," she says in the clip, laughing away.
"God, you really can do every accent," Paul says in reply.
Much to our surprise, Paul and Olivia have been friends for years ever since they were in a play together, Olivia said on the show. Apparently, everyone else was really shocked to hear the two iconic actors were friends, too.
"Oh my god! Olivia Colman and Paul Rudd are FRIENDS? I love both of them individually and even more together," one TikTok user commented under BBC's video.
"Two of the most wholesome people in the entertainment industry. Perfect," another said.
Even Greg agreed, calling the friendship between Olivia and Paul "glorious" on his show.
Madeline Merinuk is woman&home's US lifestyle news writer. She covers celebrity, entertainment, fashion, and beauty news but is also obsessed with internet trends - you can find her reciting trending TikTok sounds out loud at any given time.
After winning multiple student journalism awards for her investigative work, she graduated from Hofstra University in 2021 with a B.A. in Journalism. After graduating, she worked at today.com, the digital site for the Today Show, where she wrote pop culture news and interviewed big-name personalities like Emily Ratajkowski, Haley Lu Richardson, Emma Corrin, and more.
Her personal interests, in no particular order, are: cheese, Joni Mitchell, reading, hot yoga, traveling, having multiple chapsticks in every handbag at all times, and dancing to ABBA songs as if she were in the Mamma Mia movies.