Meghan McCain's comments on the 'biggest lie surrounding motherhood' are making parents very angry
Meghan McCain's followers are calling her out for the unpopular opinion she just shared on Twitter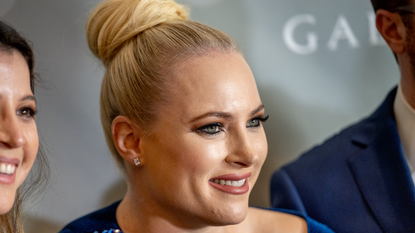 (Image credit: Roy Rochlin / Contributor)
Earlier this week, Meghan McCain opened up about motherhood on Twitter and it turns out that her opinion about the topic is a controversial one.
"The biggest and worst lie my generation was ever sold is that motherhood is a burden and something you could take or leave," Meghan tweeted before mentioning her daughter by name. "But nothing in my life compared to being Liberty's mom, the sheer joy, fulfillment, privilege it is. And I've experienced A LOT of amazing/surreal things."
---
The comment caused a stir on the social media platform as Meghan's followers quickly pointed out her failure to address her own privilege.
"You're also incredibly privileged. You don't have the worry of money, childcare, sleepless nights with an underpaid job in the morning," one user responded.
"Please don't extrapolate your experience as a prosperous woman who had a child when she decided she wanted one and has a career and plenty of child care, to the lives of women who aren't fortunate to be so privileged. For many women, motherhood is a burden they struggle to carry," another one wrote.
A third user responded, "Motherhood can be a burden for many women, but that doesn't mean they don't love their children. From pregnancy to delivery is pure joy and excitement for some who are not constrained by financial and other burdens. Speak for yourself and give thanks; life is complicated!"
Meghan's comments are surprising to some, as the former co-host of The View has publicly spoken about the complications she's experienced during pregnancy. The 37-year-old also came out in support of paid maternity leave just last year, following the birth of her first child.
Meghan's thoughts are in stark opposition to the opinions about motherhood that other celebrities have shared throughout the years.
Kate Hudson, Sandra Bullock, Jennifer Garner and Gwen Stefani have all, at one point or another, gotten candid about the hardships that parenthood brings along.
Anna Rahmanan is a New York-based writer and editor who covers culture, entertainment, food, fashion and travel news. Anna's words have appeared on Time Out New York, the Huffington Post, Fortune, Forbes, Us Weekly, Bon Appetit and Brooklyn Magazine, among other outlets.