Mary Berry reveals her parents were 'disappointed' in her career choice
The star says her parents disapproved of her baking ambitions.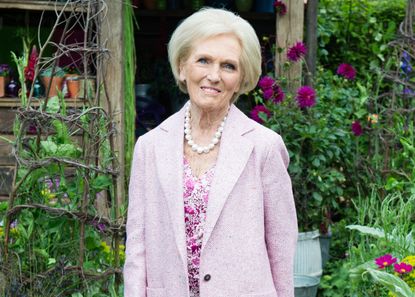 Mary Berry has said that her mother and father were not proud of her success and they were not really "involved" with her siblings.
The baking legend opened up about her late parents in a recent interview.
Mary revealed that despite her parents enjoying her baking creations, they never showed pride in her work.The revelations came from the former Great British Bake Off judge, during an interview with BBC Good Food.
When Mary was asked if she thought her parents were proud of her, she replied, "No, not at all."
She continued, "Although they were pleased I did well at domestic science, and that I used to bring nice things home to eat.
MORE:Lorraine Kelly celebrates 60th birthday by fulfilling life-long dream (opens in new tab)
"But it was a different era – we were almost 'seen and not heard'. My parents weren't involved with us, and I sensed their disappointment."
Mary Berry left her Bath home at the age of 21, to pursue a career in baking.
She said, "I answered an ad in The Telegraph and was interviewed in London to cook with the Dutch Dairy Bureau. I came back and said to my parents, 'I've got the job and it's £1,000 a year.'"
The TV star said that her dad was so shocked by the news that he jumped on a train to London to scout out the man who had offered her a job.
Mary also revealed that the lack of support from her parents never got in the way of her ambitions.
She added, "I knew I wanted to go to London, I didn't mind how hard I worked, and even though I didn't have the backing of my parents, it was great."
The baking sensation went on to study at the French Le Cordon Bleu school and took a number of jobs in the culinary world before landing her first cookbook.
Following that, she starred in numerous cookery shows before becoming a judge on the Great British Bake Off, from 2010 - 2o16.
Lizzie Thomson is a regular contributor to woman&home, and also contributes to Metro.co.uk, Ideal Home, Culture Trip, and Evening Standard, covering all things lifestyle.