Mariella Frostrup: "The Best Sex We've Had Is In Our Imagination!"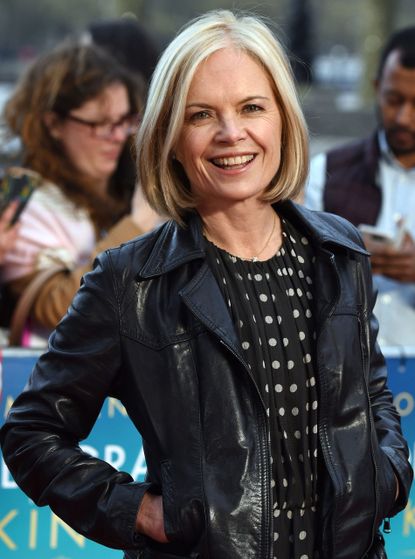 Writer and presenter Mariella Frostrup talks to Nathalie Whittle about choosing the stories for a new book, Desire, 100 of Literature's Sexiest Stories, midlife sex - and the fantasies that women share...
Mariella, 53, is married to a human rights lawyer, Jason McCue, whom she met when aged 39 and married two years later. They live with their children, Molly, 12, and Dan, 11, in Somerset.
I was 13 years old when I first encountered erotic writing. My parents had huge shelves of books and, one day, I stumbled across the diaries of eroticist Anaïs Nin. Turning the pages, I found myself lost in this world where people were lying around in opium dens doing unspeakable things to each other. It was all so wild and depraved. Physically, I wasn't yet part of it, but hormonally I was. Not long afterwards, I found my dad's DH Lawrence books and, when I read the description of this brooding male youth with tousled dark hair standing sulkily in the corner, I knew what he was talking about. Even back then, there was something wonderful about being able to lose myself in this "other" realm.
In our twenties and thirties, we're all too busy having sex to be reading about it - then you get to middle age and suddenly it's at the bottom of your to-do list! So I admit, being asked to choose a collection of erotic fiction for this book has been a bit of a gift. I was given about 250 stories by the Erotic Review, who asked me to narrow it down to 120. As I immersed myself in the many different and inspired stories, I thought, "Wow, I wish I'd had this on my bedside table for the past ten years!"
I was often reading the stories on the train, which may sound embarrassing - actually, I found it a bit sexy! Here I was, reading something so eyebrow-raising and adrenaline-pumping (and seriously sexy!) while sitting close to all these strangers on a crowded train. And it felt as if I could enter my secret world whenever I liked because no one knew what I was doing (I was reading on my iPad). I think I deserve some kind of thespian prize for keeping a straight face while nodding at the businessman sitting opposite me on his computer - then going back to my stories!
The best sex any of us has ever had has been in our imagination, hasn't it? That's where erotic stories offer us something we can't get from pornography. Like any kind of writing, it's a way of accessing extraordinary lives or amazing journeys that we may never make. It's not about acting out what we read, but about inspiring a sense of longing and sexual frisson that I think a lot of us have lost.
The truth is, most of what we see actually turns me off sex - I'm not the only woman who feels that way, am I? We're now in this sexually saturated world where every single piece of imagery, whether it's billboards or full-blown pornographic videos, is about the objectification of women and unachievable physical ideal of womanhood. Quite frankly, I think, "Oh God, not another sexy couple doing it - him and his waxed back, and her with her perfect, bought breasts." Men may be more literal and visual but for women it's about the emotion and atmosphere rather than graphic coupling.
I only wanted to include stories in the collection that do what they say on the packet - that make us feel sexy. It's so hard to feel sexy at the end of the day, or even the beginning of it, isn't it? About a third were ruled out on the basis of some of the actions actually constituting a crime. An awful lot of erotica in the Victorian period was written by some pretty filthy old men (there were very few women writing erotica), and it involved a lot of violence against women and even rape. We grouped the stories into three categories: Awakening (tame), Burning (middling) and Darkest (extreme). In that last section, there are some stories that will shock and perhaps horrify people - but it's far removed from our day-to-day lives - and I think we all need a taste of that now and again. Most of us have "dark" fantasies - Fifty Shades of Grey proves that - but women are only just starting to own up to them. I don't think men feel the sense of judgement we do when they express their sexual desires, do they? Now it's as if we're discovering a part of the sexual world that we haven't really explored in that context before - and why shouldn't we? After all, none of us actually want to live out these fantasies; it's the idea of them that turns us on.
There's far more pressure on my daughter in the sexual world now than there ever was when I was a teenager - and that worries me. The availability and explicit nature of the pornography that's out there is having a real impact on our children and it's incredibly unsettling. There's this pressure of having to wax everything and replicate the stuff teenagers are now seeing in porn. Is freedom and the right to access whatever we want really worth the price we're paying for it? I can't say I'm convinced.
So I'm a horrible dictator about the internet with my kids; they don't have free reign to sit around on their smartphones, there are no computers in their bedrooms and their computer for homework is on the landing, so they're never on their own with it. Sometimes, I even go through and cull their friends from time to time, asking, "Who's that? Do you know who he is?" And if they say, "Oh, he's a friend of a friend of a friend," I'm like, "Nope!" Fortunately, they're both quite prudish about sex at this point, which I'm sure is partly a result of having me as a mother - you have to rebel somehow, don't you?
MY TOP 3 SEXY STORIES
The Witness by Laurence Klavan This one is so racy! A couple stop off in their car by a Scottish loch and end up having sex - to an audience of passing cars. Scary Old Sex by Arlene Heyman This tackles the great taboo - sex in later life. It was unusual and rather inspiring to see the length the couple would go to to keep passion alive. It makes you think that it's perfectly possible. It is, though, isn't it?
L'idée Fixe by Ortensia Visconti This gives a glimpse into a surreal world with an oriental twist. It opens in a Tokyo fish market and there's a giant octopus involved - I read it and just thought, "Wow!" Desire, 100 of Literature's Sexiest Stories (Head of Zeus), chosen by Mariella Frostrup and the Erotic Review, is out on 6 October.