Lucy Liu gets candid about having a child in her 40s without 'a plan'
Lucy Liu, now 54 years old, talks about her decision to become a mother via surrogate in her 40s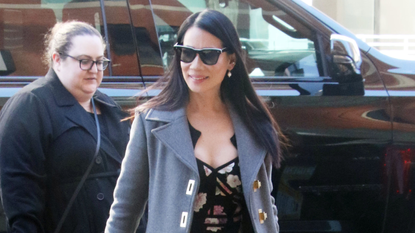 (Image credit: MediaPunch/Bauer-Griffin / Contributor)
Lucy Liu doesn't hold back when it comes to discussing all things parenthood.
Lucy, whose skincare routine is surprisingly affordable, recently opened up about having a child via surrogate when she was 47 years old - a decision that she says didn't take much thinking or planning.
"I didn't have a plan," Lucy, now 54, said to The Cut (opens in new tab) in an interview pegged to the release of her new movie, Shazam! Fury of the Gods. "I just thought, I want to change the conversation a little bit. I didn't want to talk about the next project. I felt like I was reading the same script. I got tired of it. I didn't want the same dialogue. I'd heard myself say the same things many, many times and just thought, 'Well, this can't be what's next.' It wasn't enough. I didn't mull it over too much. I didn't do a lot of research, I just pulled the trigger."
Now a mom to 7-year-old son Rockwell, the actress also discussed not over-preparing for the arrival of her little one back then.
"I can think myself out of something easily," she said on the record. "If I think too much I won't do it. It's better for me to feel something and just go for it. A lot of people read books about parenting. I didn't do any of that. I was like, 'When the child is here, I'm just going to figure it out.' "
One thing she did keep in mind, though, was the environment she'd want her child to grow up in.
"I definitely wanted to raise a kid in New York," she told the publication. "People will say, It's not convenient, you don't even have a car,' but, this way, they're going to see all the things. ou're going to show them what's safe and what's not, and they're going to understand that through experience. It's hard to build common sense when you're in a car all the time. They're going to smell the smells."
This isn't the first time that the Charlie's Angels star has opened up about motherhood.
She specifically addressed what it's like to be a famous parent in the past.
While chatting with ELLE Canada (opens in new tab) at the end of 2022, Lucy described how Rockwell responds to folks that approach her mom for photos or autographs. "I'll just say 'Oh, that person recognized me and likes my work,' and he'll say 'Okay,'" she explained. "It's very cut and dried."
As for details regarding her decision to have a child via gestational surrogacy, she told People (opens in new tab) back in 2015 that "it just seemed like the right option for me because I was working and I didn't know when I was going to be able to stop. I decided that was probably the best solution for me and it turned out to be great."
Is she still open to finding a partner that could potentially help raise Rockwell? "Absolutely," Lucy said to The Cut. "But I think it's an investigation. It hasn't occurred to me that that should be the next thing. I think it will present itself when it's supposed to, but I've never lived according to what's supposed to happen next. I've been proposed to but … I don't know. I don't know if I've ever followed a social norm."
Anna Rahmanan is a New York-based writer and editor who covers culture, entertainment, food, fashion and travel news. Anna's words have appeared on Time Out New York, the Huffington Post, Fortune, Forbes, Us Weekly, Bon Appetit and Brooklyn Magazine, among other outlets.