EXCLUSIVE: Lucy Benjamin On Finding Inner Strength and Plan B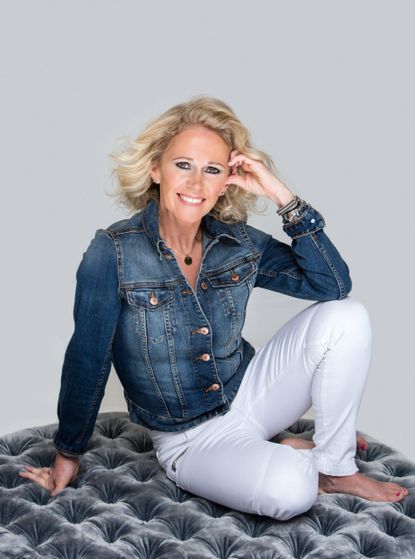 Lucy Benjamin, 46, is married to oil businessman, Richard Taggart. They live in London and have two daughters, Bessie, nine, and Rosie, five.
People still recognise me as Lisa from EastEnders - I have to remind them it's been 13 years since I left! It's never felt like the right time to go back, but I have to admit, if a fabulous storyline came up now, I don't think I'd say no. I took an accountancy course at the Open University because work was very quiet before I got the EastEnders gig. Now it's good to know I've got that safety net to fall back on if I need it.
Richard and I first met on a flight - and it was a bit of a whirlwind. He was sat next to me and while I was reading a book, he tapped me on the shoulder and said, "This must be strange for you because I know a lot about you and you don't know anything about me, but my name's Richard and I'm going to Dubai"; fortunately, I found it very funny and we didn't stop chatting. We were engaged within six weeks - and married within nine months.
My dad passed away in March after a short battle with bladder cancer - I never imagined I'd have the strength to get through that, but we all have it in us. He was given six weeks to live, so I spent every day with him. He told me he'd once fallen out with his sister and realised what a waste of time it all was. It made me realise how precious life is. I've moved my mum, who was divorced from him, to be near me. I'm doing things like taking her to see Sunset Boulevard and making more time for those moments now.
One of my closest friends has a son with fragile-X syndrome and she's one of the most courageous people I know. He's 19 now, but he has the personality of a child and will probably never leave home, but even in the face of adversity, she's so calm. She inspires me to be a better mum.
I recently got involved with The Silver Project, which supports women in London over 55 who are affected by domestic violence. They're in the finals of this year's National Lottery Awards - and if my support helps the charity get one more vote, I'll be a happy woman.
What is the Silver Project?
What it does: Solace Women's Aid's Silver Project supports women in London aged 55 years and over affected by domestic and sexual violence.The average age of the women they support is 67 - the eldest 101. The project provides women with one-to-one support to help improve their safety, health and confidence, as well as training for doctors and police officers to help them spot signs of abuse amongst older people. Lottery funding has paid for a full-time advice worker for three years.
Who it helps: Women in this age range suffering from domestic and sexual violence are often afraid of seeking help and they are less likely to report crimes -yet the likelihood of abuse increases significantly in older age. So far the project has provided support to more than 170 women. Almost half of older service users have a disability, and the Silver Project targets the issues behind this, such as their dependence on their abusers for daily care.
Watch the video to find out more about what the charity is about and why Lucy is supporting it.
Now in their 13th year, the National Lottery Awards are all about finding the UK's favourite Lottery funded projects - and it's almost time to find out who will be crowned winners in each of the seven categories and take home £3,000! Following a public vote, the celebrity-packed awards ceremony will be broadcast on BBC One this September, with John Barrowman presenting for the sixth year running.
This year, w&h is supporting the health category and will be reporting live from the event - so follow us on social media to stay ahead of the curve and get the latest updates. The National Lottery Awards will air on BBC One this September.