Kyra Sedgwick opens up about on-screen nudity and 'weird' sex scenes with husband Kevin Bacon
Married for over 30 years, Kyra Sedgwick and Kevin Bacon have filmed a bunch of sex scenes together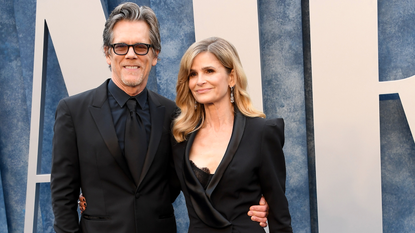 (Image credit: Steve Granitz / Contributor)
You would think that being married to a co-star in real life would make filming a sex scene alongside them that much easier - well, not according to Golden Globes-nominated actress Kyra Sedgwick.
In a new interview, Kyra, who recently shared the secret to her 35-year-long marriage to Kevin Bacon, actually revealed that getting intimate with her spouse in front of a camera is "much harder" than doing so with someone else.
"It's weird because we're always like, 'Is this real or is it not?'," the 57-year-old actress told Yahoo. "As an actor, you sometimes have these dreams when you start a job where you're sleeping and they're filming you. With Pyrates, I was [sleeping] with my husband and they were filming it! It's like, 'This can't be real - I'm having a dream.'"
In addition to Pyrates, a 1991 film in which Kevin and Kyra played two halves of a couple whose sex life is so intense as to generate an electric reaction, the duo also filmed similar scenes for the 1995 legal drama Murder in the First and the eerie 2004 production The Woodsman. Clearly, practice doesn't necessarily make perfect (in front of the camera).
Kyra also went on the record about general on-screen nudity, calling out the changes that have turned the industry into a better one - at least in the eyes of women.
"I think about how much nudity there was on the part of women then," she said to the outlet. "And when I think about that, I'm just so grateful that women now know they have a voice in that. They can say, 'Hell no,' or 'We don't do that anymore.' I'm all for that evolution."
Back to Kevin: despite the "oddity" involved in filming an intimate act together, the couple has continued to happily work with each other throughout the years.
They are both currently starring in Space Oddity, for example, which Kyra also directed. The movie features Kyle Allen as Alex McAllister, a man who, according to an official synopsis, "gives up on Earth and decides to leave it all behind for a one-way mission to Mars" until a new budding romance has him reconsider his decision.
Kevin stars in the film as Jeff McAllister, Alex's father.
"I love being in charge of the storytelling," Kyra said to People about her latest work - a feeling that Kevin noticed immediately.
"She just absolutely adores directing," 64-year-old Kevin said on the record. "You can't be a crew or a cast member and not get swept up in that [excitement]."
In her latest interview with Yahoo, Kyra got candid about other parts of her life as well, specifically diving into her past to reminisce about how folks would tell her she looked like Julia Roberts when both actresses were first starting out.
"I had been working since I was 16 years old, and I think I was around 18 or 19 when I'd be auditioning and people would come up to me going, 'Has anyone ever told you that you look like Julia Roberts?'" Kyra said to Yahoo. "And I was like, 'Who the f*** is Julia Roberts? What are you talking about? Who is this person?'"
Kyra then admitted that, as the years went by and Julia established herself as a rom-com queen with a large fan following, her reaction to comparisons to the celebrity landed differently.
"I would be like, 'I've been doing this so much longer than she has - it's so unfair," she said candidly. "I had some moments like that. But finally I totally embraced it - I mean, she's gorgeous and brilliant so all good here! But I do remember it was hard to get used to at first."
That being said, she never thought of Julia or any other actress as a competitor of sorts - and makes it clear that "man-made" female conflicts are something that Hollywood still needs to reckon with.
"I think that people try to gin up rivalries between women all the time, because that's another way to diffuse our power," she said on the record. "And I just wasn't having it."
You can always count on Kyra to be very honest about what it's like to lead a successful career in Hollywood for decades - all the while keeping the romance alive alongside a husband of nearly 40 years.
Anna Rahmanan is a New York-based writer and editor who covers culture, entertainment, food, fashion and travel news. Anna's words have appeared on Time Out New York, the Huffington Post, Fortune, Forbes, Us Weekly, Bon Appetit and Brooklyn Magazine, among other outlets.