Kate Garraway wins NTA for documentary about her husband Derek
Kate Garraway's poignant documentary follows her and her family throughout Derek Draper's Covid-19 battle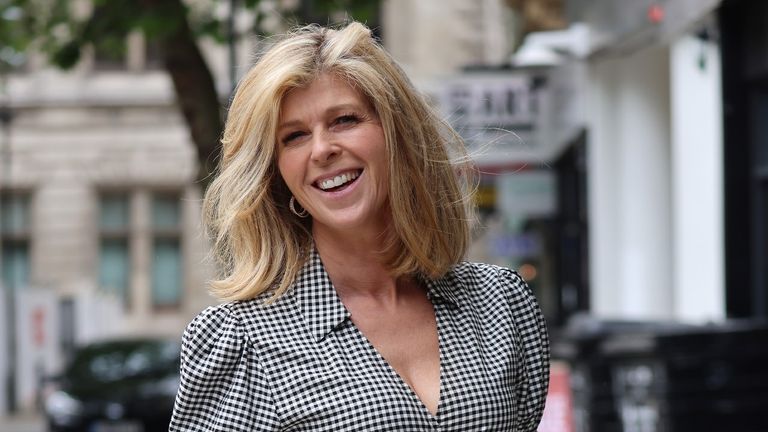 (Image credit: Photo by Neil Mockford/GC Images via Getty)
By Emma Shacklock published
Kate Garraway has secured a prestigious National Television Award for her ITV documentary, Finding Derek, which showed the heartbreaking reality of her husband Derek Draper's battle with Covid-19.
Kate Garraway has long been one of TV's most popular stars and is perhaps best known now for presenting Good Morning Britain since 2014. Throughout the past year, Kate has been balancing her role on the ITV show with raising her two children and supporting her husband Derek Draper throughout his recovery journey since he was diagnosed with Covid-19 in March 2020. During this time, she filmed the moving documentary, Kate Garraway: Finding Derek, often called Finding Derek, which showed how their family had all been affected by Derek's battle with the virus.
Now her strength and bravery in sharing so much about her family's difficult past year has been honoured as Finding Derek won the award for Best Authored Documentary at this year's National Television Awards on September 9.
But what happened to Kate Garraway's husband, how is he now and where can you watch Finding Derek?
---
What happened to Kate Garraway's husband Derek?
Kate Garraway's husband Derek Draper was admitted to hospital in March 2020 after experiencing Covid-19 symptoms and later tested positive for the virus. In April it was reported that Derek was in intensive care in hospital after receiving his Covid-19 diagnosis, whilst Kate self-isolated at home after showing mild symptoms herself.
Derek was later put into an induced coma as his condition worsened and in July, Derek had regained consciousness. Speaking to Hello! magazine at the time, Kate reportedly explained, "We're keeping positive and doing everything we can to bring him round. The children and I communicate with him every day on FaceTime, while a nurse holds his iPad."
She continued, "I really believe he can hear. When medical staff say, "Good morning, Derek!, he sometimes opens his eyes. We and the doctors are doing everything we can so that he can start to recover."
The virus has led to Derek having damage to his liver and pancreas, as well as failure of his kidneys and heart. He is also understood to have had holes in his lungs after he suffered from several infections and bacterial pneumonia.
Overall, Kate Garraway's husband Derek Draper spent over a year in hospital before he returned home to reunite with Kate and their two children in April 2021, where he continues to receive care as he recovers from the devastating toll the virus took on his body.
When did Kate and her family film the Finding Derek documentary?
Kate Garraway and her children Darcey (15) and Billy (12) began filming their deeply poignant ITV documentary, Kate Garraway: Finding Derek, back in August 2020, five months after Derek was first admitted to hospital. The documentary was led by Kate herself and primarily focused on how Kate and the couple's children's lives had been immeasurably changed since Derek had been hospitalised.
A large portion of the powerful documentary also focused on the long-term effects of COVID-19 and the realities of living with long Covid and it brought viewers up-to-date with Derek's condition at the time it aired in March 2021 when he was still being cared for in hospital.
In Finding Derek, Kate bravely revealed the severity of Derek's condition, stating, "Derek is the sickest person the team of Doctors in the lung hospital have treated, who has lived. His kidneys have failed, his liver's failed. His heart is being supported by medicine."
In one incredibly emotional scene, Kate appeared in Derek's study in summer 2020 surrounded by copies of the Financial Times.
"I wanted to keep all of his financial times which he gets every day delivered. So they're all here ready for you Derek when you come back….maybe it's like a little capsule of time really," she said. "If he can wake up and he can begin to piece things together, maybe it will help him process the time that's passed".
'I started this in August hoping Derek and I would be together.' 'It's looking at the long tail Covid has and not enough is known.'@Kategarraway has a new documentary following her emotional journey as her husband Derek fights the effects of Covid. Tune in Tuesday 9pm @itv. pic.twitter.com/Epsd3YwigUMarch 18, 2021
See more
In her NTA acceptance speech after winning Best Authored Documentary, Kate addressed the process of making Kate Garraway: Finding Derek during such a difficult time.
"It was a hugely brave decision of ITV, I think, to commission this. They didn't really know what they were making. They didn't know if they were making a story about bereavement or about a triumph," she explained.
Congratulations on your NTA @kategarraway, we are so proud of you! 👏🧡 pic.twitter.com/RgBAwAHyQbSeptember 9, 2021
See more
"Lucy [Finding Derek's Director] arrived at our home not knowing if she was seeing a family in grief or relief and in the end, really, it ended up being something between the two. Thank you so much for voting, I wonder if the reason why you did is because our story is your story," she said.
"I think we've all been touched by the pandemic," Kate went on to say, before ultimately declaring, "Whatever you're going through and however you're affected, you're not forgotten."
Since its release in March 2021, Finding Derek has gone on to inspire and inform so many and its NTA win was met with delight from the crowd.
How is Kate Garraway's husband now and is Derek getting better?
Kate Garraway's husband Derek is now back living at the family home in North London after more than a year battling the effects of Covid-19. Derek returned home in April much to the delight of his children who Kate has disclosed "ran out" to meet him when he arrived. It's understood that now Derek is receiving round the clock care at the couple's home, which Kate has had adapted to make it more accessible.
Earlier this year, Kate gave several heartwarming updates on Derek's recovery, such as revealing he made an adorable comment about her new dress. Whilst on her 54th birthday in May, the Good Morning Britain host shared her husband's sweet birthday message to her after she happened to mention the occasion to him the day before, marking another hugely positive step.
However, things have continued to remain challenging for Derek, Kate and their children, as she has also previously expressed that her husband is still "devastated" by Covid-19 as his recovery continues.
Speaking to ITV This Morning hosts Holly Willoughby and Phillip Schofield ahead of the NTA ceremony on September 9, Kate gave a further update on Derek's condition, sharing a balance of positive and more difficult news.
Asked about how she was, Kate responded that she was "good", adding, "Derek's at home now, which makes a huge difference. So that's the change since the documentary."
She continued, "His progress is tough, if I'm honest. It feels like there is no change. It feels painfully slow. He still has very little movement. He still can't talk, really. You can't have a conversation. But he does seem—I believe and actually, I think others believe now—that he does understand everything."
"So that's fantastic," Kate added. "Because you feel like he can understand even though he can't get stuff back. That must be a nightmare for him, but we know that when we talk to him that he understands what we're saying."
The ITV broadcaster then went on to tell Holly and Phillip that her husband now "sleeps a lot of the day" for approximately 20 out of 24 hours.
"That is literally sometimes in the middle of talking to him he'll fall asleep," Kate explained, before adding good-humouredly, "Which I know a lot of people have done with me over the years. But you can see him really concentrating and then his eyes just close."
She told viewers how it was "all the things we know about, about the devastation of Covid", adding that, "Derek's is extreme because he has a lot of organs that are affected and he's affected in a very strong way."
Kate continued, "But there are millions out there that are affected or have had their lives devastated", selflessly reflecting on the wider global effect of Covid-19 alongside her family's own difficult situation.
Having been open throughout Derek's health battle about his progress and recovery, Kate will no doubt share further updates with fans about her husband and how he's getting better over the coming weeks and months.
How to watch Kate Garraway's documentary, Finding Derek
For those who have yet to see Kate Garraway's heartbreaking and deeply personal documentary, Kate Garraway: Finding Derek, it is still available to watch. If you're a UK viewer then simply head over to the ITV hub to catch up on this NTA winner after signing up for a free ITV hub account.
'Derek, I miss you!' Follow Kate Garraway's emotional journey as her husband Derek recovers from the effects of Covid in a new documentary.Watch Kate Garraway: Finding Derek Tuesday 9pm @itv. pic.twitter.com/Pio9URJy7dMarch 18, 2021
See more
The hour-long documentary currently has no expiry date, meaning you can settle down and watch this moving account of Kate, Derek and their family at a time that best suits you for the foreseeable future. Kate Garraway's bestselling book, The Power of Hope, also shares further insight for those wishing to learn more about all the family have gone through over the past year.
Emma is a Senior Lifestyle Writer with five years experience working in digital publishing, ranging from book publishing to magazines. She currently looks after all things Lifestyle for Woman&Home, GoodToKnow and My Imperfect Life.
Before she joined Future Publishing, Emma graduated from the University of Warwick with a Bachelor of Arts degree in English and Comparative Literary Studies. After leaving education, she started out her publishing career in the world of books, working as a Publisher for an independent digital publisher specializing in back-list and debut commercial fiction novels. With a huge book list and a passion for bringing the best stories to the broadest audience possible, Emma filled her spare time with reading the latest best-sellers and catching up on hit adaptations.
In 2017 she joined TI Media as a fiction writing coordinator on Woman's Weekly and Woman's Weekly Fiction as part of the features team. From here, she used her love of books, working to bring short stories to our dedicated readers and began writing for the books pages of Woman, Woman's Own and Woman&Home, as well as online features ranging from genre round-ups to travel pieces for womanandhome.com.
After honing her skills, Emma branched out online in 2020 when Future gave her the opportunity to focus on digital-first. When she's not writing about the next big lifestyle trend, she enjoys cooking, long walks and watching as many crime dramas as she can!